'RHONJ': Andy Cohen Admits He Lost His 'S***' at the Season 12 Reunion
Andy Cohen confirmed on a recent 'WWHL' that the cast of 'Real Housewives of New Jersey' made him 'lose his s**' at the season 12 reunion.
The Real Housewives of New Jersey has released the trailer for the season 12 reunion, and it looks absolutely wild. According to host Andy Cohen, there was so much drama and tension during the taping that he couldn't handle it. Ahead of the release of part one, Cohen admits that he "lost his s***" during the three-part special.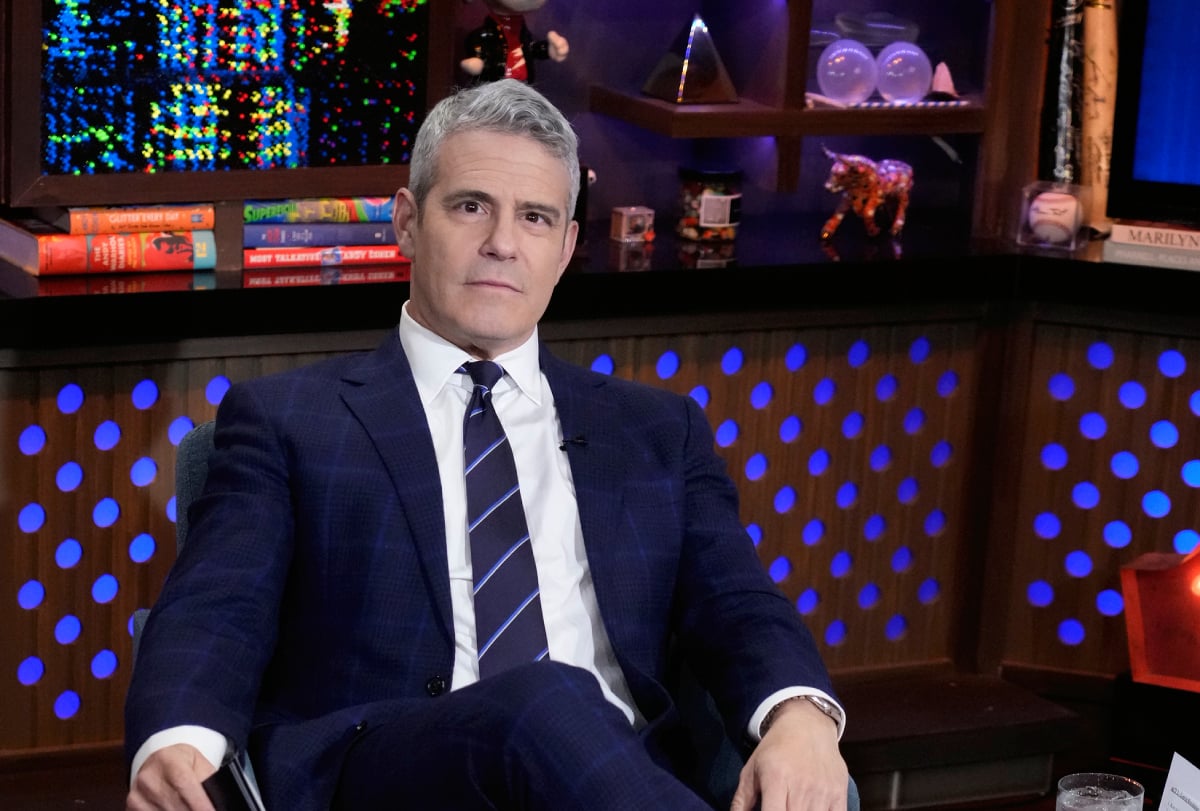 Joe Gorga storms off the set during the 'RHONJ' season 12 reunion
The RHONJ Season 12 reunion indicates that all key players will be involved — Teresa Giudice, Melissa Gorga, Dolores Catania, Margaret Josephs, Jennifer Aydin, and Jackie Goldschneider.
Their respective husbands will join them, plus Teresa's fiancé Luis Ruelas, Frank Catania, and friend of the Housewives, Traci Johnson.
The group will be covering all of the season 12 drama, including the cast trip to Nashville, Bill Aydin's infidelity when Jennifer was nine months pregnant, and Joe Gorga's fight with Gia Giudice.
There are so many insults and curse words in the two-minute trailer, half of what's said is bleeped out. But fans could see Joe Gorga storming off the set during taping after Teresa calls him a "b****" and he calls her a "f***ing moron."
Andy Cohen admits he 'lost his s***' during the reunion taping
The reunion trailer also features Cohen appearing frustrated and upset as everyone proceeds to hurl insults at each other. That's the moment he stands up and screams, "You're all talking!"  During the April 26 episode of Watch What Happens Live, Cohen confessed that he wanted to leave the set during taping just like Joe did.
"Boy, did I lose my s*** with you ladies at the reunion," Cohen told WWHL guest Margaret Josephs, who replied, "Oh my god … I never saw you so bad."
"I would've walked off, but then it would've taken longer too to get me back," Cohen revealed.
Josephs then acknowledged just how difficult the RHONJ reunion was for Cohen, and how it nearly pushed him over the edge.
"I never saw you so upset," she said.
Andy Cohen isn't proud of his behavior at the 'RHONJ' season 12 reunion
He wasn't cursing and screaming at everyone like the RHONJ cast, but Cohen has admitted that he wasn't proud of how he handled the drama at the reunion. When a fan tweeted a GIF of Cohen's frustrated reaction, the WWHL host responded with a flushed face emoji.
In an early April episode of WWHL with Dolores Catania as a guest, Andy Cohen admitted that he still hadn't recovered from the reunion taping.
"I'm not right from it, and this is what I do. I mean, it was upsetting," he shared. "It reminded me of the early Jersey reunions, it was really upsetting. It was a lot. And nobody would listen to me."
The Real Housewives of New Jersey season 12 reunion kicks off with Part 1 airing on Bravo on Tuesday, May 3. It will be followed by Part 2 on May 10 and Part 3 on May 17.