'RHONJ': Andy Cohen Was Pressured to Fire Teresa Giudice Amid Her Legal Issues
Teresa Giudice has been a standout on The Real Housewives of New Jersey since season 1. The former homemaker has provided iconic moments on the show, including her infamous table flip. She's also shared some not-great moments, such as her prison sentence. Andy Cohen recently revealed that he was pressured to fire the fan-favorite when …
Teresa Giudice has been a standout on The Real Housewives of New Jersey since season 1. The former homemaker has provided iconic moments on the show, including her infamous table flip. She's also shared some not-great moments, such as her prison sentence. Andy Cohen recently revealed that he was pressured to fire the fan-favorite when she was sentenced to prison.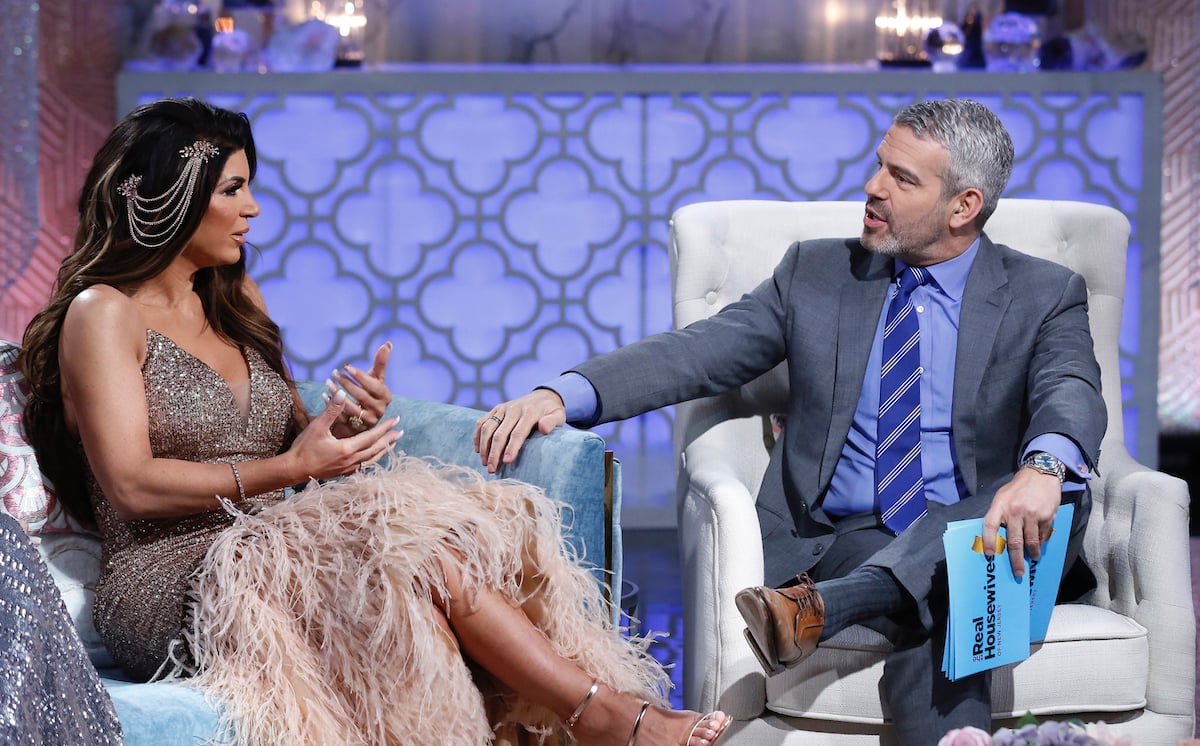 Teresa Giudice's legal trouble began during season 2
Rumors about Teresa's opulent lifestyle and her husband's shady business practices began early on in RHONJ. Danielle Staub accused the Giudices of having their New Jersey mansion in foreclosure during a tense scene in season 2, which Teresa denied.
But once the reunion came, Teresa could no longer hide. She confirmed that her and her husband filed for Chapter 13 bankruptcy. The couple were later accused of bankruptcy fraud, alleging they hid assets. 
Related: Teresa Giudice Served Her Sentence in the Prison That Inspired 'Orange Is the New Black'
She eventually plead guilty, later explaining that she didn't understand the terms of her plea agreement and went on the advice of her attorney. The reality star maintains she's innocent and unknowingly signed paperwork that later turned out to be related to her fraud case.
Teresa was required to pay $414,000 in restitution for the crimes she was convicted of.
Andy Cohen reveals why he didn't fire Teresa Giudice
Teresa's legal woes continued to play out through the next five seasons. While media outlets continued reporting, and her co-stars had questions surrounding what was going on, Teresa refused to speak in detail on camera.
Instead, she focused on working to help support her family. Whenever confronted with her legal cases, including the fact that she reportedly had a deal with In Touch Magazine for exclusive interviews regarding such, she wouldn't talk.
Related: Teresa Giudice Says Joe Blamed Her and Filming 'RHONJ' for His Bankruptcy Case
Some viewers became fed up with Teresa avoiding the matter altogether. Her putting on a brave face wasn't enough for some to continue watching. However, her storyline was the most compelling, at least to Andy Cohen.
"There were people who said, 'You have to fire her,'" Cohen reveals in a new interview with Vulture. "And it's like, 'Look, she's going to jail. We've invested all this time.' This was something that her friends were accusing her of for years, and she was running from it. I'd rather see her grow as a human being than kill her off."
Teresa served 11 ½ months of a 15-month sentence.
'RHONJ' ceased filming amid Teresa Giudice's prison sentence
Teresa's storyline meant so much to the franchise that Bravo executives reportedly went on an extended hiatus until Teresa was set to return from serving her time. Per a 2015 OK! Magazine report, the rest of the cast waited in limbo.
"None of the cast members of RHONJ have signed contracts for next season," OK reveals a source told Radar Online. "But there isn't anything to be concerned about because filming has been pushed from the summer and won't be beginning until late September, early October."
"Without Teresa there just isn't a lot going on with the women," the insider continued. "With her on board, cameras would film Joe's final days with the family as he prepares to begin his 41-month prison sentence.
The following season documented Teresa's return and her preparation for Joe to begin his three-year sentence. She also wrote a memoir about her experience in prison, which became her fourth New York Times Best Seller.