'RHONJ': Caroline Manzo Reflects on Calling Danielle Staub a 'Clown'
Before feuding with Teresa Giudice on RHONJ, Caroline Manzo went to bat for Giudice and her other co-stars against Danielle Staub. Manzo famously called Staub a "clown" during one of their final scenes together. She says the moment came after two seasons of Staub playing dirty behind the scenes.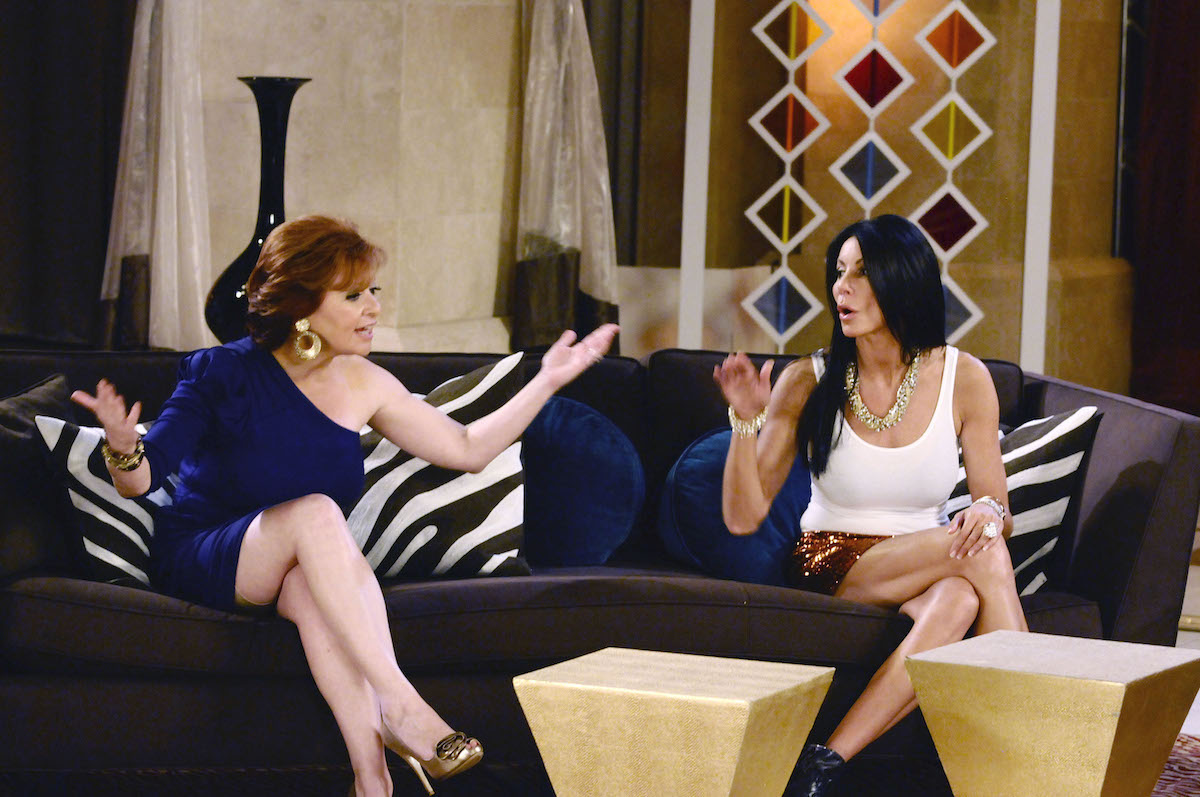 Caroline Manzo was no fan of Danielle Staub
Staub and Caroline did not get off to a great start. In addition to being considered the outsider of the clique due to not being family or a longtime friend of Caroline's or the other cast, rumors of Staub's checkered past made Manzo believe that she was trouble.
Still, Caroline's sister-in-law, Jacqueline Laurita, befriended Staub. But Caroline and the rest of the cast remained resistant, particularly Caroline's younger sister Dina.
Staub accused the Manzo sisters of trying to turn Laurita against her. Dina and Staub were often at odds and things blew up during the season 1 finale when Staub confronted Dina over showing a damaging book about Staub's life all over town.
Related: 'RHONJ': Dina Manzo Says Caroline Manzo Grew Jealous of Her
Dina denied such and Caroline took the blame, which Staub did not believe. Per Staub, Dina wasn't confrontational and Caroline jumped in to defend her sister. Things grew even more tense at the reunion when Caroline claimed Staub tried having Dina's daughter taken away from her.
In season 2, Caroline and Staub sat for one final face to face where Caroline asked Staub to drop charges she pressed on her niece following an altercation. The conversation ended with Caroline calling Staub a "clown."
The 'Manzo'd with Children' star says she did not want to film with Danielle Staub the night of their infamous showdown
While speaking of some of her most memorable moments on RHONJ, Manzo reflected on the iconic scene of her calling Staub a clown in season 2. She took a trip down memory lane during a recent appearance on Access Hollywood.
"I didn't want to film it and I'm like, 'Why are you making me do this? I know how this party is going to end. Why do I have to go?'" Manzo remembers thinking at the time. She reluctantly agreed because of her contract obligations for the show.
The minute she walked into the restaurant to film with Staub, Manzo says Staub brought along two large security guards. From there, Manzo's guards were up.
Related: RHONJ Where Are They Now? An Update On Former Cast Members
"There were two security guards that were minimum 6'5 each," Manzo recalls. "I'm five feet tall. Why she brought security – I'm five feet tall – what am I going to do? Am I the Tazmanian Devil? What am I going to do to you? I'm not a violent person. That got me going. Like you idiot, you fool. Are you looking for optics here? What are you looking for?"
Manzo says despite such, she went into the scene with the best intentions, trying to "talk sense" into Staub. But she believes Staub wanted conflict, which irritated her further. "It just came out," Manzo says of calling Staub a "clown."
Manzo doesn't regret the moment but admits it wasn't the best choice of words.