'RHONJ': Did Caroline Manzo and Teresa Giudice End Their Feud?
It is no secret that Teresa Giudice and Caroline Manzo don't really like each other. The former Real Housewives of New Jersey costars were actively feuding during much of their time together on the show, then they spent several years after hurling accusations at each other. In recent years, things settled into something of a cold war, but now, rumors are swirling that the duo has squashed their drama, and might actually be working together again.
When did Teresa Giudice's feud with Caroline Manzo start?
Manzo and Giudice always had a pretty complicated relationship. While the former friends began appearing on The Real Housewives of New Jersey together in Season 1, they never really got along swimmingly. Sure, they were friendly, but misunderstandings were not uncommon and tempers tended to flare when the duo was in the same room. Everything came to a head in Season 5 when Manzo departed the show. The drama didn't stop there, though.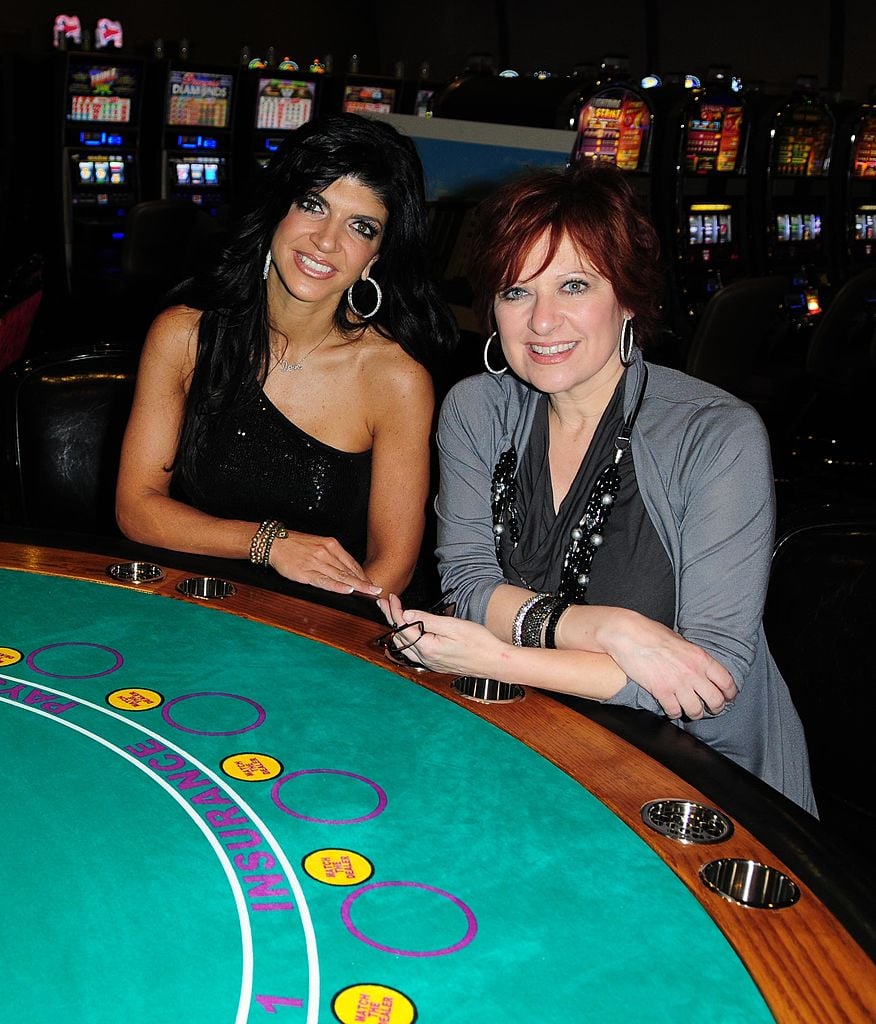 Back in 2016, Giudice accused Manzo and Jacqueline Laurita of setting her up. She insisted, during the Season 7 reunion special, that either Laurita or Laurita and Manzo called the IRS on her and her husband Joe Giudice, according to Bravo. The Giudices were charged with fraud, and both served prison terms. Joe Giudice was sent back to Italy when his prison sentence was up and is unlikely ever to be granted access to the United States again.
Both Manzo and Laurita have denied having anything to do with Giudice's legal troubles. Laurita, who is married to Manzo's brother, Chris, also appeared in RHONJ. She left the show before Season 8 began filming in 2017. She has since left New Jersey and now resides in Las Vegas.
Caroline and Teresa might have squashed their feud
Manzo and Giudice have finally come face-to-face after years of actively avoiding each other. While Giudice seemed to be holding onto the notion that Manzo somehow had her incarcerated, Manzo claimed she was perfectly fine with not being friends with Giudice. Frankly, Manzo appeared to be completely apathetic about the whole thing. So, why were the two ladies together in Los Angeles?
Apparently, they'll be working together on a yet-to-be-announced project. A sneak peek clip of the duo showed up on Instagram recently, but there are absolutely no clues about precisely what the project is or what network it will be appearing on. All fans know is that Giudice and Manzo are seated at a table with teacups. Because Manzo claimed she hadn't seen Giudice in at least six years, according to People, fans are a bit confused. It's unknown if the duo has ended their feud or if they are just playing nice for a substantial paycheck. The clip was allegedly filmed in Los Angeles.
Bravo has not commented on the clip. Representatives for Manzo and Giudice have also declined to comment. Giudice did meet up with another former housewife while in California, though. Funnily enough, it's one that Manzo is currently feuding with.
Caroline has plenty of drama with other people
It is probably a good idea for Manzo to end a couple of feuds. Apparently, she has more than one currently brewing. Dina Manzo dished on all things Manzo back in 2018. According to the blonde Manzo, she hasn't spoken to her sister, Caroline, in years, and the formerly "thick as thieves" siblings apparently have no plans to repair the damage. The younger Manzo now lives on the West Coast after divorcing Tommy Manzo in 2016, while the older Manzo is still hanging out in New Jersey. The younger Manzo seems to think her sister changed substantially after she began appearing on the show, and apparently, it was not for the better.
According to Dina, Caroline is also feuding with their brother, Chris Laurita. According to All About The Real Housewives, Manzo and Laurita may have had a falling out over a bad business deal. Apparently, they still aren't on excellent terms, and again, it doesn't look like Manzo is in a rush to repair the fractured relationship.