'RHONJ': Do Italian Men Get a Pass for Bad Behavior?
The cast from The Real Housewives of New Jersey recently admitted that they have sometimes given the men in their life a "pass" for bad behavior.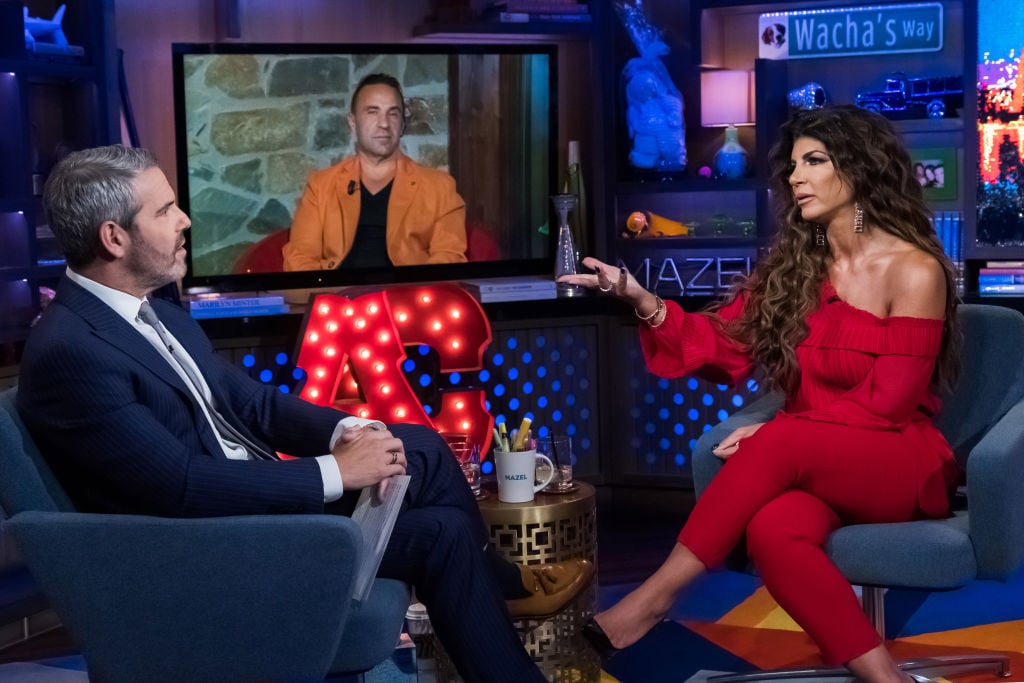 From name-calling to physical threats of violence made under the veil of a joke, the RHONJ cast explained how some of the men were able to get away with derogatory comments. Cameras have captured Joe Giudice telling his wife Teresa to "shut up" or he's called her names behind her back.
During the RHOJ After Show, the women discuss their experience with some of the men on the show and how in some cases, it was a cultural norm they've accepted in the past. However, many now say this practice will no longer be tolerated as the show has brought the behavior to light.
Teresa Giudice explains where her husband was coming from with this comment
A producer reminds Giudice of a time when her husband suggested she find a doctor like the one Dolores Catania discovered. The producer wondered if he was joking when he told his wife to find the doctor. Catania thinks he was joking but at the same time serious. "I mean I was shocked when he said that," Catania said. "But it was the first time I heard him talk like that. I've known them since they met."
They then both agree that the sentiment behind the comment was that he wanted her to find someone who would really take care of his wife. But then producers flash to a clip of Joe Giudice telling his wife if she brings up his father he will "smack [her] head up against the wall" adding "shut up."
Some insist it was 'the way they were brought up'
So do Italian men get a pass with how they speak to women? "Yeah, but no more," Catania remarks. "But at one time I didn't know any better." Jackie Goldschneider says, "I think maybe sometimes they use the term 'old school' to justify a lot of behaviors so they don't feel bad."
Melissa Gorga adds, "Right it's like, 'We can't help it because this is how we were born.'" Catania says she finally realized the behavior wasn't normal when she met someone new. "The way I was spoken to, it's what I heard my whole life, I didn't know what it was to be gentle. But then I met a Jewish doctor like if I was cranky, he wouldn't say, 'What the f**k is your problem?' He'd say, 'Sweetheart, what's wrong?' And I melted. And I will never take anything less than that again."
Gorga shares that her husband definitely would not get a pass for name-calling. "If he ever called me the 'C' word, there'd be a problem." Giudice says that rather than fighting back against her husband she'd just ignore the behavior to avoid any conflict escalation. She adds, "It's so weird, but he'd only do it in front of the cameras!"
Teresa Giudice was shocked with some of the footage
Frank Catania insists he just says what's on his mind. "Italian, not Italian," he adds. "You don't insult, you don't degrade. You don't say things to degrade a woman. Anything like that, no."
He thinks Joe Giudice used it as an excuse to address his wife a certain way. In fact, Teresa Giudice was in shock when she saw the footage of her husband calling her a derogatory name during a group trip to Napa Valley. Joe Giudice takes a phone call in private and is heard calling his wife a c*** and a bitch. Teresa Giudice says at first she thought producers found the audio and transposed it over the video.
She told producer Andy Cohen to remove it. But, "He said, 'Teresa it came out of his mouth.' I'm like, 'What?'," she says after insisting her husband never spoke to her like that in the past.