'RHONJ': Jennifer Aydin Snaps Back at Jackie Goldschneider's Comments About Her Home
Jennifer Aydin makes it no secret that she likes the finer things in life. But for her co-star Jackie Goldschneider, Aydin's flash comes off as bragging. The Real Housewives of New Jersey star  is particularly perturbed with Aydin's lavish house. After recent comments made about Aydin having a mortgage, Aydin is snapping back at Goldschneider.  …
Jennifer Aydin makes it no secret that she likes the finer things in life. But for her co-star Jackie Goldschneider, Aydin's flash comes off as bragging. The Real Housewives of New Jersey star  is particularly perturbed with Aydin's lavish house. After recent comments made about Aydin having a mortgage, Aydin is snapping back at Goldschneider.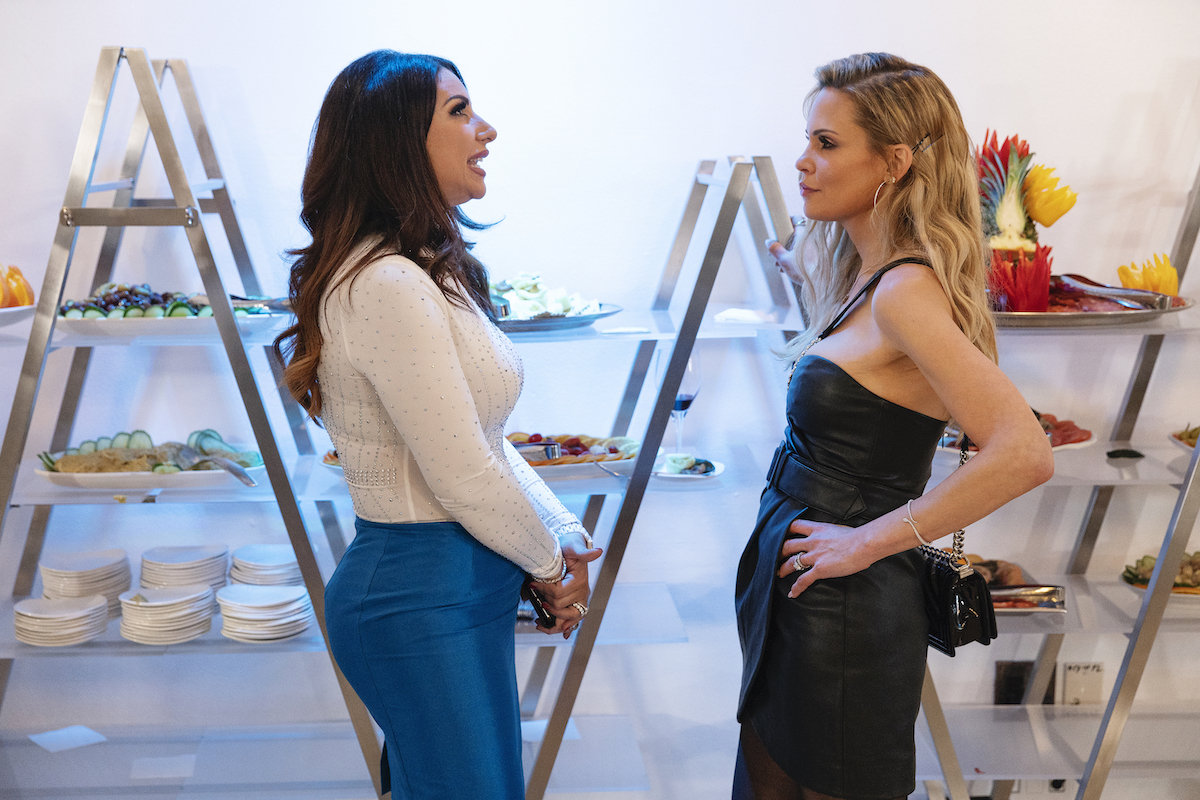 Jennifer Aydin shows off her New Jersey mansion
Aydin's large New Jersey mansion has been featured on the show for the past three seasons. She'd recently moved into the home when she began appearing on the show in season 9.
Aydin is proud of the home, which includes 16 bathrooms. The Paramus, New Jersey estate also has a pool house and a two-story indoor basketball court.
Related: 'RHONJ': Jennifer Aydin Explains Why She Gets 'Turned up' and Denies Drinking Problem
The stay-at-home mother of five has multiple powder rooms throughout the home. But the one that is her favorite has "detailed molding and a beautiful 24-karat gold-colored Phylrich faucet and ornate mirror," as Aydin told Bravo TV during a 2019 tour of her home. 
Z Gallerie recently gave her home a makeover after Aydin said she heard too many complaints from fans about the interior design of her home. As for why she thought the house needed an upgrade, she admits to People Magazine that decorating homes is not her thing.
"When it comes to clothing, hair, and makeup, I'm on fire. But when it comes to interior design, let's just say, I know my limits," she said. 
Jackie Goldschneider is critical of Jennifer Aydin's lifestyle
Issues between Goldschneider and Jennifer Aydin began when an article Goldschneider wrote using Aydin's lavish lifestyle and the way she spoils her children hit the net. In the article, Goldschneider questions whether children should be gifted with material things.
"I recently took my kids to a family get-together at my new friend's home, and when we pulled up to her enormous estate," Distractify reports Goldschneider wrote. "As they led us through one tremendous room after another, past the gym and spa, we arrived at the double-level play wing, equipped with an indoor basketball court, movie theater and a bouncy castle bigger than my home."
Related: 'RHONJ': Jennifer Aydin Is 'Done Criticizing' Jackie Goldschneider — 'Living Your Best Life Is the Ultimate Revenge'
From there, their relationship was contentious. Aydin called Goldschneider cheap for not spending her wealth on more material things. She also criticized a party Goldschneider threw for her son that included pizza and unprepared gift bags.
In turn, Goldschneider refers to Aydin as shallow and says she lives off of her hard-working husband. In one episode, Goldschneider even threw dabs at Aydin's home, telling her mother in one scene that Aydin's house is "like the Taj Mahal but with a high mortgage and no furniture."
Jennifer Aydin shades Jackie Goldschneider's recent critique
Aydin is taking Goldschneider's remarks lightly. During an April 28 appearance on Watch What Happens Live, Aydin shot back at Goldschneider with a few facts regarding how she purchased her home. 
"I found it interesting because, actually, I don't have a mortgage," Aydin told fans when posed with the question about Goldscheider's comment. "I paid for this property cash and we built it halfway. We paid with a bank check and the rest was a construction loan to finish the build, so I actually don't have a mortgage. Check that, attorney."
Cohen also noted that Aydin has all new furniture, including replacing the throne chairs she had throughout the mansion as a result of her home makeover. Aydin responded: "I got rid of a lot. I kept some…it's my signature. But yes, we're updating."