'RHONJ': Kim D. Challenges Tre Huggers to Find 3 Nice Things to Say About Teresa Giudice
Kim D. wonders if Teresa Giudice's RHONJ fans called Tre Huggers can find 2 or 3 nice things to say about her.
Kim "D." DePaola wants to hear from Teresa Giudice's Real Housewives of New Jersey fans. DePaola, who made several friend and guest appearances on RHONJ has made weekly appearances on a podcast, bashing Giudice the entire season. And she now wants to hear Giudice's supporters, known as "Tre Huggers" defend her.
Giudice's Tre Hugger fans have merch, Instagram accounts and the cast uses the term. But DePaola notes that the Tre Huggers haven't been as vocal during this season when the majority of the storyline revolved around Giudice and her fiancé Luis "Louie" Ruelas.
What do 'RHONJ' fans like about Teresa, Kim D. wonders?
DePaola returned to the Behind the Velvet Rope with David Yontef to sound a call of action. "It is one thing to think she is good TV but how could you really like the person that Teresa is?" she questioned on Saturday's podcast.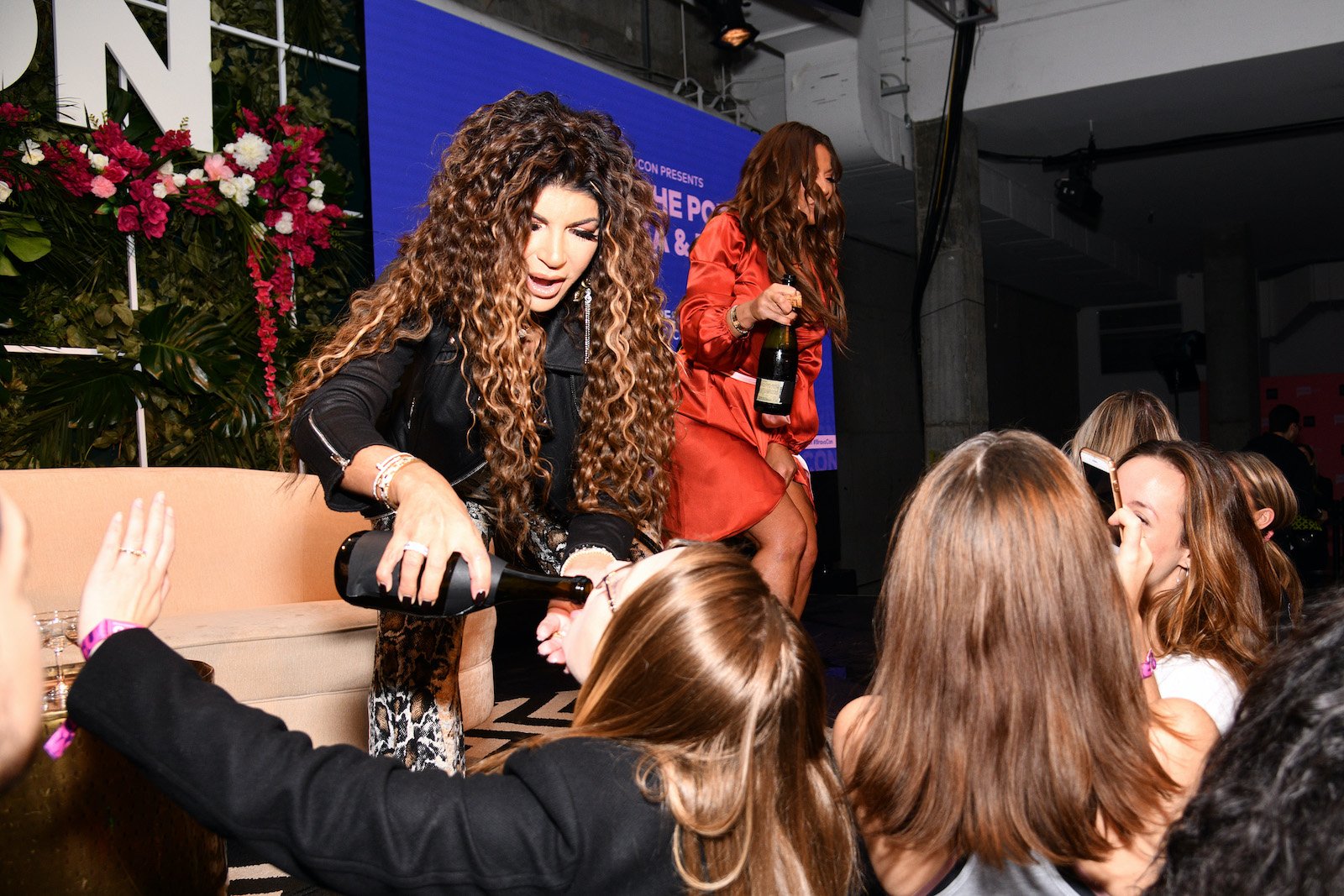 "What exactly do you like about her?" she added. "Like make a list of what you like about her. I don't get it. [Is it] the way she talks to her friends? The way she talks to her family? [Or] the way animals died on her property. I mean, what, what do you like about her? What do you like about her?"
Kim D. says she loves Tre Huggers but mocks Teresa
DePaola made it clear she wasn't mocking Tre Huggers but seriously wondered why they love Giudice so much. "Listen, maybe our listeners, the Tre Huggers, which we respect you, we love you," she said. "Maybe you can tell us some of the things that you really like about Teresa. What are the things that she has shown throughout all these years that you like like she's such a good person."
She then pointed out some of Giudice's less than finer moments on the show. "Is that when she told Danielle to pull Margaret's hair and almost broke Margaret's neck? And then Danielle gets fired?" she questioned.
DePaola recounted an unforgettable reunion moment. "When she pushed Andy on the stage, did you like that part?" she said.
"Did you like when she told Melissa to tell Margaret to shut the F up? [Or] that she called her brother a b*** boy? What do you like about her?" she added.
Can 'RHONJ' fans offer a few of Teresa's redeeming qualities?
"The fact that she's constantly on vacation and she just moved her four girls into a stranger's home. Cause he is a stranger," DePaola said about Ruelas. "Tell me what you like about her. The fact that there were German Shepherds on her property and they left them out in the cold, in the heat and they died. Is that what you like about her? Tell me what you like about her. I would like to know her redeeming qualities and then I'll shut the f*** up."
Despite asking for fans to point out Giudice's good qualities, DePaola continued to mock her. "Given her life for the show. She's making millions of dollars," she said. "How else is that, a dimwit like her gonna make that kind of money. I mean, give me a break. Even her own brother after she called him a b**** boy said she's a moron. Please. And I don't want to shame this girl, but I just want to know some of her redeeming qualities. A redeeming quality. A redeeming quality, please. Let's just a couple. Give me two."