'RHONJ': Melissa Gorga Reveals Final Straw in Relationship With Teresa Giudice
Teresa Giudice and Melissa Gorga have appeared together on 'RHONJ' season Season 3. Their sisterhood has gone through many ups and downs and Gorga says she's tried everything to keep it together.
The Real Housewives of New Jersey is the only family-centered show in the franchise, but sister-in-laws Melissa Gorga and Teresa Giudice have always been estranged of sorts. Despite Gorga being married to Giudice's brother Joe, the two women just can't seem to get along for a long period of time. And now, Gorga says she's done trying.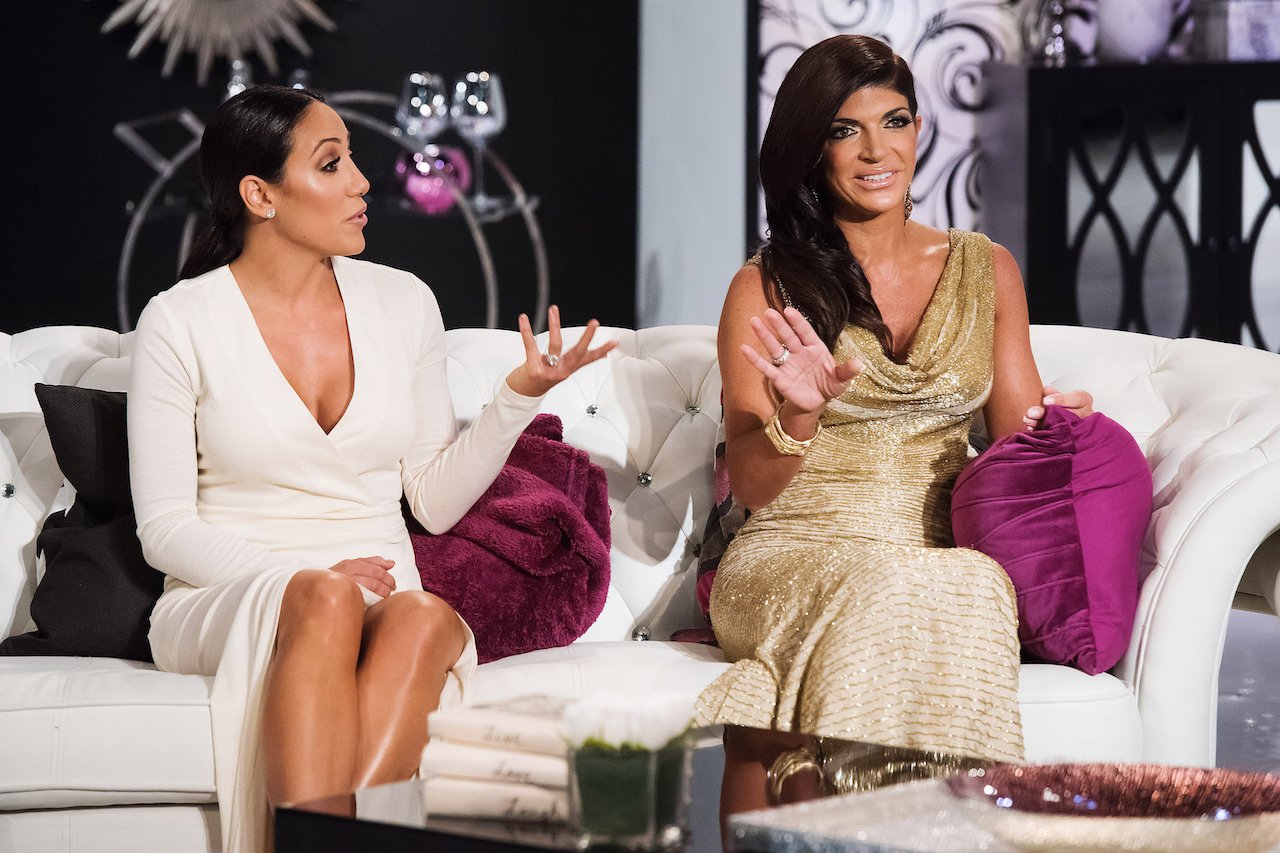 She says watching 'Ultimate Girls Trip' was the final straw in her relationship with Teresa Giudice
Gorga and Giudice appeared on the inaugural season of the Housewives franchise Ultimate Girls Trip. The eight-episode series featured a mashup of Housewives from various franchises, including New York, New Jersey, Beverly Hills, Atlanta, and New Jersey. Gorga and Giudice spent little time together on the show and many of their co-stars felt their alleged close relationship wasn't authentic. 
Several times throughout the show, Giudice expressed she enjoyed filming more than in New Jersey because she didn't have any allies on her show. Watching it back, Gorga grew frustrated.
"When I went back and watched 'Ultimate Girls Trip', I was watching some of the scenes where they filmed Teresa and I together on the plane and we were in the car, and I remember looking at her and genuinely saying, 'This is exciting that we get to do this together and this is something fun. We'll have these memories that we did something fun for when we get older.' She kind of just rolled her eyes and looked at me," she explained during an appearance on the Mention it All podcast. 
Gorga also says she became fed up filming Season 12 of RHONJ and continuing the same drama within her family. "Between that and watching the season, I just feel like I tried and I'm good. I always put my best foot forward and I want to have a good relationship with her, but that was another thing I watched and thought, 'I feel like I give up.'"
Melissa Gorga is OK if she and Teresa Giudice do not have a relationship moving forward
Now, Gorga isn't pushing to have a tight-knit relationship with her sister-in-law. She says she's attempted for several years, even before being on reality television. And now, she doesn't care to try any longer.
"I truly feel like I have hit every avenue – I have no guilt. So, finally I do feel a little free. It's OK to say that [Teresa and I] don't have the best relationship and I don't feel guilty saying that," she said firmly.
Furthermore, Gorga explained that she tried for the sake of her family but simply doesn't have the desire or energy anymore, especially because she doesn't feel the effort is reciprocated. "I tried really hard and I know that I tried hard – for my in-laws and for Joe. They are not here anymore and now it is really for Joe – it is sad to see him not have family," she said.
Teresa Giudice will not have Melissa Gorga as a bridesmaid in her upcoming wedding
Despite seemingly remaining cordial after Ultimate Girls Trip and filming Season 12 of RHONJ, Giudice did not ask Gorga to be a bridesmaid in her upcoming wedding to Luis Ruelas. Initially, Gorga says she was fine with Giudice's decision, but after learning it wasn't just her nieces who would be in the wedding party and Ruelas' sisters, Gorga was offended.
Gorga confronted Giudice about the decision during the recent reunion special, but Giudice feels justified in her choice. But her sister-in-law reminded her that she made Giudice in her own wedding.