'RHONJ': Teresa Giudice Calls Caroline Manzo and Jacqueline Laurita 'Evil People'
Fans were hopeful that Teresa Giudice and Caroline Manzo from The Real Housewives of New Jersey kissed and made up when they appeared together in a commercial.
The twosome sat side by side for a Sabra Hummus ad, both wearing red. As they dipped their bread in the hummus they sourly acknowledged each other. Then, they jointly flipped the table as a throwback nod to Giudice's infamous table flip from season 1.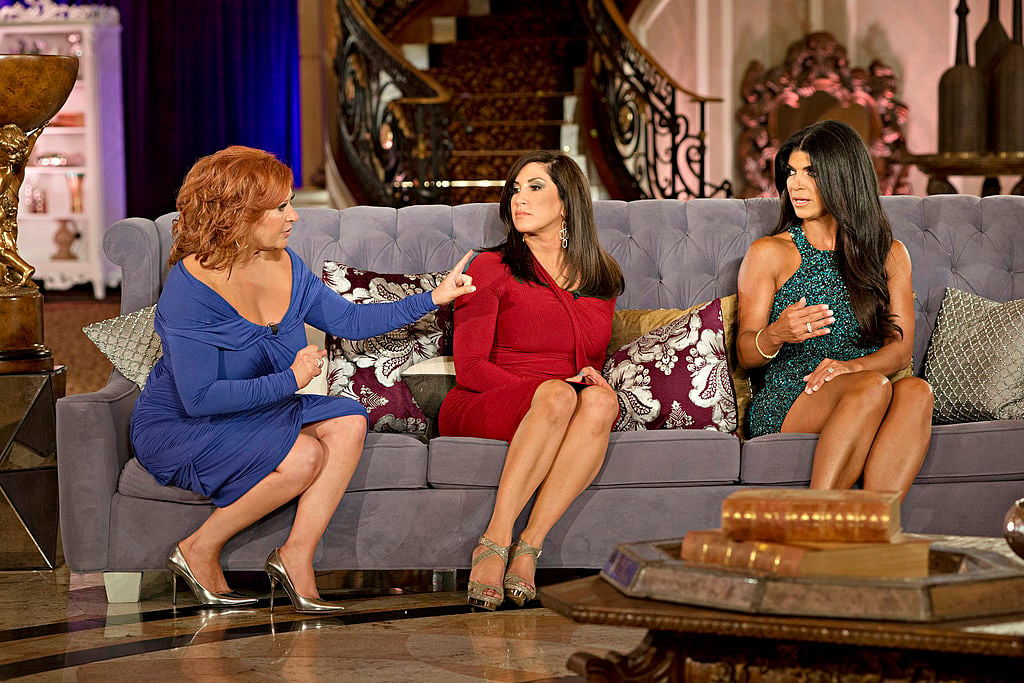 Since the two tolerated each other, fans thought perhaps the women made up. Both women shared the commercial on their Instagrams, plus Giudice's husband Joe was proud of both ladies. "I'm So Proud Of You both  @teresagiudice And @carolinemanzo and everyone! The commercial had me doing the dip! I'm going out to find myself some hummus for my 🥕🥦🌶🥨," Joe Giudice shared on Instagram.
Fans shouldn't get their hopes up for a reconciliation
Giudice recently wanted to make one thing clear: she wasn't friends with Manzo or her sister in law, Jacqueline Laurita. Giudice shared how she felt with E News and claimed both Laurita and Manzo were only after money.
"If they both come back, it's because they need the money," Giudice said about the possible return of Manzo and Laurita. "But whatever, bring it on. I could give two s**ts if they come back or they don't." Giudice added, "[Manzo] is a money-hungry b*tch" and was just doing things for the show.
She added, "Do I want to reconcile being friends with them again? No. They're both evil people and I really don't want to have anything to do with evil people. But if I have to give them a piece of my mind, I will." She adds Manzo and Laurita are "nasty people" and feels slighted by Manzo.
She also thinks Manzo predicted her future
During Andy Cohen's sitdown with Joe and Teresa Giudice, Bravo played a throwback clip of Manzo being a prognosticator of Giudice's future. Long before the Giudices were arrested for fraud, Manzo predicted that Joe Giudice would have to "go away" and that the couple would eventually divorce. Giudice wondered how Manzo predicted this would occur, wondering if Manzo was the one who turned in the couple to the authorities.
But she also shared that Manzo predicted something else about her life too. "[Manzo] did tell people that I was gonna write a memoir," Giudice told E News. "Which ended up being a New York Times bestseller. Thank you, Caroline. Like how did she even know I was going to write a memoir? I never knew I was gonna write a memoir, ever. Like, a fan brought that up to me."
Giudice says when the fan brought up Manzo's prediction, it opened her eyes. "Like oh my God," Giudice said. "You're right! Like she predicted my future. It's like, how did she predict my future? Maybe because her hand was in the pot of trying to take Joe and I down? Which to me is pretty sad. But you know what? Everyone says what comes around goes around."