'RHONJ': Teresa Giudice Explains Spreading Rumor About Jackie Goldschneider's Husband's Alleged Infidelity – 'I'd Wanna Know'
Teresa Giudice is not apologetic for spreading rumors about Jackie Goldschneider's husband allegedly cheating. The 'RHONJ' stars battled it out during the season 11 premiere.
[SPOILER ALERT: Spoilers ahead for The Real Housewives of New Jersey Season 11, Episode 1.]
Teresa Giudice and Jackie Goldschneider appeared to be in a peaceful place after two seasons of bickering on the RHONJ. Season 11 began with Goldschneider offering to set Giudice up on a blind date and ended with the two hurling insults toward one another.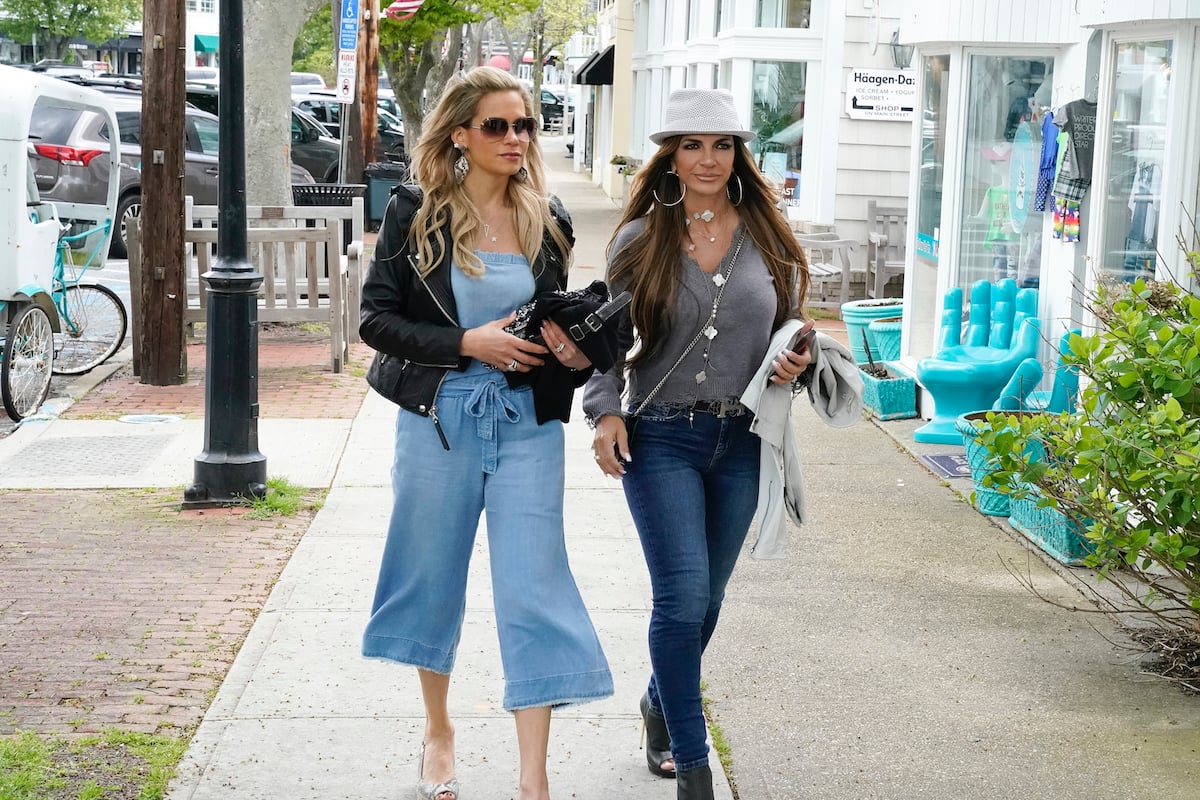 The battle began after Giudice brought up rumors about Goldschneider's husband having an affair. Goldschneider's response involved a shocking rumor about Giudice's eldest daughter and set up what will be an explosive season of a war between the two co-stars.
Jackie Goldschneider confronts Teresa Giudice about a rumor involving her husband cheating
During the season 11 premiere, Goldschneider hosts a party in celebration of her husband Evan's 46th birthday. It marks the first time the entire cast congregates together amid the coronavirus pandemic. 
While at the party, Goldschneider gives a drunk yet heartfelt toast about Evan as a husband and father. During her speech, Giudice reveals a rumor about Evan that she claims she heard around town. Giudice tells her sister-in-law Melissa Gorga that she heard Evan uses his workout time at the gym to cheat on his wife.
Gorga isn't the only cast member Giudice tells the rumor to. She goes to each cast member while at the party to tell the same information. Her co-stars warn her to stop talking about it, especially since it's Evan's birthday shindig.
Related: 'RHONJ': Jackie Goldschneider 'Caught off-Guard' by Teresa Giudice Spreading Rumors (Exclusive Interview)
They also reveal during their confessionals that they don't agree with Giudice bringing the rumor to the group to begin with as Giudice previously faced similar rumors while married to her ex.
Goldschneider learns of Giudice's actions from a friend who attended the party. She and Giudice meet at Margaret Josephs' home to talk things through. When Giudice refuses to acknowledge any wrongdoing by spreading the rumor, she shoots back with a damaging rumor of her own about Giudice.
"Well I heard Gia does coke in bathrooms at parties…it's the same thing," Goldscheider says. Furious that Goldschneider mentioned her daughter, Giudice storms out of the meeting yelling obscenities at Giudice.
Teresa Giudice defends bringing up the rumor about Jackie Goldschneider's husband 
Giudice has no regrets about bringing the rumor to Goldschneider. During a recent interview with Entertainment Tonight, Giudice explained why she decided to tell anyone in the cast about the rumor.
"The rumor was out there…it's not like I made it up…I'm not saying it's true, I'm not saying it's not true…I just wanted her to know from a girls' girl that it was out there and for her to do something about it," she said.
When questioned on her own angry reaction to rumors about infidelity in her past marriage, Giudice said she didn't back down from confronting whoever brought the rumor to her.
Related: 'RHONJ': Jackie Goldschneider Explains Analogy About Gia That Makes Teresa Giudice Explode (Exclusive Interview)
"I would wanna know…it was brought up in the past [about my ex-husband] and I defended myself," Giudice said. 
Giudice also explained her blowup when Goldschneider used the rumor about her daughter as an analogy.
"She calls herself a lawyer and being so smart but that was the worst analogy possible and being a mom of four…very bad move," Giudice began. "I think anybody that would say something like that about someone else's child is very disgraceful."
Giudice says the season is explosive but hints there may be some resolve between her and Goldschneider. 
RHONJ airs every Wednesday on Bravo at 8 pm EST.