'RHONJ': Teresa Giudice Reportedly Overheard Saying Her Romance With Louie Is Not as Perfect as She Wants Her Fans to Believe
ARTICLE HIGHLIGHTS
Real Housewives of New Jersey star Teresa Giudice said "yes" to Luis "Louie" Ruelas' picture perfect proposal in October.
Many fans have been skepical of the romance, especially with Louie's playboy past.
A RHONJ spy reportedly overhead Teresa on the phone claiming that everything is not as perfect with her romance as she would like her fans to believe.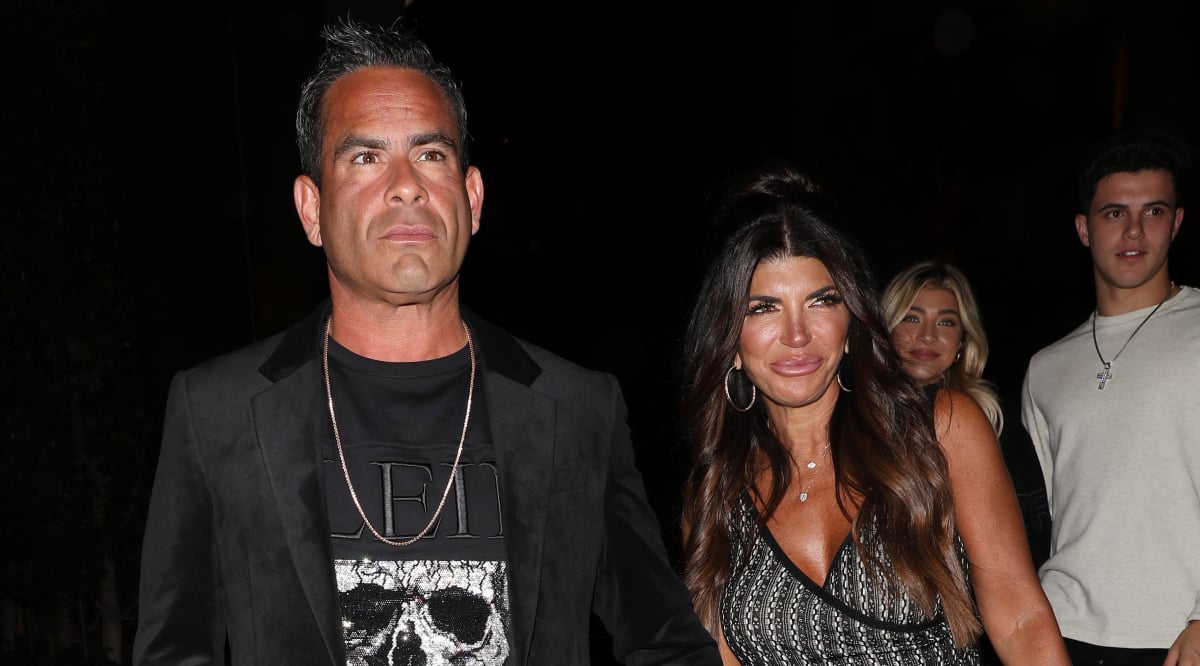 Real Housewives of New Jersey star Teresa Giudice announced in October that she is engaged to businessman Luis "Louie" Ruelas. Two years after her split from her husband of 20 years, Joe Giudice, Teresa said yes to Louie when he popped the question at the Amanzoe Resort in Porto Heli, Greece.
Despite Teresa's claims that she's found her "soulmate," she was reportedly overheard saying that her romance with Louie isn't as perfect as she wants her fans to believe.
Teresa Giudice said 'yes' to a lavish proposal
According to People magazine, Ruelas got down on one knee and proposed to Giudice on October 19. The proposal came amid a choreographed fireworks display that illuminated a "Marry Me" sign. An insider told the outlet that the proposal was "absolutely exquisite" and "Teresa was completely surprised."
RELATED: 'RHONJ': Margaret Josephs and Jackie Goldschneider Call Out Teresa Giudice's Antiquated View of Sexual Harassment in Season 11 Reunion
Giudice's former RHONJ costar Dina Manzo and her husband Dave Cantin were both there for the big moment. The foursome celebrated all night at the resort's restaurant, Nama, eating lobster, sea bass, and lamb chops while drinking champagne.
The 'RHONJ' star loves all the attention
Giudice told Andy Cohen on Watch What Happens Live that her chemistry with Ruelas is "amazing." She explained that her fiancé is very open, and he gets her to open up more.
"Like, I know exactly what he's feeling. He expresses his feelings," Giudice explained, with a smile. "Because he's so open, it makes me express my feelings to him. I like a lot of attention and so does he. We both give each other a lot of attention, which I love. We can't keep our hands off each other."
The RHONJ star also bragged about her sex life with Ruelas — saying that it was "amazing" and "you don't even know" — after Jackie Hoffman said "if he's Latin, he's probably the only one who could keep up with that libido of hers."
Teresa Giudice's romance with Louie Ruelas might not be as perfect as she wants fans to believe
Giudice and Ruelas went public with their romance in December 2020 via an Instagram post that featured a picture of the Bravo star sitting on Ruelas' lap. She captioned the post, "The BEST thing that came out of 2020."
They were spotted a month later, packing on the PDA at LAX in Los Angeles. The couple also vacationed in the Bahamas with Joe and their daughters — Gia, 20, Gabriella, 17, Milania, 15, and Audriana, 12.
RELATED: RHONJ: Is Teresa Giudice's Insider Rumor 'Source' Spilled During the Reunion? Margaret Josephs Shares Who It Is Not
But things might not be as perfect in her new romance as Giudice wants fans to believe. According to Bravo and Cocktails, the Bravolebrity was recently overheard saying that things are "as bad as ever."
The 'RHONJ' star was spotted at Whole Foods
According to the Bravo gossip site, a fan spotted Giudice at the Whole Foods in Parsippany, New Jersey. The fan said that the mom-of-four was wearing a ring on her finger that was "blinding everyone."
But, "the sadness on her face was much more revealing."
The spy dished, "While on the phone it was overheard that 'things with the girls and him are as bad as ever. No matter how big the house is, the girls can't stand being under the same roof with him. And his smoking is slowly killing our indoor greenery.'"
Will Teresa Giudice's wedding be televised?
The source went on to say that Giudice might be in over her head with this new engagement. But she has no choice but to move forward because she's "already signed on to televise the wedding and potential spinoff."
RELATED: 'RHONJ' Season 11 Reunion: Teresa Giudice At The Center Of 'Explosive' Drama, Report
Ruelas is the co-founder of Digital Media Solutions and the father of two sons. He also has a playboy past and is "sex-obsessed," according to Page Six. He has reportedly left behind a "trail of ex-lovers who complain that his libido is virtually insatiable."
But is he the perfect man for Giudice? That remains to be seen.
Real Housewives of New Jersey is currently on hiatus.