'RHONJ': What Dolores Catania Really Thinks About Joe Gorga Calling Her a 'Broken Woman'
[SPOILER ALERT: Spoilers ahead for RHONJ Season 11, episode 11.] Dolores Catania is sick of her Real Housewives of New Jersey co-stars judging her love life. Though Dolores says she's happy in love with her boyfriend David Principe, she still maintains a loving friendship with her ex-husband.  Joe Gorga feels Dolores is a "broken woman" due …
[SPOILER ALERT: Spoilers ahead for RHONJ Season 11, episode 11.]
Dolores Catania is sick of her Real Housewives of New Jersey co-stars judging her love life. Though Dolores says she's happy in love with her boyfriend David Principe, she still maintains a loving friendship with her ex-husband.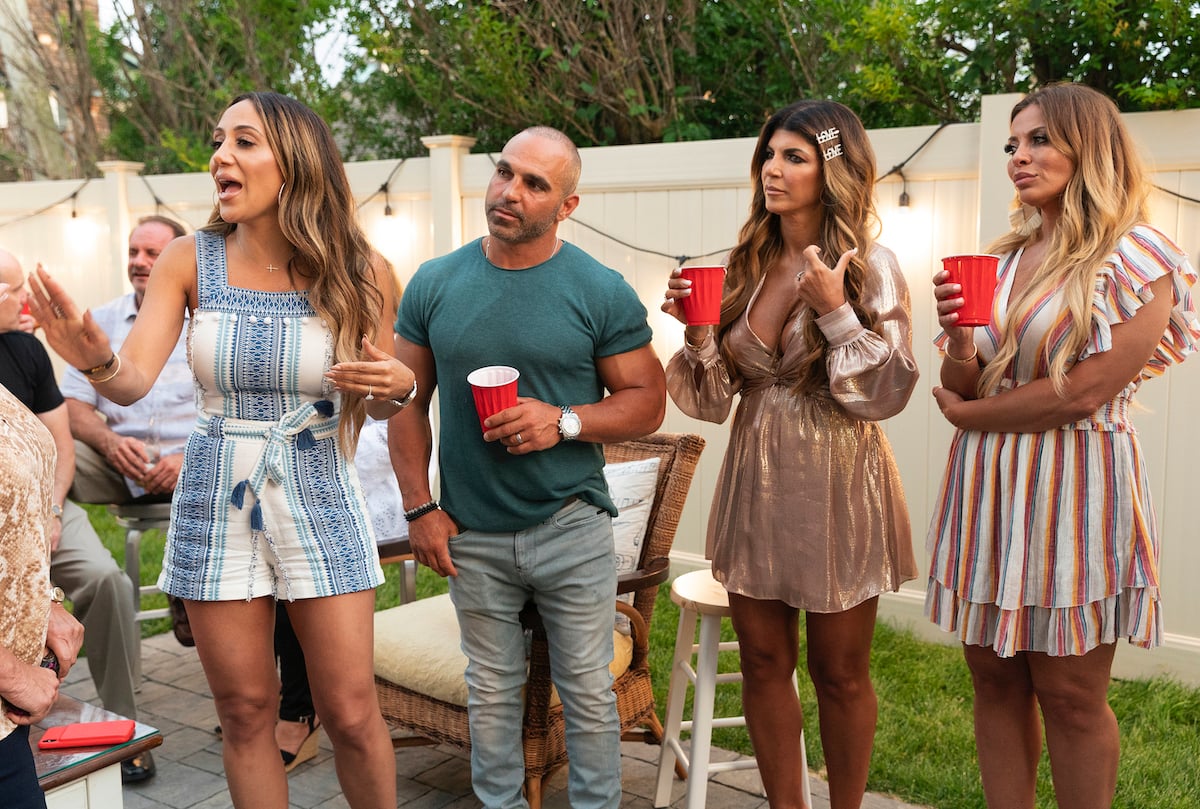 Joe Gorga feels Dolores is a "broken woman" due to being hurt from her divorce. But Dolores feels Joe's observation is directed toward his wife, Melissa.
Joe Gorga calls Dolores Catania a 'broken woman' because of her relationship with her ex-husband
Fans of RHONJ are familiar with Frank and Dolores Catania's unconventional relationship. The two divorced decades ago after Dolores discovered Frank was unfaithful. Despite such, the two remain close friends and co-parents, even living and working together. 
Dolores admittedly spends more time with Frank than she does her boyfriend of four years, David Principe. Principe rarely accompanies Dolores to social events. Instead, she takes Frank and attributes Principe's absence to his busy schedule as a doctor. 
Many believe Frank and Dolores are still in love, which they both deny. Others, including her co-stars, believe that Dolores uses Frank as her crutch because he's so familiar. Frank also has close relationships with the other husbands on the show, more so than Principe.
Related: 'RHONJ': What Is Dolores Catania, David Principe Relationship Status After Kissing Ex-Husband Frank Catania?
During the April 28 episode, Joe Gorga called out Frank for cheating on Dolores during their marriage.
"He was doing his thing – I love you like a brother, but you ruined her," Gorga tells Frank. "This is a broken woman," Gorga then tells Dolores. "You are broken because  – if I got cheated on, I'd be like 'I don't need anybody, I like my space' just like Dolores [does]."
Gorga believes Dolores can benefit from a different type of love if she opens herself up to it. He believes she's in limbo. Gorga also tells Dolores that she has a "scarred heart."
Dolores Catania says Joe Gorga was thinking of his wife when he called her 'broken'
Dolores eventually becomes agitated when the rest of the group chimes in on her relationship status. They accuse her of settling for Principe, who they feel continues to put Dolores on the backburner.
Per the group, Dolores accepts Principe's actions and makes herself OK with his behavior by masking it around the idea that she likes her space.
Dolores eventually leaves the party early, feeling judged and attacked. She also feels the group is being disrespectful to Principe and won't tolerate it.
Related: RHONJ: Are Delores Catania and David Principe Together After Her Decision To Move?
Dolores also says she agrees with Jackie Goldschnieder's take on Joe Gorga's observation of her. In her confessional regarding Joe calling Dolores broken, Goldschneider says, "Joe may look like he's talking to Dolores, but I think he's trying to send a message to Melissa [his wife]. You might think that you want all this independence, but without a man stabilizing you and calling the shots, you're gonna be broken too."
During her appearance on Watch What Happens Live, Dolores echoed Goldschneider's sentiments. "I think it had a lot to do with it at the time and what they were going through," she said. "Yeah, I do agree with Jackie. That was a good statement Jackie made."
At the time, The Gorga's were fighting over Melissa's busy work schedule, with Joe wanting her home more. Joe began to feel that Melissa was choosing fame over family and losing herself in the process.