'RHONJ': Why Alum Amber Marchese Calls the Show 'The Fakest in the Universe'
The Real Housewives of New Jersey typically has the least cast changes. One person whose time on the show was short-lived is Amber Marchese. She spent one season on the show and had many arguments with co-stars, later calling out Teresa Giudice. Marchese says the show is fake because of the forged drama. Amber Marchese …
The Real Housewives of New Jersey typically has the least cast changes. One person whose time on the show was short-lived is Amber Marchese. She spent one season on the show and had many arguments with co-stars, later calling out Teresa Giudice. Marchese says the show is fake because of the forged drama.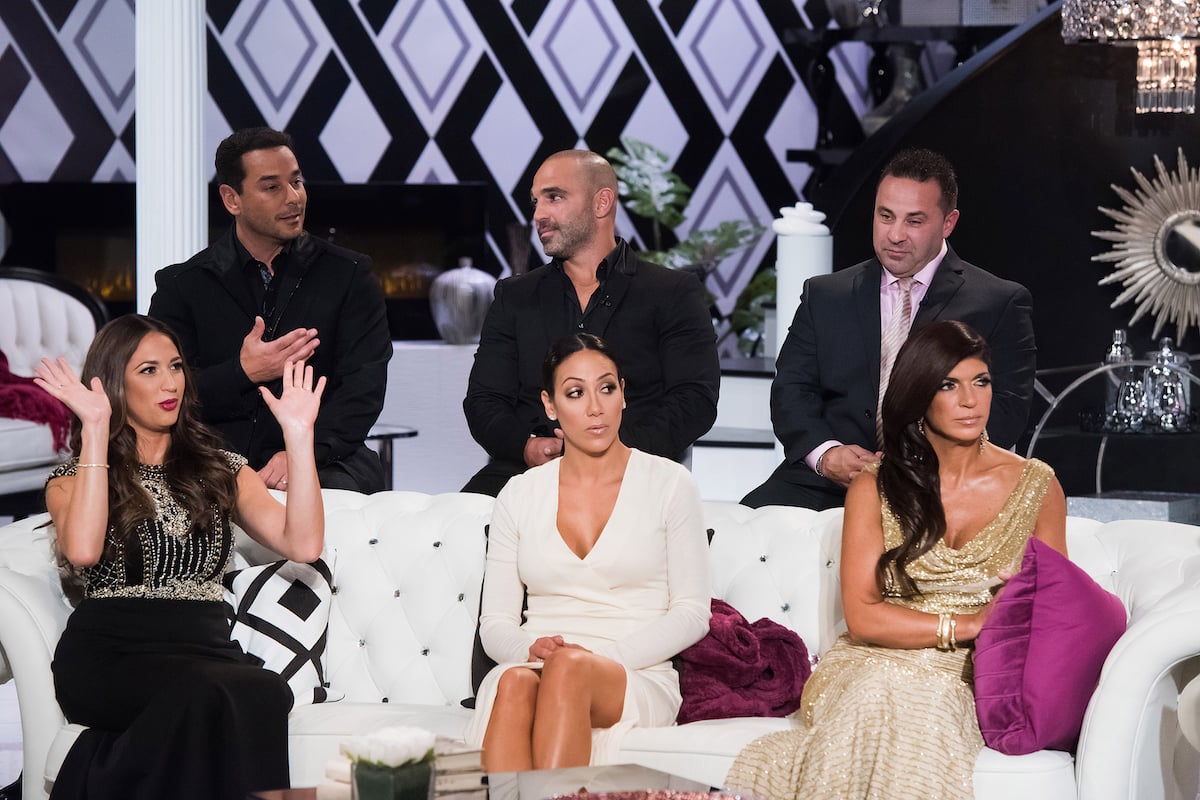 Amber Marchese appeared on Season 6 of 'RHOA'
Marchese began appearing on the show in season 6 in 2014 amid a major recast. At the time, sisters-in-law Caroline Manzo and Jacqueline Laurita exited the series after five seasons. Giudice's cousins Kathy and Rosie Wakile also took a step back from being full-time cast members.
Dina Manzo also returns after leaving the show midway through season 2. Along with Marchese, twin sisters, Teresa Aprea and Nicole Napolitano, joined the cast.
Marchese was introduced as an old friend to Melissa Gorga, Giudice's sister-in-law. Gorga and Marchese admit to being close throughout their 20s and allege they became distant once Gorga married. Marchese and Gorga often threw shade at one another's lavish lifestyles, with Marchese alleging Gorga married rich while she worked hard for her own.
Related: One and Done: These Real Housewives Only Made it a Single Season With Their Catty Cast Mates
Marchese's husband Jim often landed her in trouble with her co-stars because of his unfiltered attitude. He battles it out with many of the women on the show. The men also do not take a liking to him.
Marchese's storyline revolves around her breast cancer advocacy, keeping her family in line, and her struggles to fit in with the cast. Her attempts to reunite with Gorga were unsuccessful. She opted to leave the show after one season, alleging she had no allies on the show. 
The 'RHONJ' alum says the show is fake because of orchestrated drama
Marchese never looked back after exiting the popular housewives franchise. In a 2020 interview with Zack Peter on his #NoFilter podcast, she says she had no choice but to quit because it lacked reality. "[It's] the fakest universe that ever existed," she declared. 
Marchese says the scenarios the cast are forced into is why she feels the show is fake. "It's so difficult to be yourself on that show because you're put in these certain circumstances that you would never be in, right?" she asks. "Like, I just got attacked down in the basement, I'm certainly not going to go hang out and go get bagels and coffee with you the next day. It ain't happening! But you can't, you have to show up the next day at work. It was the fakest, realist world/alternate universe that ever existed."
The mom of four also notes that her co-stars play into the fantasy, calling out Giudice as the best player.
"She knows how to play the game," Marchese says of Giudice. "She knows how to be ruthless and she will do anything and everything that she has to do to keep her position on the show."
As for her relationship with Gorga, Marchese says she's less than impressed. "Her personality in general is, you know, it's underwhelming," she says. 
Marchese's Instagram bio even hints at her real feelings about her time on the show. It currently reads: "#RHONJwas a job, this is the real me."
The Marcheses later appeared on Marriage Boot Camp: Reality Stars on We TV.