'RHONY': Are Ramona Singer and Sonja Morgan Icing out a Group 'Outsider' Again?
Ramona Singer and Sonja Morgan from The Real Housewives of New York City want to ice out Leah McSweeney's sister from an upcoming girls' trip.
In a preview clip, Singer and Morgan explain why McSweeney's sister can't come on the trip, which mirrors some of the ways cast members have treated outsiders in the past.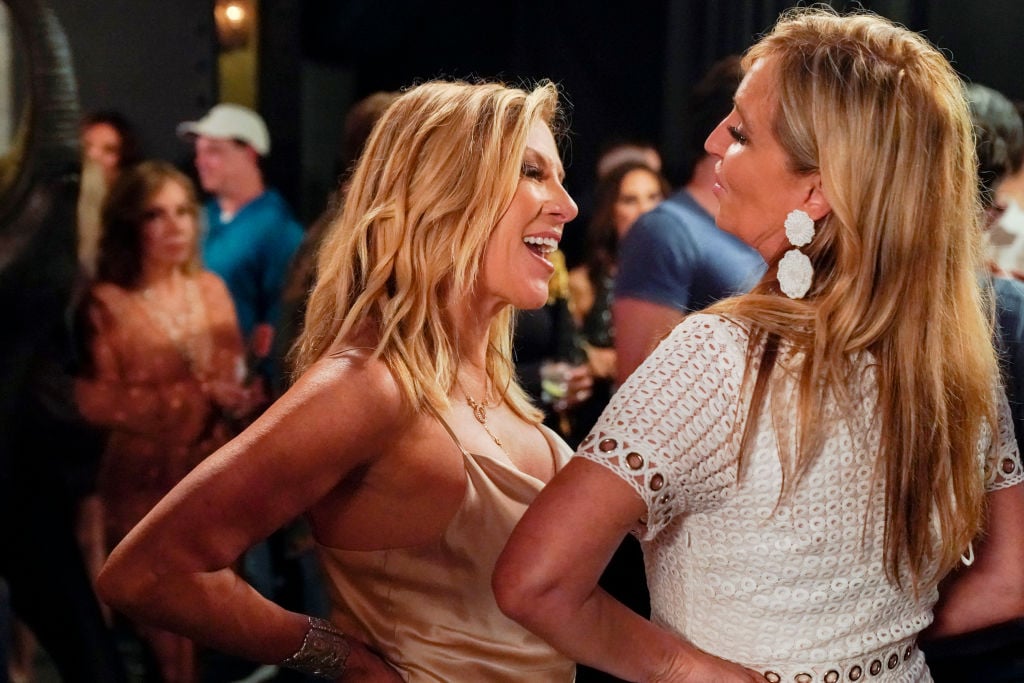 McSweeney seems to be baffled as to why her sister is not welcome. But Morgan says in a confessional, "When we say we're going on a girls' trip, we mean our clique of girls. We don't even know her sister. We would have needed to all discuss this in advance and make it like a bring your sister trip."
Ramona Singer flip flops on Leah McSweeney's sister
Initially Singer says McSweeney's sister can come to dinner with them. "If she's anything like you, I'm sure I'll like her," Singer surprisingly says to McSweeney. But then Singer starts to change her mind. Dorinda Medley seems interested in meeting McSweeney's sister but then Singer says she really didn't want her to come.
Singer thinks more about it and wants everyone to vote if her sister should be allowed. Thankfully, McSweeney continues to have a pretty good sense of humor about the situation, but Singer is seriously starting to backtrack. McSweeney points out that another friend of the group, Elyse Slaine, who is not a cast member is coming and that Singer isn't even speaking to her.
But Singer says she's been close to Slaine for decades. Adding, "She knows people!" Then Morgan insists that the guests can't invite the guests. Although Morgan and Singer don't want McSweeney's sister, Medley jokes about how McSweeney can just sneak her into her room. "I think it's important for Leah to have her sister here," Medley says in a confessional. "She's new to the group, she's a single mom, that maybe wants to hang out with her sister. Big deal. Who cares?"
Singer wasn't welcoming to Barbara Kavovit last season
Singer has truly welcomed McSweeney this season but didn't have much love for friend Barbara Kavovit last season. She harshly criticized Kavovit and shunned her. Kavovit was never a main cast member but was a constant last season.
Kavovit was even left out during a girls' trip to Miami. She seemed flummoxed as to why Singer was so cold but wondered if it was just due to insecurity. "You know, it's so funny, I've been tagged like 100 times this morning on an outfit that she's wearing that actually, if you took the face off, it looks like me. It's blue jeans, an Hermes belt, and a crop top. And everyone's commenting, 'Wow, this looks like Barbara. I guess you really do like the way she dresses,'" Kavovit told Bravo's The Daily Dish podcast. "I always think that people's insecurities come out when they start bashing other people and I've learned to just roll with it."
Singer also tried to get fans to view Kavovit as an outsider too. She tweeted, "Barbara does not fit in … why do you think?!?" In fact, Singer became pretty annoyed when someone accidentally referred to Kavovit as a cast member. "She's not a housewife. She's just a friend, so she's not a new housewife," she said, AOL recounts. "So I don't even know what she is. I don't want to talk about it. They're not giving her an apple. They're not giving her an apple or anything."
The Real Housewives of New York City airs Thursdays at 9/8c on Bravo.