'RHONY': Dorinda Medley Insists Tinsley Mortimer Should 'Tell the Truth'
Dorinda Medley from The Real Housewives of New York City says Tinsley Mortimer needs to start telling the truth in response to the verbal lashing she gave to Mortimer during a visit to a winery.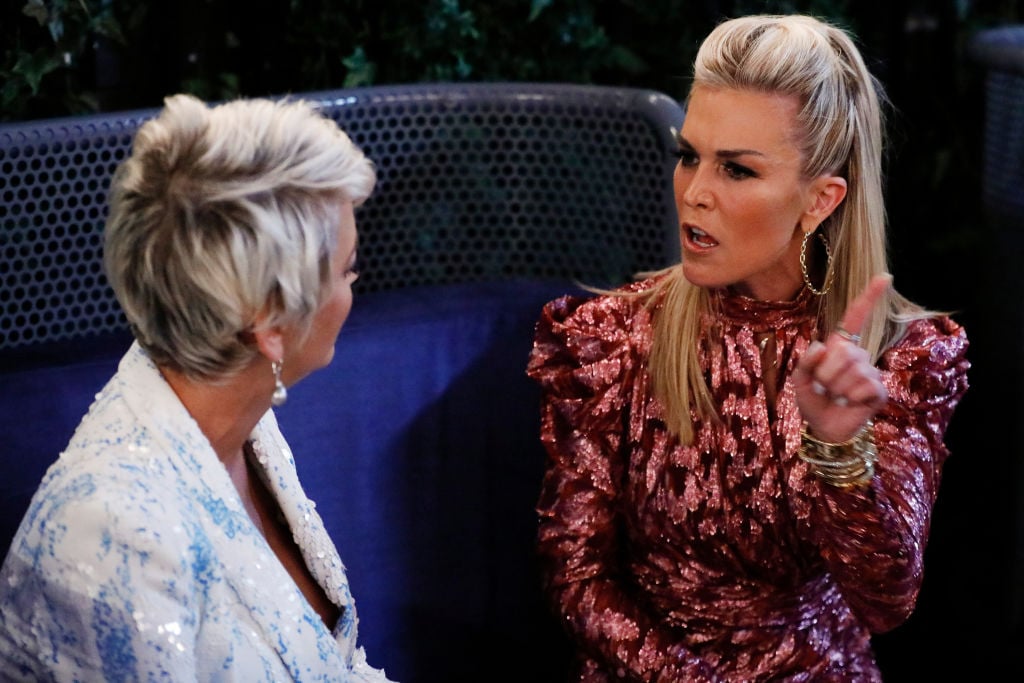 Medley insists that Mortimer hasn't been truthful or open about her relationship with Scott Kluth. However, this season she seems especially charged about Mortimer and has verbally attacked her on more than one occasion. "I don't think Tinsley should be involved in anything," Medley said in her YouTube vlog. "Pipe in now until she pipes in about her own life and tells the truth."
The women sniped at each other throughout the season. Both women struggled with her relationships and breakups, but Medley's separation from boyfriend John John Mahdessian was shared in Page Six. The cast discussed the breakup during a trip to a pumpkin patch/winery. Medley admitted that opening up about her relationship and breakup was difficult, which stirred frustration in Mortimer.
Mortimer triggered Medley by telling her they should be open
Medley's comment about having a hard time talking about the breakup prompted Mortimer to get fired up. She muttered, "Well that's the thing, it's called sharing, that we all do. It's really hard when people judge you on it." Mortimer exclaimed in a confessional that Medley was clamming up about the very thing she's being called out on.
RELATED: 'RHONY': Dorinda Medley Reveals the Real Reason Why She and John Mahdessian Broke Up
"Different rules for different people apparently," Mortimer says as she sits at the end of the table next to Leah McSweeney. Sonja Morgan looks uncomfortable, knowing Mortimer's remarks are going to upset Medley.
Indeed they did upset Medley. "Listen, don't comment," she says to Mortimer. "My gum lasts longer than your relationship, OK?" Mortimer tries to fight back but becomes emotional. Ramona Singer observes that Medley had outbursts in the past but can see how they've become even worse today. The exchange ends with Medley screaming at Mortimer. And Mortimer retreats in tears.
Fans are taking sides
Medley tweeted during the episode, "Liar liar pants in fire @TinsleyMortimer! Enjoy." However, fans seemed to come down on Mortimer's side. "Why so angry at Tinsley? Like it doesn't even make sense. Are you trying to take Bethenny's place and think that by being so extremely mean is the way to do it? I'm so confused by you, I used to love you, you were feisty & fun & humorous and now you are just mean," one person responded.
RELATED: 'RHONY': Tinsley Mortimer Says She's Become the 'Real Housewife' She's Always Wanted to Be
Mortimer no longer tweets but shared a photo with her dogs and Kluth. "Ain't no Quarantine gang like mine! 🤞💪 My little family makes me the happiest person in the world!!! I love you so much Scott!!! 😷❤️😷," she posted.
While Mortimer's photo had nothing to do with the episode, fans responded. Morgan added a heart emoji but was attacked by fans for not sticking up for Mortimer at the winery. Morgan even confronted Mortimer at the winery, asking her if she called Medley when she and Mahdessian broke up. "@sonjatmorgan throwing love after throwing her under the bus. With friends like you who needs enemies. @tinsleymortimer isn't the cast punching bag. Tinsley, ya need to head to Reddit Real Housewives sub. There is sooo much love and support for you," a fan replied to Mortimer.