'RHONY': Dorinda Medley Says Ramona Singer Is 'Terrible to Her Fans' After Being Told She Needs Anger Management
Dorinda Medley from 'RHONY' said Ramona Singer is 'terrible to her fans' and to 'get help.'
Dorinda Medley from The Real Housewives of New York City urged Ramona Singer to "get help" after Singer said Medley needed anger management.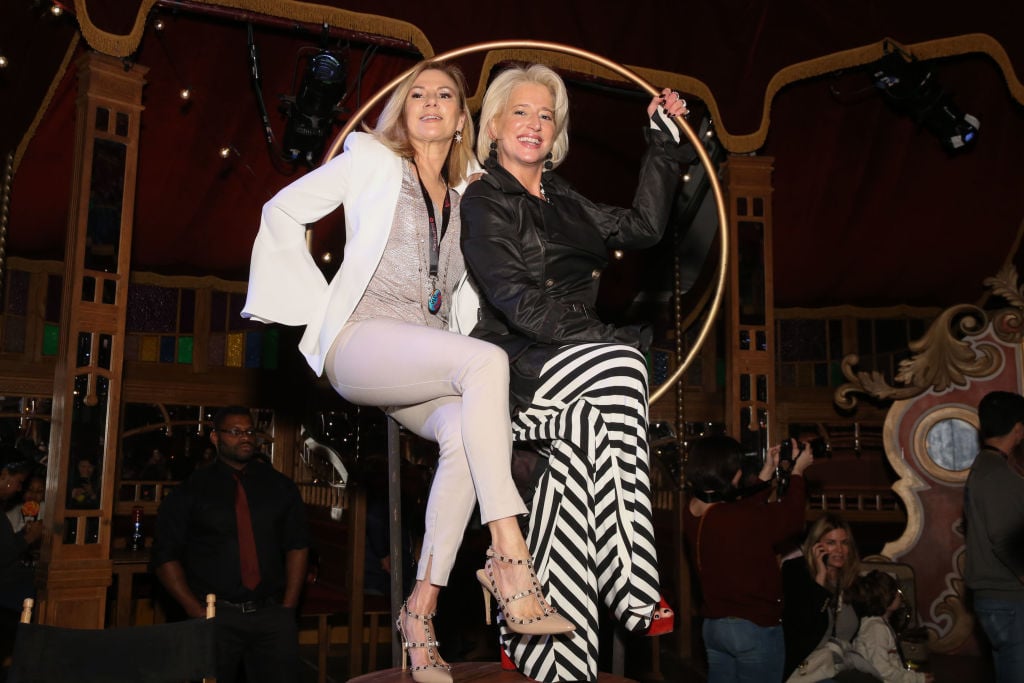 Singer recently appeared on Watch What Happens Live with Andy Cohen where she shared that the cast is afraid of Medley's anger. "I really wish now when it came back to when I saw that episode when she was really hating on Tinsley at the orchard, I should have said, 'Shut the duck up,' because, unfortunately, we're all afraid of Dorinda with her anger, and she's just out of control," she shared.
Medley was not thrilled when she saw the episode and tweeted about the way Singer treats people. "@ramonasinger I need anger management! You're terrible to your fans, friends, and wait staff. Watch Bravocon!! Ask @SlaineElyse @CynthiaBailey10 @Jillzarin @KenyaMoore @SonjatMorgan just a few #leahmcsweeney #waitstaff #fans List is too long to tweet! Get Help!"
Ramana Singer bounced Dorinda Medley from her apartment
Viewers witnessed a cringeworthy moment when Singer asked Medley to leave a cocktail party she hosted at her apartment. Medley has been emotional this season, mourning the loss of her husband and the breakup from boyfriend John Mahdessian. Plus, Blue Stone Manor flooded, destroying endless memories she had stored of her late husband in the basement.
Although the cast is fully aware Medley is struggling, Medley is also unleashing her anger and pain on Tinsley Mortimer. Singer decided to speak up at her party, which quickly went downhill from there.
The women discuss how some people relish others' misfortunes even if they don't wish ill will on the other person. "You like people's misfortunes," Medley said to Singer. "You like to deflect from you to make people feel bad. You're a coward." This sparked a fight.
"Dorinda, I'm so sorry that you're so unhappy," Singer snapped back. "I'm sorry that Richard died tomorrow. I'm sorry that it's your anniversary coming up." When Medley said she was "sorry" the men in Singer's life have come and gone, Singer bounced her from her home.
Medley recalled the BravoCon incident
Medley brought up BravoCon when several cast members from the Housewives franchise confronted Singer. A line of cast members formed, many sharing that Singer was rude to them on different occasions, mainly for refusing to be photographed with them.
Gizelle Bryant from The Real Housewives of Potomac and Dolores Catania from The Real Housewives of New Jersey both had photo mishaps with Singer.
But also two "OGs" faced off. Singer and Vicki Gunvalson from The Real Housewives of Orange County had a beef over who is the most iconic OG. Singer was also accused of leaving a subpar tip at a local pizza restaurant too, according to Page Six. Apparently, Singer only left a $1 tip on a $20 tab.
Last season, Singer was also seen making crass remarks about Bethenny Frankel's late boyfriend after he died. Singer later apologized in a tweet. "I cringed when I saw what I said about Dennis in tonight's episode," she wrote. "It definitely wasn't one of my finer moments. I respected and liked him very much and I sincerely apologize to his family and Bethenny for my thoughtless comments."