'RHONY': Hurricane Leah Is a Ratings Game Changer for the Season
The Real Housewives of New York City hit a season-high in ratings thanks to Leah McSweeney's total meltdown.
"S12E09 – 1.325 million viewers (0.41 18-49 demo) *season high in total viewers*," according to Bravo Ratings. What made this episode widely viewed?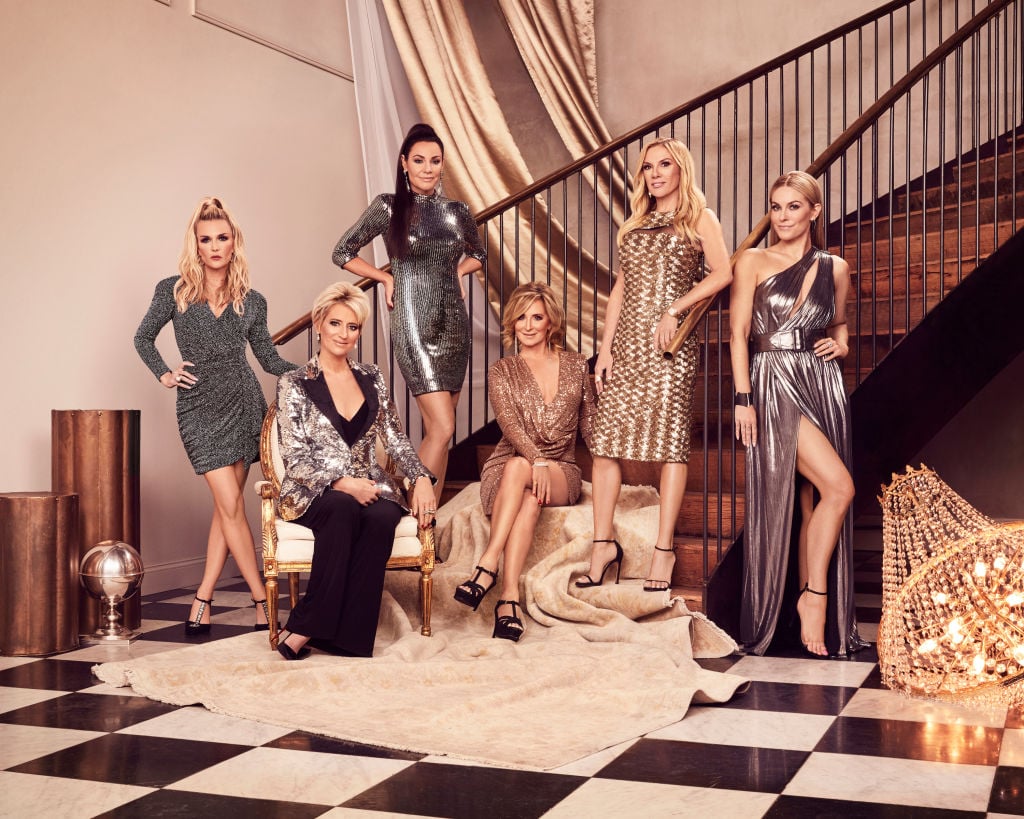 Ramona Singer jerked McSweeney around in episode 9. Singer allowed McSweeney's sister to accompany them on a girls' trip, but then rescinded the invite. Singer's timing could not have been worse. She told McSweeney about her decision only after McSweeney was extremely intoxicated.
The news threw McSweeney into a complete meltdown during Singer's elegant dinner party. Thankfully the party was private. But cameras captured McSweeney screaming, digging into the flower centerpieces and rolling on the ground.
The season heats up with viewers
Season 12 isn't without plenty of humor and drama. Luann de Lesseps was formally released from probation. But also the shocking announcement that Bethenny Frankel decided to not return. Dorinda Medley struggled with her relationship and lashed out aggressively at Tinsley Mortimer. Medley believed that Mortimer wasn't being entirely truthful about her life.
But McSweeney was a wildcard in the group. She was quickly embraced by the cast and viewers, which is rare in Housewives-dome. The cast (and viewers) already saw McSweeney's explosive behavior when she drank alcohol too.
McSweeney trashed Ramona Singer's backyard in the Hamptons after too many cocktails. Singer peppered the yard with tiki torches, which infuriated McSweeney. McSweeney later shared that tiki torches reminded her of the racist incidents in Charlottesville, Virginia.
Fans are here for more McSweeney
Viewers commented on Bravo Ratings' tweet. "Damn. It needs to be lower here we are like 5 episodes in and just literally them being drunk every week," one wrote.
McSweeney was so out of control she appeared to kick a cameraman during the meltdown too. "The power of Hurricane Leah and her foot breaking the forth wall and living her best life, is just brilliant," another person added.
Some people also noted the ratings increase due to the episode. "Damn, pretty close to RHOA's ratings. Didn't think that would ever happen," a viewer wrote.
Ratings definitely made huge strides. "S12E08 – 1.144 million viewers (0.37 18-49 demo)," Bravo Ratings reported for the previous episode. Episode 7 generated 1.265 million viewers, according to Bravo Ratings.
McSweeney setup the episode to explode
McSweeney pre-emptively set viewers up for a storm on Instagram. She teased the upcoming episode, while also shading Singer.
"Hurricane season is here and tonight it's 'Hurricane Leah'. I want to preface this episode by saying I went on this trip to Rhode Island not really wanting to even go," McSweeney wrote. Adding, "I didn't know the women that well at this point, and I was in an already-vulnerable mood. I wanted my sister there for support. She was also six months postpartum and looking forward to her first baby-free overnight trip. Moms: haven't we all been there?"
"But enough about me," McSweeney continued. "Tune in tonight for Ramona. Watch her get embarrassed by MY 'bad' behavior. Yes, you heard it right: the woman who defecates on hotel room floors (and expects others to clean it up), who calls her own friends fat, and who tries to flex on IG during a pandemic is supposedly embarrassed that I got sh*tfaced. Please!"
The Real Housewives of New York City is on Thursdays at 9/8c on Bravo.