'RHONY': Is This the 'Fish Room' All Over Again for Luann de Lesseps?
Is Luann de Lesseps from The Real Housewives of New York City getting stuck with the worst room in the house again?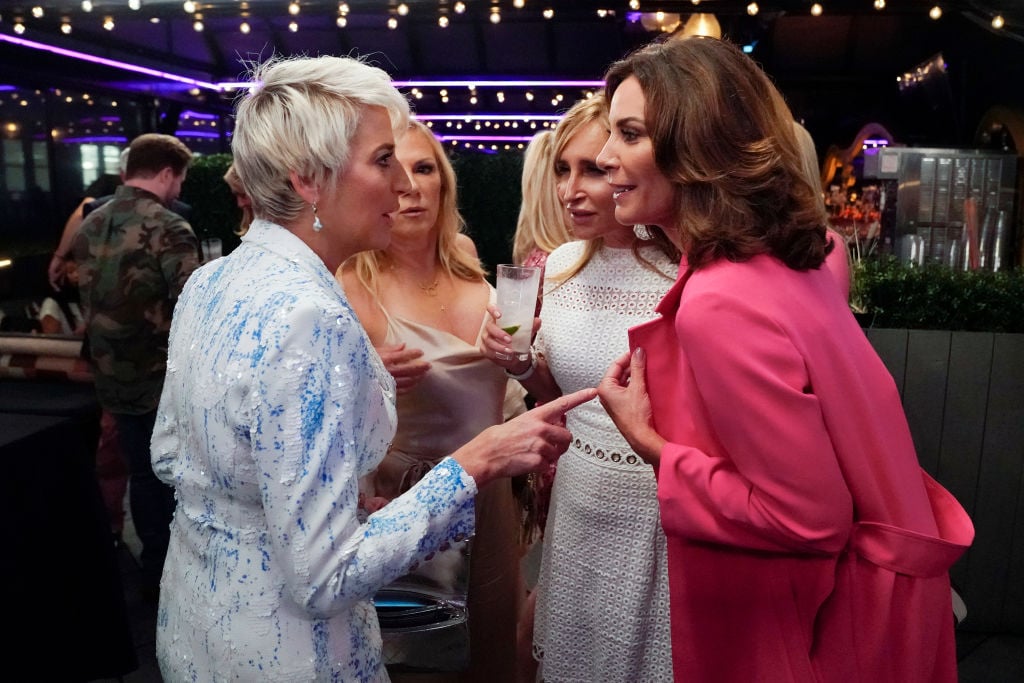 The ladies decide to have a sleepover at Ramona Singer's Hampton's home. Singer tells de Lesseps she has a special room for her in light of the infamous "fish room" debacle at Blue Stone Manor last year. Dorinda Medley invited the cast to stay at her sprawling Blue Stone Manor in the Berkshires last year. At the time, Medley wanted to make sure Bethenny Frankel got a quiet room since Frankel's boyfriend Dennis Shields had just died.
Unfortunately, de Lesseps thought she got the shaft being relegated to a bedroom that featured a number of large taxidermy fish and wild paint colors. She was very vocal about her disdain for the room, which put Medley on the defense. Singer wanted to avoid the same mess, so she thought she was giving de Lesseps a great room. So she thought.
The lower level or the basement?
A preview clip shows Singer bringing de Lesseps to her room. "Is this the basement," de Lesseps inquires as she and Singer descend a staircase. But Singer insists they are going to the "lower-level" of her Hampton's home.
De Lesseps is not buying it but tries to humor Singer. "Give me a break," de Lesseps says in a confessional. "A basement is a basement." Singer shows de Lesseps around the space (sans any windows). The "lower-level" includes an entire living room area with a large television and massive sectional couch.
Singer sells it as giving de Lesseps her own area to hang out where it is quiet. "This is your own separate area," she says to de Lesseps as she leads her to the bedroom.
It's the 'fish room' part two
Singer's attempt to convince de Lesseps she's in a great room doesn't work. "It's like putting me in the attic and calling it the penthouse," de Lesseps jokes in a confessional. In fact, de Lesseps confronts Singer asking, "What happened to how I'm going to be so happy and I'll have the nicest room in the house? What happened to that?" But Singer then backs up. "I said you'd have privacy," she insists.
Now de Lesseps sees this as being put last on the list for rooms when they go on vacations. "The lack of Ramona's consideration is just mindblowing," de Lesseps adds in her confessional. Singer leaves and de Lesseps tries to get comfortable. She inspects her surroundings looking chilly. As she looks for a thermostat, she also realizes the television in her room isn't even connected.
"I wanted to ask you how do I adjust the air conditioning downstairs, it's too cold," de Lesseps asks Singer when she returns to the kitchen. But Singer says, "You can't." De Lesseps wants to know why she can't warm up the area. "I don't know, it's too cold? It's like 70 degrees," Singer deflects. But de Lesseps still pushes, likely trying to get Singer to admit she is staying in the basement. Singer says de Lesseps can use a blanket if she's cold.
Meanwhile, on the "upper-level," the rest of the cast begins to unpack. Their rooms feature large, glass windows and comfortable bedding.
The Real Housewives of New York City airs on Bravo Thursday night at 9/8c on Bravo.