'RHONY': Kelly Bensimon Reacts to Tyler Whitman Admitting He Had Her 'All Wrong' – 'There's Been a Lot of Misconceptions About Who I Am' (Exclusive)
Kelly Bensimon from The Real Housewives of New York City returned to reality television on Million Dollar Listing New York, surprising Tyler Whitman who admitted he completely misjudged who she was from RHONY. Bensimon, who is now a luxury power broker in her own right, said RHONY didn't reflect who she truly is and recently made a video sharing the real reason why she made her memorable departure from "Scary Island."
'The Real Housewives of New York City' didn't truly reflect Kelly Bensimon's character
Whitman was a RHONY fan and said Bensimon was nothing like what he recalled from the show. "That was the first time I met her face-to-face, and I gotta tell you: She was so nice," he said In on In The Know. "You make up these stories about these people and you're like, 'They're going to be crazy, they're going to be mean, they're going to be difficult.' She knew my story when she came in, and we were talking about weight loss and what it's like, then I was showing her the place."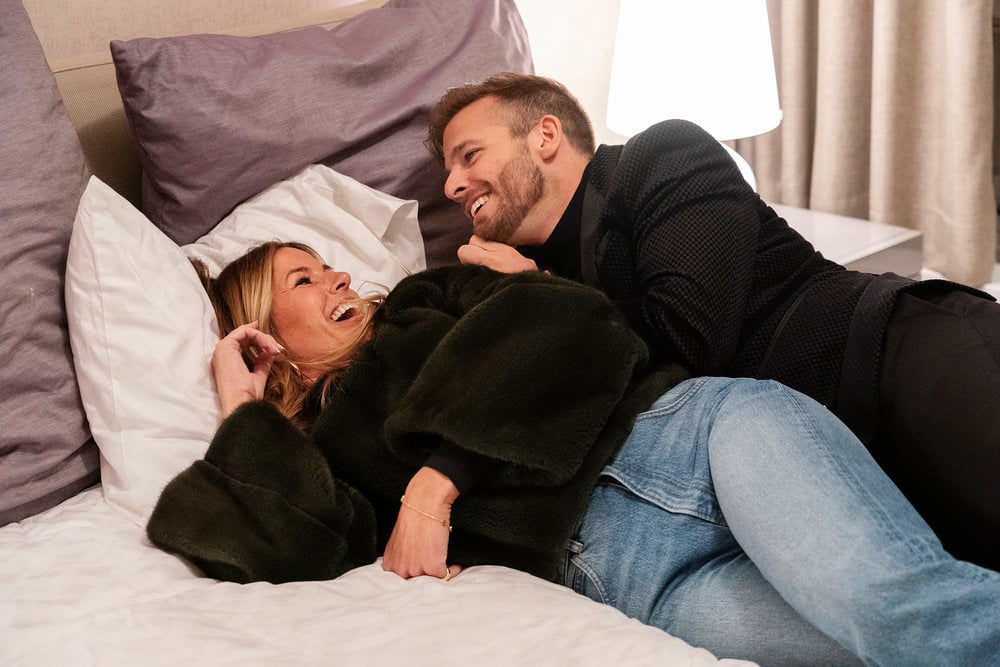 Bensimon said her time on RHONY didn't represent who she is in real life. "I think that there's been a lot of misconceptions about who I am, you know, based on the other show," Bensimon told Showbiz Cheat Sheet, referring to RHONY. "And it's not who I am. You know, I was on a really fun show 10 years ago. And maybe sometimes I didn't come off as great. But, that's not the real me. I mean, this is what I do for a living."
Kelly Bensimon and Tyler Whitman didn't talk 'RHONY' on 'Million Dollar Listing' but he was starstruck
Bensimon said she didn't talk Housewives when Whitman, but rather, real estate. "It was really a real estate kind of thing," she recalled. Bensimon made her Million Dollar Listing debut at Whitman's broker's open, which is when they connected. "It was an open house, he had a lot of people there. We didn't have a lot of time to chat about the past. But he was like, 'Oh my God! Thank you for coming!'"
Whitman was a huge fan and admitted he was a little starstruck when Bensimon arrived. "I haven't had cable in, like, five or six years, so I was early Housewives obsessed. Obsessed!" he exclaimed.
"Back during my obsession was in her heyday, and I think so many of those women are so interesting, but I thought she was particularly interesting," he continued. "Then, obviously, when she got into real estate, everybody heard about it. It was like, 'Kelly Bensimon is in real estate!' I reached out to her. Obviously, she's well-connected, certainly [she] knows a lot of wealthy people, so it makes sense that she's in the business. I didn't think she would show up, but I invited her. Then she came!"
RHONY's Kelly Bensimon says her kids come first but real estate has become her 'third child'
Bensimon also recently addressed another misconception surrounding her departure from "Scary Island" on RHONY. Bensimon suddenly seemed upset and abruptly left a girls trip (referred to "Scary Island" on the show). She recently shared that she received upsetting news that her nanny decided to suddenly leave her young daughters alone while she was on the trip and needed to get back home immediately.
"My kids always come first," Bensimon said. "And I think that one thing that Bravo TV fans always know is that kids always come first. And what's interesting about where I am right now in my life is that for the first time in 23 years, I'm actually able to work full time. So I'm like, wow, how are you so successful? You know what? Because I'm from nine to six every single day, I am laser-focused. I work seven days a week. I'm laser-focused on selling the most beautiful apartments and helping my buyers purchase the most beautiful apartments. So it's really like my new baby. Real estate is like my third child."
Indeed, Bensimon set real estate records early in her career. Despite being a new agent, she transacted $50 million in sales from Jan. through March 2021 and continues to smash records and snap up deals. Her client list is filled with exclusive high-net-worth buyers and sellers and Bensimon shared why she is so highly sought as an agent. "I have a lot of respect for [my clients] and for their privacy and discretion and trust," she remarked. "I think those are big reasons why I've been very successful."