'RHONY': Leah McSweeney Explains Why She Trashed Ramona Singer's Tiki Torches
Leah McSweeney from The Real Housewives of New York City had only one word about why she trashed Ramona Singer's tiki torches. "Charlottesville," she said when Andy Cohen asked about the romp.
McSweeney finally cut loose and had several cocktails at Singer's small gathering at her home. She became so inebriated she ripped off her clothes and even got typically reserved Tinsley Mortimer to join her. But at one point, McSweeney spies the lit tiki torches lining Singer's backyard and becomes enraged.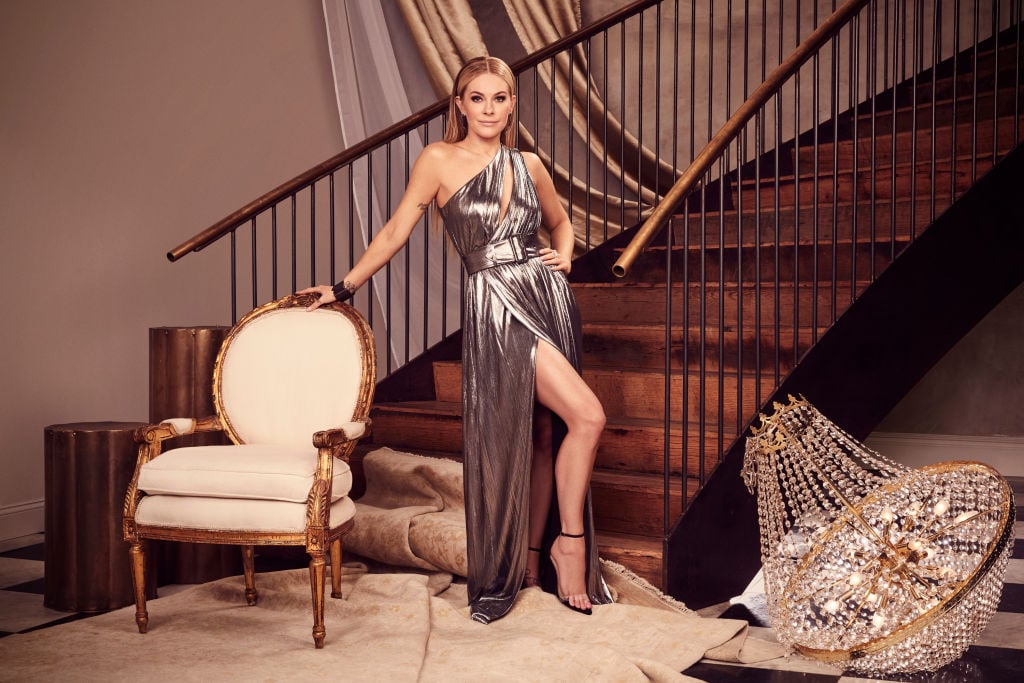 She appeared on Watch What Happens Live with Andy Cohen and a viewer asked why she thought the torches were "bullsh*t" when she was skinny dipping. She replied with a hesitant smile by saying "Charlottesville." Cohen then turns to co-guest actress Wendi McLendon-Covey.
"Whenever I hear 'tiki torch' now that's all I associate it with," McLendon-Covey said. Cohen insists he didn't get it at the time. But adds, "I think that's great."
Viewers thought it was pretty great too
Right-wing group "Unite the Right" held a racist rally in Charlottesville, Virginia in 2017. The explosive incident resulted in the death of one person protesting the rally and dozens were injured. Donald Trump reacted cooly to the tragic events, referring to very fine people on "both sides." The people from Unite the Right carried tiki torches while chanting racist slogans.
Apparently Mortimer didn't understand the anger toward the tiki torches either. "@TinsleyMortimer: this is the the negative connotation #tikitorches hold, as mentioned by #LeahMcSweeney#RHONY," one person tweeted.
Several viewers applauded McSweeney and also found her to be pretty funny during the episode. "I must applaud Leah McSweeney for landing that triple axel. Her act of drunken recklessness was actually an act of drunken wokeness," one person observed. "We want to drink with you #leahmcsweeney we like your type of fun," one person shared.
Another person added, "LEAH MCSWEENEY !!!!!!!!!!! waving her juul around, flashing her p**sy tat, throwing tiki torches in the hamptons !!!!!!!!"
Not everyone loved that McSweeney trashed the backyard
Singer was aghast when she saw the state of her home the next day. She left during her party at home to hit a (better) party in the Hamptons. But when she woke up the next day, she found a completely destroyed house. She was pretty upset and McSweeney was contrite. Then, McSweeney single-handedly cleaned the kitchen and took her lumps for the backyard disaster.
Apparently, Singer wasn't the only one who thought McSweeney was out of control, regardless of what the torches represented. Some viewers thought she was being a little reckless. "#RHONYC did @leahmcsweeney say on #WWHL she respects people's homes?? What if one of those tiki torches caught fire??" one person tweeted.
Another person remarked, "@rhony_bravo if I was @ramonasinger would curse #leahmcsweeney the F**K out for being the ring leader in trashing my house. A candle or cleaning a kitchen doesn't cover it. @DorindaMedley is right it was ok for Ramona to trash her house and not give a f**k."
The Real Housewives of New York City is on Thursday at 9/8c on Bravo.