'RHONY': Leah McSweeney Says She's Never Returning to Newport After Explosive Trip
Leah McSweeney from 'RHONY' has good reason to want to erase the trip to Newport from her memory.
The girls' trip from hell went further south in Newport, Rhode Island and Leah McSweeney from The Real Housewives of New York City insists she's never returning to the quaint town.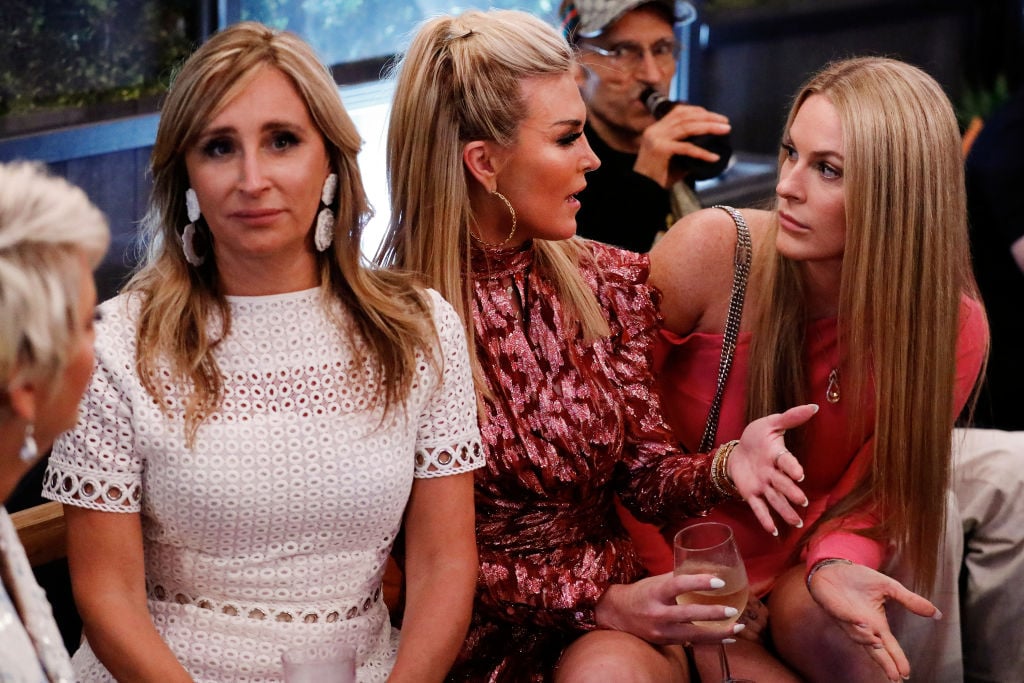 McSweeney admitted she wasn't in the right headspace to go on a girls' trip in the first place after a man she had been seeing ghosted her. But she agreed, simply asking if her sister Sarah could join them. But inviting her sister became a point of contention throughout the trip. And it led to one combustible encounter with the women after another.
Sarah McSweeney shared a photo on Instagram along with her disbelief about what occurred during her short time meeting the cast. "What did @leahmob get me into? Watch my first 24 hours away from Cecilia play out tonight at 9pm on @bravotv #RHONY miss you @tinsleymortimer 💋," she wrote. Sister Leah McSweeney replied, "Never going back to Newport."
The dinner with her sister began with optimism
McSweeney became enraged during Ramona Singer's private beach party dinner when Singer rescinded her invitation to McSweeney's sister. McSweeney's reaction was so big, it seemed to scare Singer so she backtracked (again) and told McSweeney her sister could come to dinner the following evening.
The cast meets McSweeney's sister the following day at lunch. They appear to be welcoming, asking questions about her newborn daughter, and being friendly.
But later that welcoming feeling evaporates at dinner. Tinsley Mortimer arranged for the cast to enjoy dinner at a local bar and grill that a friend owned. "Are you worried about them coming with your friend who owns the restaurant?" McSweeney's sister asks Mortimer. Mortimer replies, "A little bit." Good answer because a storm was brewing.
Operation cougar removal
The group's table was ready soon after the cast members arrive. However, Singer, Sonja Morgan, and Luann de Lesseps decide to "do a lap" and end up hanging all over a few unsuspecting men sitting at the bar. Mortimer is already annoyed explaining that the table is ready so there is no reason to be at the bar.
Singer is honed into the men with laser focus. Mortimer tries to get their attention to move them from the bar to the table but none of the women at the bar are having it. The cast learns that "Courtland," the man in question is engaged but it doesn't seem to move them back to the table. Mortimer returns to the table completely exasperated and defeated.
At this point, McSweeney and her sister decide to try another approach. Their strategy is to lure the men's attention away from the cougars on the prowl in the hopes Singer and Morgan will give up and go back to the table. Their plan works, but instead, it annoys and frustrates Courtland. He storms off, clearly angry.
The ravioli launched around the world
Singer and Morgan are now angry that Courtland was scared off by the McSweeney sisters. Elyse Slaine refers to the cougars as a "geriatric version of girls gone wild."
At this point, de Lesseps sees that the group is about to explode. Mortimer is upset with Singer and Morgan's behavior and Singer is angry her man was chased away. "Bring it down a notch," de Lesseps urges.
The conversation escalates and Singer tries to pin the debacle on the McSweeney sisters. She and Morgan display outrageous behavior as the rest of the table watches in disbelief. A man stands in the corner of the restaurant looking aghast with martini in hand.
But then Morgan and Singer go for the juggler and refer to McSweeney's sister as a "demon." Game on as far as McSweeney is concerned. McSweeney grabs a ravioli off of the table and whips it at Singer for the remark. "You can f**k with me but don't f**k with my family," McSweeney says in a confessional.