'RHONY' Luann de Lesseps Would Refuse to Film With Alex McCord – Truly Bonded with Leah McSweeney
Luann de Lesseps teased an exit from The Real Housewives of New York City, but she was pretty direct about which who she would never want to return to RHONY and which new cast member she bonded with.
Bravo announced that RHONY will be split into two series, positioning original cast members on one and then re-casting the main series with new Housewives. De Lesseps recently danced around rumors that she planned to leave the series completely. But said if she stayed, there's no way she'd film again with Alex McCord and her husband Simon van Kempen.
Luann de Lesseps would not want Alex McCord back
De Lesseps said, "Alex and Simon, they're not going to be back any time soon" when asked who she wouldn't film with on the Two T's in a Pod podcast.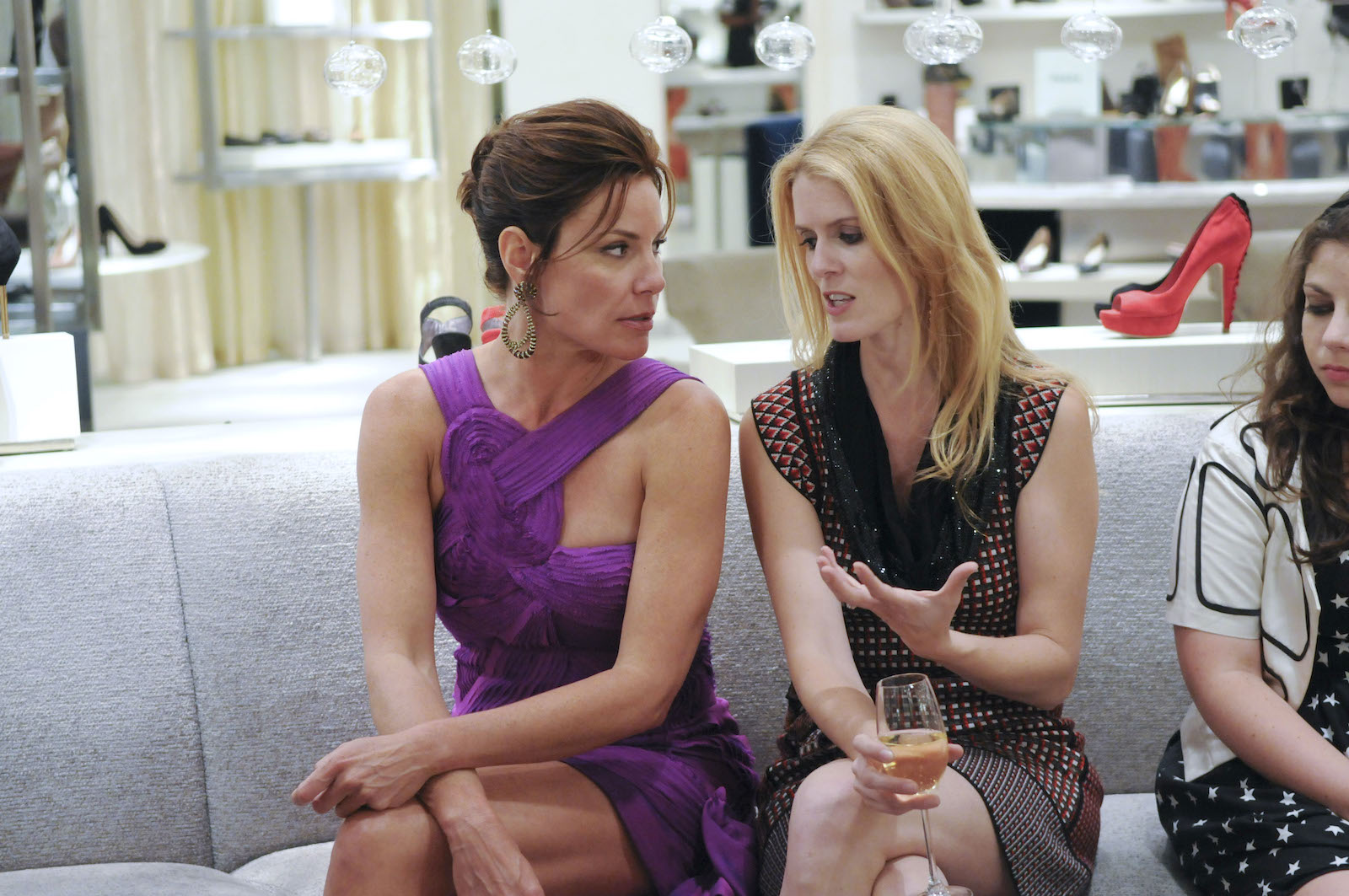 She also doesn't think she was overly judgemental or tough on them during McCord's time on RHONY. "I think, who was more judgemental about them, Bethenny [Frankel] maybe?" And added that she no longer speaks to McCord or van Kempen. "They're in Australia." De Lesseps also said if she had to bring back McCord or Aviva Drescher, she'd go with Drescher.
No love lost between the former 'RHONY' castmates
McCord and de Lesseps have a lengthy history of disputes on the show, including the infamous comment de Lesseps made about McCord's shoes. She referred to them as "Herman Munster shoes." McCord shot back that they were Louis Vuitton, which prompted de Lesseps to say that sometimes Louis Vuitton makes mistakes.
To this day, de Lesseps has no regrets. "No, I do not regret telling Alex McCord 'Louis Vuitton makes mistakes' because those shoes were just bad," she said on Watch What Happens Live with Andy Cohen in 2020. She also named McCord as "the worst" during a 2019 cabaret performance in Atlantic City. "Oh my God, and [her husband Simon van Kempen]? Oh my god…" she told the crowd, via People.
McCord said the Herman Munster remark is why she called de Lesseps a "thug in a cocktail dress" on the show. "All of the fights leading up to that conversation," McCord told Bravo's The Daily Dish in 2017. "She's just got this complete lack of self-awareness and this hard-charging nastiness. Really arrogant, but also all about her. Absolutely unaware that she was being completely inappropriate and rude."
She bonded with Leah McSweeney on 'RHONY' … no comment about Eboni K. Williams
On the flipside, de Lesseps said she really bonded with Leah McSweeney on RHONY. "I really love Leah," she said on the Two T's in a Pod podcast. "She's new on the show and her and I get along very well. And she's a cool chick and she's very supportive. Because I've known all the girls on the show, since before the show [like Sonja Morgan and Ramona Singer]."
"Nobody new except for Leah," she added, clearly leaving out Eboni K. Williams. Williams and de Lesseps definitely didn't click last season and the two haven't spoken since filming wrapped.  I think the one person I've literally had zero communication with since May is Luann," Williams said on the Behind the Velvet Rope with David Yontef podcast.
"I have mutual respect for her as such," she said about de Lesseps. "And how are you feeling? You know, ask her those questions. How are you feeling? What is it that you might want to express to me about your perception as to the episode? And just share any thoughts. Because I think that's, what's productive is being direct with your feelings, whatever they are with the person you actually have the feeling toward."
RELATED: 'RHONY': Ramona Singer, Luann de Lesseps … And Maybe Tinsley Mortimer Return for Season 14, Insider Predicts (Exclusive)