'RHONY': Luann de Lesseps Says Ramona Singer Broke 'Girl Code' by Bringing Missy Pool to Her Party
Luann de Lesseps from The Real Housewives of New York City was in total disbelief when Ramona Singer brought de Lesseps' ex-husband, Tom D'Agostino's former girlfriend Missy Pool to her Halloween party.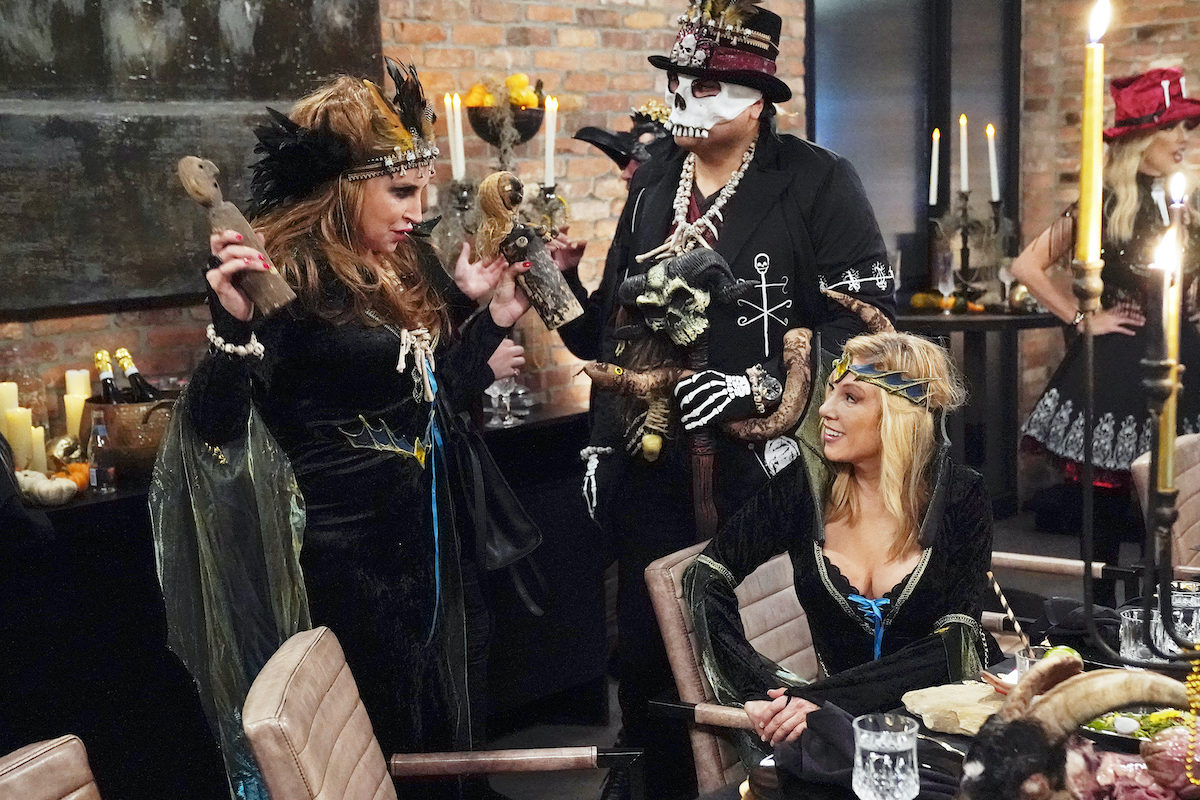 Maybe Tinsley Mortimer should have stuck around for the shindig because it looks like Leah McSweeney and Dorinda Medley are already pretty amped about the faux pas. De Lesseps shared the moment on Twitter, along with "you broke the girl code… available on iTunes."
Medley is beyond annoyed with Singer, knowing that the tone-deaf move is pretty triggering for de Lesseps. But when Medley lets Singer have it, Singer mistakes the reckoning for Medley just using her as a target now that Mortimer has left the city.
"I guess now she doesn't have Tinsley, so now she's attacking me," Singer tells Pool, ET reports. "Dorinda's like Jekyll and Hyde. It's scary. It's like bipolar." She adds, "It's scary."
Luann de Lesseps confides in Dorinda Medley and Leah McSweeney
"I can't believe [Singer] brought Missy," de Lesseps is seen telling Medley and McSweeney at the party. "Do I care?" Medley thinks de Lesseps should care and it was wrong.
"Yes you do because it's bad," Medley tells de Lesseps. "Who would bring someone that bothered you. I wouldn't." While de Lesseps insists bringing Pool doesn't necessarily bother her, she's taken aback that Singer would choose to bring her ex's former flame. As Medley and de Lesseps talk, McSweeney starts to understand how wrong the move was to make. Her jaw drops open.
"Shots fired!" McSweeney exclaims and throws her hands into the air. In a confessional, de Lesseps says Singer is insensitive. "Ramona doesn't give a sh*t, really," she says. "She doesn't! She just doesn't care. She's so insensitive. The problem is, people will disappoint you all the time and Ramona never ceases to disappoint."
Was Ramona Singer trying to get Missy Pool on the show?
Rumors flew that Singer tried to get Pool on the show before McSweeney was announced as the new cast member. An unnamed source told Hollywood Life that Singer hoped Pool might be considered to join the cast. The main reason, according to the mystery source, was to jab at de Lesseps.
Although de Lesseps hasn't outwardly expressed disdain for Pool, she was frustrated with D'Agostino when he seemingly flirted with her when the couple was still married. D'Agostino was even filmed telling Pool at a party,  "I get a little choked up when I see you," The Daily Mail recounted. She responded with, "The feeling is mutual." D'Agostino then removed his microphone so he could continue with a private conversation with Pool.
Despite the flirting and history, Singer and Pool are pretty tight. They were spotted having dinner last year and tabloids were buzzing. But Singer's rep insists that she and Pool have a longstanding friendship. "Missy and Ramona have always remained friends and have known each other for a long time," Page Six was told.