'RHONY': Martini Mike Spills The Gin On Which Surprising Cast Member Slid Into His DMs
The three-second cameo of a man looking aghast with martini in hand on The Real Housewives of New York City became an instant pop culture moment, earning martini-sipper Michael Byrne a few extra minutes of fame.
The cast descended upon the quaint, multi-level Clarke Cooke House where (of course) all hell breaks loose. Tinsley Mortimer arranged the dinner because a friend owned the restaurant. She planned to have the cast gather around a table and break bread. But Ramona Singer and Sonja Morgan preferred to break more than bread with an unsuspecting gentleman sitting at the bar.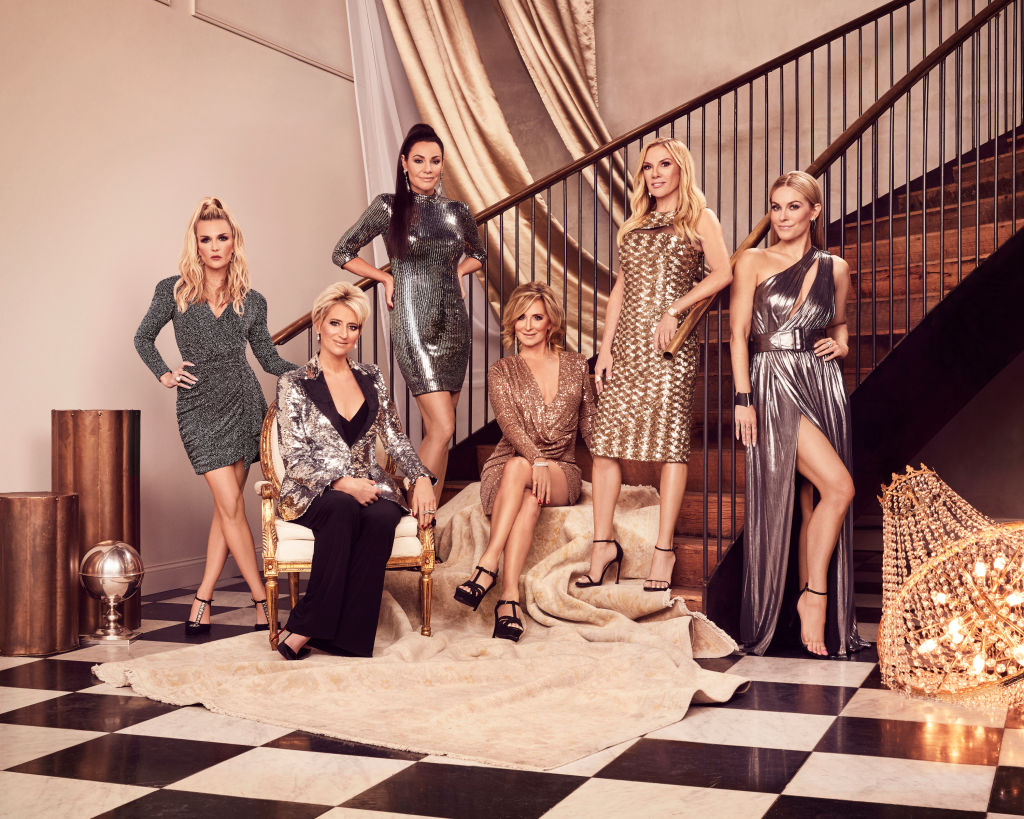 After numerous attempts to draw Morgan and Singer back to the table, Leah McSweeney and her sister Sarah chase the man away … that's when Singer and Morgan go rogue. Morgan cups her ears with small gourds at the table and Singer pretends the decorative corn is choking her. Finally, after they snark that McSweeney's sister resembles a demon, McSweeney whips an unsuspecting ravioli from a dish at Singer.
The melee goes down while Byrne stands next to the bar, sweater draped neatly over his shoulders, martini in hand, and a look of shock that has transformed the moment into a meme.
Byrne was in the right place at the right time
Byrne only learned the cast was filming at the restaurant after he arrived. He shared on Behind the Velvet Rope with David Yontef that he was relaxing at the upstairs bar when he noticed the equipment down below. That's when the bartender clued him into what was to come.
"Well I'm not leaving now," he laughed. His close friend, who is a huge Bravo fan joined him at the restaurant and planted himself at the downstairs bar as the cast arrived.
Byrne shared that he was on his second cocktail when the cast made their entrance. "Because I was so nervous, I was like OK," he laughs. What was in that cocktail he is memorably holding? "My go-to is Tito's martini, straight up, bone dry with one olive," he shares. Bone dry means basically a martini glass of vodka he says.
By the time the cast wrapped filming he had finished about five cocktails. His friend staked his claim at the downstairs bar and kept texting Byrne to quickly finish his drink and get downstairs immediately.
He said the moment was 'horrifying'
He observed that the crowd was divided between spectators who were excited to see the cast and those who would have rather dined down the street. Byrne finally made his way downstairs when the women were already at the table. The cast was well corraled to their space so onlookers couldn't get into the shoot. Byrne said he couldn't necessarily hear the conversation because the room was so loud.
So what happened that prompted Byrne to look so shocked? He was already on his fourth martini when he was captured during the moment, which he says was the last place in the room where he could stand. "I have a very impressionable face, I guess," he says. "Because the drama, from what I remember, didn't start until a little bit later in the filming."
He could tell the cast was three sheets to the wind, especially McSweeney. Byrne shares that bartenders told him that Luann de Lesseps was not drinking water but she wasn't out of control (meanwhile she tried to sage the restaurant by burning a decorative corn husk).
Byrne's reaction was captured when the women got out of control. "When they caught that it was either the food being thrown or a loud screech," he recalls. "Where I was like 'Oh my, is this really happening right now?' It was horrifying."
Ramona Singer was actually the friendliest?
He definitely wanted to say hello to de Lesseps. Byrne also observed Morgan's sequined pants and made a mental note to compliment her outfit.
"She looked really good," he recalled. Although Singer annoyed him this season, Byrne says she slid into his DMs after he posted the martini meme and tagged the cast. "Saying she thought it was funny the meme," he says. Host David Yontef remarked how a private message from Singer was a huge win as she is known to be aloof toward most people.
Byrne says McSweeney sent a fun response and Morgan sent a "LOL" with a crying/laughing emoji to the meme. But, "I was really surprised Tinsley saw everything but she didn't respond," he says sounding a little upset. He adds that Dorinda Medley left the restaurant as he was appearing on the scene.