'RHONY': Ramona Singer Is Still Angry The Cast Trashed Her House and Didn't Clean Up
Ramona Singer and Luann de Lesseps from The Real Housewives of New York City took over the usual Thursday night timeslot to view a throwback episode from the current season. And Singer is still pretty steamed that the cast trashed her Hamptons home and didn't clean up.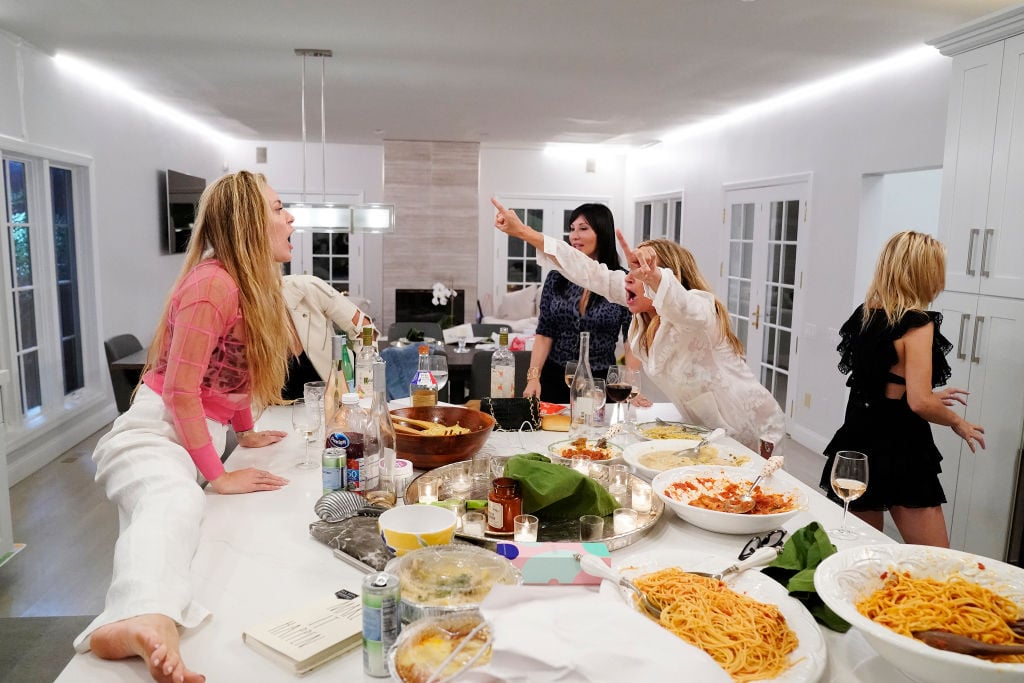 Singer and de Lesseps viewed the "tiki torch" episode where Singer invited the cast to her home for an evening of food and cocktails. But Singer ducked out early and the cast went wild. Leah McSweeney became so intoxicated she angrily ripped lit tiki torches from the ground surrounding the pool and tossed them into the yard.
The women also left food strewn across the kitchen and broken wine glasses in the backyard. A solo empty bottle of champagne was seen floating in the pool the next day. Singer, who didn't witness the madness, awoke to the mess and was furious. Months later she is still pretty angry and expressed disappointment during her home viewing with de Lesseps.
Singer is angry her home is compared to the damage she did to Blue Stone Manor
Singer and Dorinda Medley argue over the mess the next day. Medley insists Singer shouldn't force her guests to do the cleaning at her home. But Singer still thinks it was rude that the cast completely trashed her kitchen and backyard.
"Listen b*ch you made a big mess," Singer says about the moment from her home. "Sorry I don't have help. They made the effing mess you clean up b*tch! It's not me! It's my house! You're my guests. Really Dorinda? Really? Now you're pissing me off more than Leah." Singer was also angry that McSweeney was the one who hurled the torches but then seemed murky about what happened the next day.
The episode flashed back to the time when Singer visited Medley's Blue Stone Manor home in the Berkshires. Singer seemingly ripped light fixtures from the walls in her room. The action left damage on the walls and Medley was upset to see that paint came off of the walls. Singer watched the moment from home but still thinks her situation was worse.
"You can't compare some stupid paint missing from a fricking bedroom to a home kitchen destroyed," Singer insists from home. "And my backyard! This is embarrassing. Don't tell me how to talk Dorinda. Are you kidding me? This is a disaster area. Who doesn't put away food? They've got broken hands now? Are you kidding me?"
Singer finally sees who trashed the backyard
Singer wasn't sure who was responsible for the majority of the damage in the backyard. However, she witnessed that McSweeney was the one who did most of the damage and watched the moments from home with her mouth hanging open.
As she watches McSweeney hurl lit tiki torches across her lawn, Singer looks floored from home. "What! What is she doing?" Singer says mouth agape. "No, no, stop! What are you doing? OK, I can see getting butt-a** naked, but don't throw lit torches around my pool. They can catch fire."
"They're dripping on the floor," Singer says as the women go back inside her home, still soaking wet from being in the pool. She then rolls her eyes when Medley makes McSweeney put on a shirt after swimming.
Singer also defends leaving the house early
The cast dogged Singer for ditching them at her own home for another party. But she insisted the cast was invited but they were too drunk to attend the party.
"Why would I want to hang out with these crazy girls who were totally wasted," Singer says from home. "To me getting drunk like that is not fun. I'm so glad I'm not there." Singer also reveals from her home base that while she was at the party, she picked up a few dates too.
The Real Housewives of New York City returns with a new episode on Thursday, July 2 at 9/8c on Bravo.