'RHONY': Ramona Singer Looks Forward to Drinking Wine Now That She No Longer Has Lyme Disease
Ramona Singer from 'RHONY' shared she has recovered from Lyme disease.
Ramona Singer from The Real Housewives of New York City recently learned she no longer has Lyme disease and is ready for Turtle Time once again.
Singer shared the news with DailyMail TV. She said, "My Lyme is gone! My immune system is strong again, I can drink my wine again. Which is very important when you are quarantining." Singer even toasted the camera with a large glass of what appears to be her signature pinot grigio.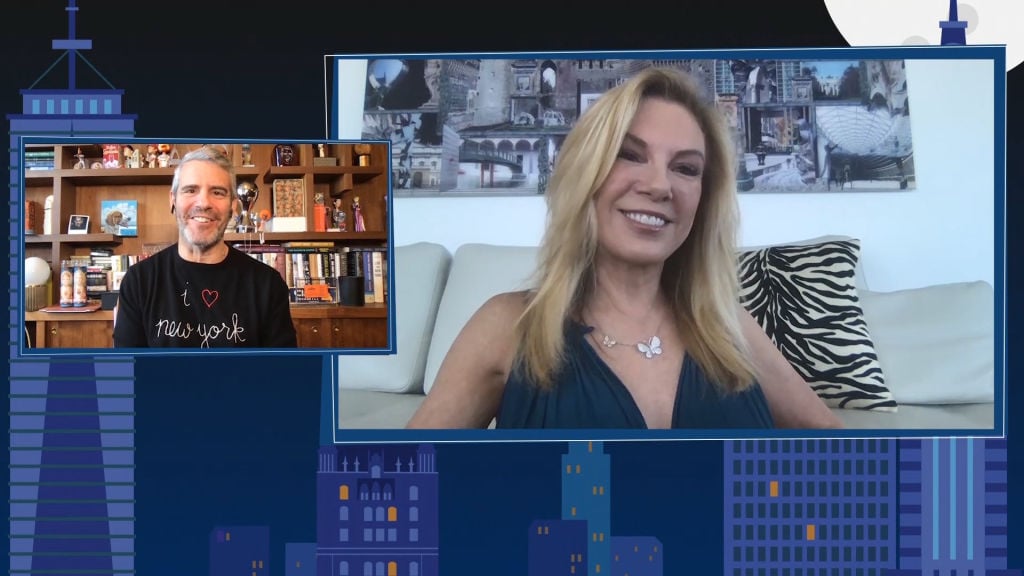 She added that she simply feels great. "I feel strong and I'm not tired, and that's the best thing. I mean, I love having my energy," she said. "I'm back to walking two miles a day. I can run a mile plus I can do a class, plus I can lift my weights." Singer shared a number of videos and images working out and eating healthy with daughter Avery in their Boca Raton, FL home.
She's ditching her new cocktail for an old favorite
Singer's brand almost became synonymous with pinot grigio. She enjoyed so much of the crisp white wine she even created her own company. Ramona Singer Pinot Grigio was described as, "It's light with no bite, says Ramona (Crisp, Citrus, Apple, Medium-bodied)."
She took fans off guard this past summer when she pivoted away from wine and instead started drinking "hydrating" vodka sodas. She told US Weekly she abandoned wine. "I'm not drinking so much wine anymore. I'm drinking vodka." But wanted to make sure fans knew she still loved wine. "I love my wine. Don't get me wrong, I still drink the wine but I start off with the vodka."
Singer also referenced her vodka sodas in the recent season as being part of the reason she dropped weight too. She took some ribbing for telling Bravo producer Andy Cohen that she preferred vodka sodas because they keep you hydrated.
Singer shared she had Lyme in early March
Only days before the pandemic took hold of the United States, Singer shared she had Lyme disease. She told E! News she was probably bitten by a tick in the Hamptons, but the infection was discovered early. "You must get tested once a year, especially if you're in an area where there are deer," she said. "But, we caught it early and I'm very lucky and very blessed." 
When she experienced low energy levels around Valentine's Day she visited her physician and was prescribed Prednisone for a low-grade fever and fatigue. When she wasn't feeling better, doctors tested her for Lyme. Singer was prescribed antibiotics and hoped to "increase immune function through an alkaline diet."
Apparently the remedies paid off and she's feeling like her old self. She also disclosed that her sister also had Lyme about eight years ago. "She was complaining about all kinds of pain eight years ago, to the point where she was having problems walking," Singer told ET  in 2018. 
Singer joins Yolanda Hadid from The Real Housewives of Beverly Hills who also has Lyme and her struggle was featured on the show. Hadid said the disease ravaged her both physically and mentally. "This is such an invisible disability, where you look beautiful on the outside yet you're dying on the inside," she shared with ABC News. "That's what people are judged with every day."