'RHONY': Ramona Singer Wants to Be a Real Estate Agent but She Almost Destroyed a 'Million Dollar Listing' Open House Last Season
Ramona Singer from The Real Housewives of New York City may think she's ready to sell luxury real estate, but Million Dollar Listing New York fans won't soon forget how she almost derailed Ryan Serhant's open house last season.
Singer was invited to Serhant and Luis D. Ortiz's open house and they worried her loud remarks might turn off buyers. At one point, Serhant had Ortiz keep a close eye on Singer because he was concerned her observations about what she'd change about the property were going to hamper their sales efforts. While she didn't seem to do a significant amount of damage, she now wants to be a broker. During the latest episode of RHONY, she meets with Michael Lorber from brokerage house Douglas Elliman for tips on how to become an agent. While Lorber seems happy to take the meeting, he may have some concerns too.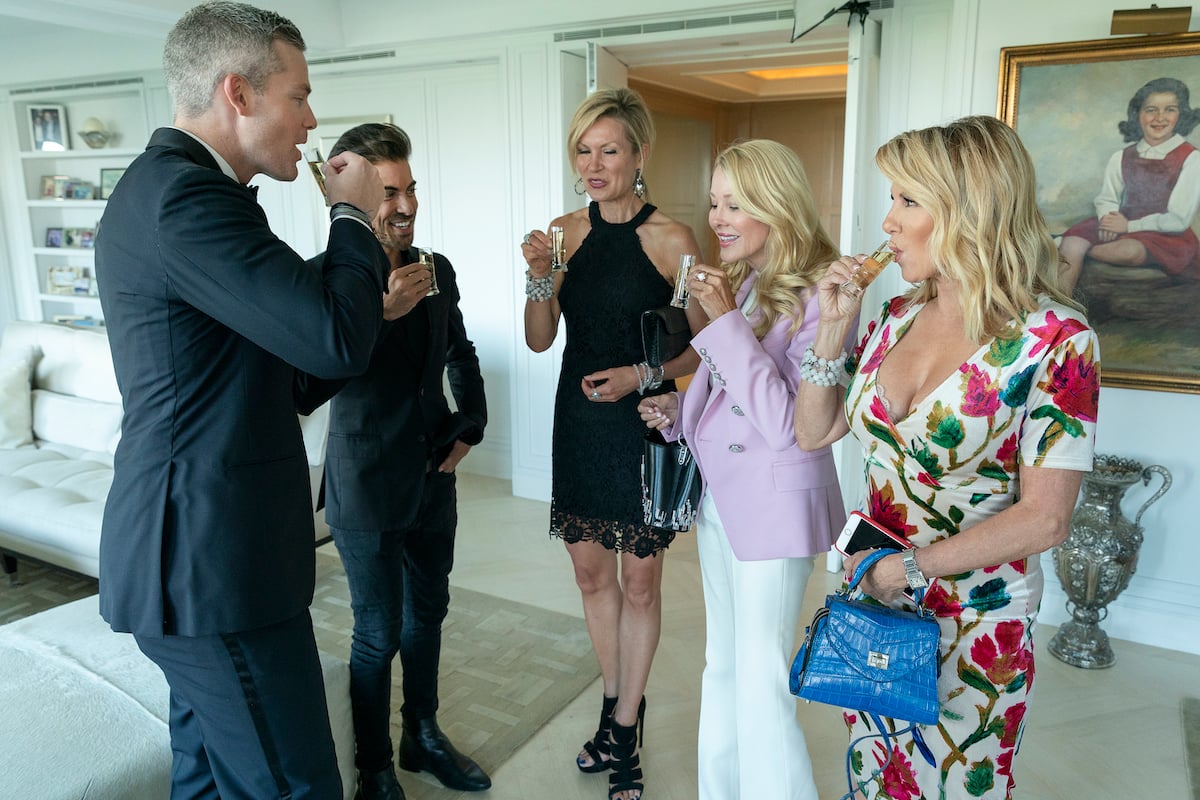 Why were Ryan Serhant and Luis D. Ortiz worried about Ramona Singer on 'Million Dollar Listing New York'?
Serhant and Ortiz invited Singer to the open house because they wanted to include socialites who could hopefully tap into their extensive network list. Singer's reputation, however, preceded her and Serhant knew she might cause trouble. In fact, one of the first comments Serhant makes to Singer is, "Don't cause trouble."
But Singer takes it upon herself to explore the kitchen alone, which is when she decides to offer her criticisms. "This looks kind of old and dated," she observed. That's when Serhant suggests that Ortiz just keep Singer away from the other buyers and socialites. "Papi can't handle Ramona," Ortiz says laughing in a confessional.
RELATED: 'Million Dollar Listing New York': Tyler Whitman Revealed What NYC Was Like When the City Reopened (Exclusive)
"Luis is actually coming in clutch right now," Serhant shares in a confessional. "He's keeping Ramona off to the side so that not everyone else can hear her complain. So she doesn't influence what everybody else thinks." 
Ramona Singer from 'RHONY' wants to be the broker now (but is she ready?)
During the latest episode of RHONY, Singer met with Lorber, who starred in the first season of Million Dollar Listing New York. Lorber's father is Howard Lorber executive chairman of real estate brokerage, Douglas Elliman, who is also often seen on the show.
Singer believes she's ready to move into the real estate space adding that she's a "natural" in real estate. But some of her remarks about sales approaches seem to take Lorber a little aback. He reminds her that the vernacular has changed. For instance, the term "master bedroom" and "his and her's bathrooms" are outdated. "You can't say bachelor pad," he says. "I don't think you can say, 'steps to the park.'"
RELATED: 'Million Dollar Listing New York': Tyler Whitman Admits He Had 'RHONY's' Kelly Bensimon 'All Wrong'
"Someone told me because of invalids!" she exclaims. He looks a little stunned, trying to think of how to tell her the term is offensive. But then she jumps in with "handicapped people!"
"Uh, right if you are in a wheelchair, you're not steps to the park," Lorber gently tells her.
If Singer gets her real estate license, she won't be the first RHONY cast member who sells luxury real estate. Kelly Bensimon, who just appeared on Million Dollar Listing New York sells luxury properties and did $50 million in property sales in 2021 alone.