'RHONY': Dorinda Medley Was Fired Because of Ramona Singer Claims 'Friend' Elyse Slaine
Real Housewives of New York star Dorinda Medley will soon be a published author. The Big Apple socialite lived all over the world before starring on reality TV for six seasons. Now, she is sharing her experiences in her new memoir Make It Nice.
Bravo fired Dorinda in 2020, which she says came as a surprise. According to RHONY 'friend" Elyse Slaine, Ramona Singer was the reason Dorinda got the ax.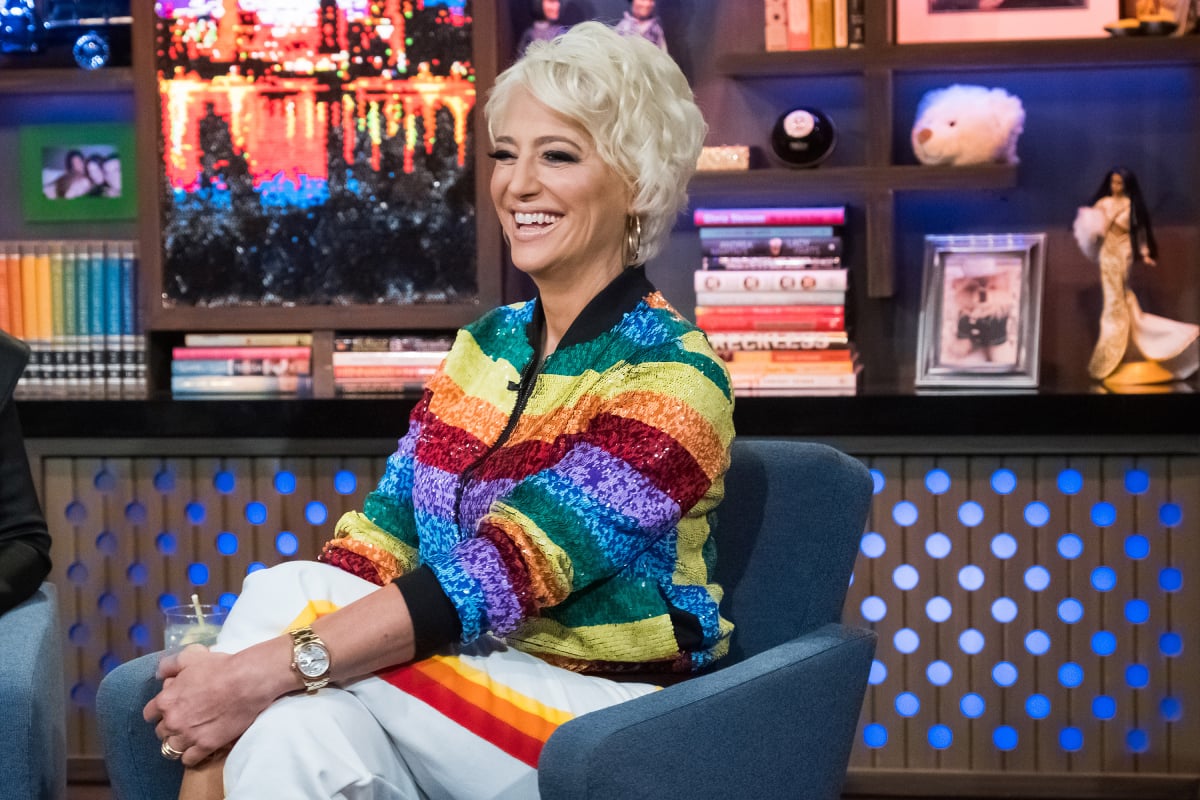 Dorinda Medley signed her book deal before getting fired from 'RHONY'
Dorinda says she's "always sort of dabbled in wanting to write a book." The former RHONY star says that people are always telling her that she's "had such an interesting life." She told E! News that she "fortuitously" signed her book deal with Simon and Schuster just weeks before Bravo fired her.
"It was just very sort of karmic," Dorinda shared. "I had no idea what the journey would look like. I had no idea what the book was going to look like. And it really allowed me some breathing time to take my head out of where I was presently, and bring myself back to how I got there. It was perfect timing to say."
She covers the phases of her life in the memoir, which she divided up into "as young as a child, a young adult, a wife, a mother, a single mother, a widow."
The full cake
In addition to sharing her life story, Dorinda included tips and advice in her new book. While experiencing each phase of her life – from living abroad to managing money as a single mom – she's always managed to pick herself up and keep moving around.
"You guys only know me as Dorinda Medley, Mrs. Medley, John Mahdessian's girlfriend, Real Housewives of New York City," Dorinda noted. "The cake was fully baked by the time I got the show, you guys just got a piece of it. Now I want to give you the full cake."
'RHONY' friend Elyse Slaine claims Ramona Singer is to blame
During a recent appearance on The Domenick Nati Show, Elyse spilled some tea about Dorinda's departure from RHONY. The friend of the Housewives said that Ramona Singer had a role in Dorinda's firing.
"I think Ramona had a lot to do with Dorinda being off the show," Elyse said. "Do I think it was the right move? I wouldn't be surprised if they brought her back."
Dorinda told former co-star Bethenny Frankel on her podcast Just B with Bethenny Frankel that her final season of RHONY wasn't a good one. But, she thought she'd get a second chance to redeem herself, just like Luann de Lesseps did after her arrest.
"I was looking forward to coming back this year. I was looking forward to having that moment," Dorinda said.
She retreated to the Berkshires
During the pandemic, Dorinda retreated to her home in the Berkshires, Blue Stone Manor, and she's never left. This is where she was when she found out she'd been let go from RHONY via a phone call. So, she ended up staying because it was the perfect place to write her book.
"It couldn't have been a better place to write this book because I'm kind of back to where I ran away from all the things. I did a full circle," Dorinda explained. "So it was a very fortuitous thing to write the book here. And, yeah, now that we've kind of slowly come out of this, of course I want to change it up because my life is in New York. I'm a New Yorker."
Dorinda Medley will 'never say never' about a return to 'RHONY'
When Dorinda does return to New York, she says she is ready to date. She's already put the word out. But, she's waiting until she can date in person. As for the possibility of her returning to RHONY, the reality TV vet never says never.
"There's always a possibility. This is forevermore, you know, you're a Housewife," Dorinda said. "It's sort of like a tattoo we all get. And some of us can hide it more than others, some of us put it right out there and say it to the world. But you know what? Let's see how this goes, let's see what they think, and if it works, it works. If it doesn't, I think I had a great six years, don't you?"
Make It Nice hits bookstores on August 17.