'RHONY': Sonja Morgan Realizes She Made Out With Ramona Singer's Date 6 Years Ago
New York City seems to be a small town as Sonja Morgan from The Real Housewives of New York City realizes she hooked up with Ramona Singer's date six years ago.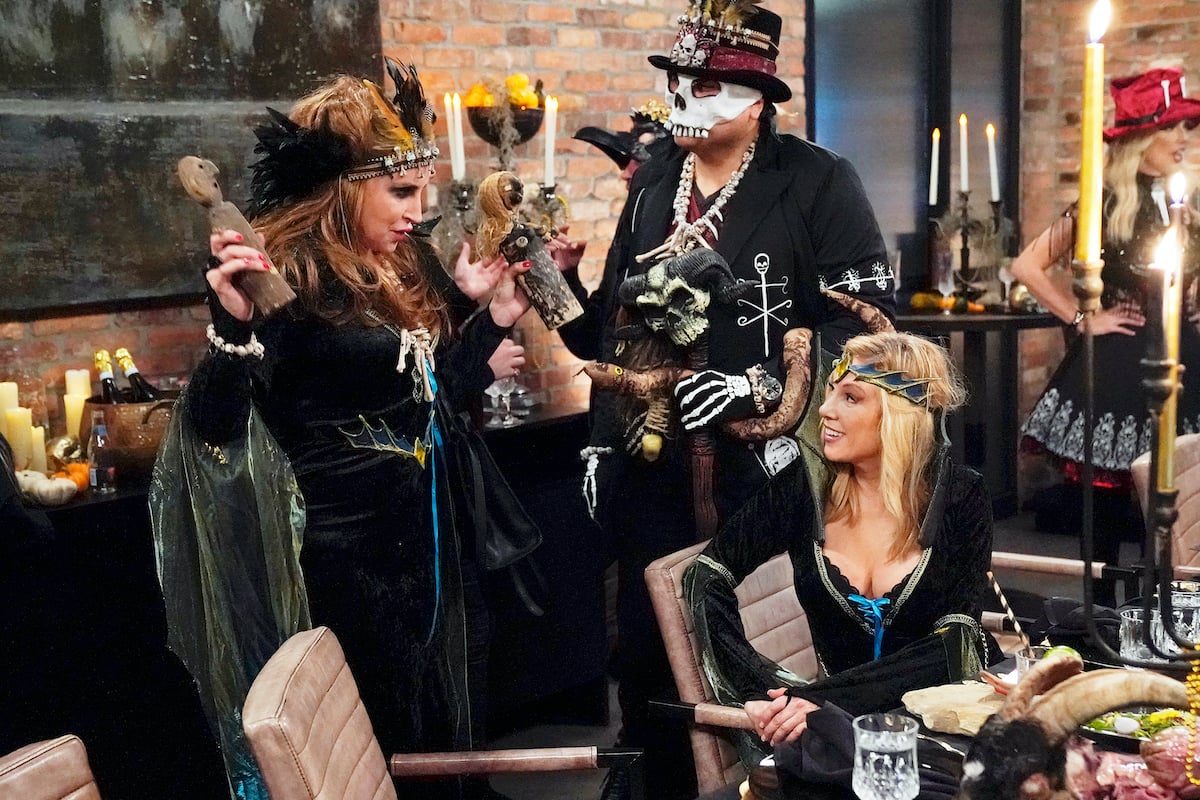 Cast members have dated some of the same men on the show, including Harry Dubin and Tom D'Agostino. But now it appears that Singer's date to Morgan's drag queen bingo party also hooked up with Morgan too.
"I don't remember you," Morgan says to Singer's date in a preview clip. Singer's date, Ron, was also apparently at Luann de Lesseps' Halloween party. Before he could say anything, Morgan adds, "I slept with you? Oh, God."
Sonja Morgan has no memory of kissing Ramona Singer's date
Morgan turns to Singer. "He says I don't remember him!" she says. "Did we make out?" He tries to talk but Morgan decides to come in for a quick kiss on the lips and then cackles.
Singer jokes about how Morgan loves to kiss. However, Ron is ready to set the record straight. "First of all," he says. "We did. We made out like six years ago at Beautique."
"Six years ago at Beautique," she parrots. Morgan then turns to de Lesseps. "Well you did say I made out with random men at Beautique and I said I didn't. So maybe you were right." Apparently, de Lesseps also knows Ron sharing in a confessional she was happy Singer brought him instead of her friend Missy Pool. Pool dated de Lesseps' ex-husband, Tom D'Agostino.
This group has more men in common
Singer, de Lesseps, and Morgan seem to have dated some of the same men in Manhattan. Dubin was married to former cast member, Aviva Drescher. But he was also photographed in a liplock with Singer and had dated de Lesseps. He also dated Kelly Bensimon, according to Drescher.  
But it was Morgan who seemed to really steal Dubin's heart. He described her as the "one who got away" and dished about how they met. "This was before the days of cell phones, so we're talking a long time ago. I had a car phone," he said on the Behind the Velvet Rope with David Yontef podcast.
"We had a great time," he continued. "She said she was staying at the Park Hyatt hotel. There's ten of them in Washington DC. She left, and I scoured the city looking for her hotel room. I only knew her name … Sonja." Dubin found Morgan and the two hit the town.
Of course, it was also "about Tom" [D'Agostino]. When de Lesseps and D'Agostino got engaged, Bethenny Frankel tried to warn her that D'Agostino was photographed kissing another woman.
He also had a dating history with both Morgan and Singer. Despite the intel, the couple married. Months later they divorced, which is when de Lesseps ended up getting arrested for battery, trespassing, and disorderly intoxication during a drunken evening Palm Beach, Florida.