'RHONY': Sonja Morgan Shades Ramona Singer Over Her Tone-Deaf Behavior
Luann de Lesseps from The Real Housewives of New York City isn't the only cast member who is fed up with Ramona Singer's behavior. Sonja Morgan is also irritated with Singer and expressed her annoyance during a recent episode but also in a tweet.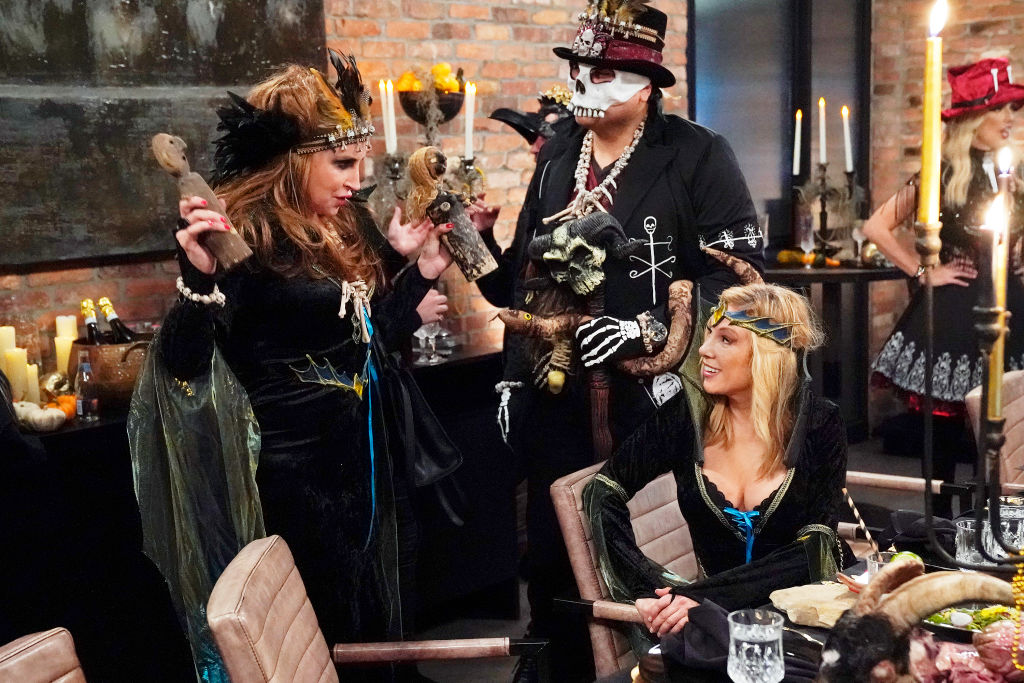 A viewer tweeted an image from the moment along with, "'I can't *believe* she brought Missy!' – LuAnn, every single time Ramona brings Missy." Morgan replied, "Or when Ramona tries to get invited on Toms yacht party in Florida with her friend after Lu and he split ."
Many cast members have had enough of Singer's self-centered behavior. Not only did she ghost good friend Elyse Slaine, but she has also continued to only focus on herself and ignore anyone else's feelings.
Sonja Morgan let Ramona Singer have it during the Halloween party
Morgan rode to Luann de Lesseps' Halloween party with Medley and Slaine and they discussed their annoyance with Singer. Morgan also arrived completely lit, sharing in a confessional she got drunk with her hair and makeup team.
Although she gave Singer a warm greeting, she came for Singer using voodoo dolls to further illustrate her annoyance. When Morgan got started on Singer she didn't hold back. "In your ear, in your rear Ramona," Morgan said to Singer. When Singer told Morgan she was a little "scary" tonight, Morgan showed her what she thought of her using the voodoo dolls.
"This is you," she said to Singer showing her one of the voodoo dolls. She then used the other doll to hit the "Ramona" doll. "I am boiling," Morgan admitted in a confessional. "I need to say my peace. And also the other three vodka sodas might kick in any minute."
Morgan explains to Singer why she's mad at her
Morgan explains to Singer why she is upset with her in the latest episode. "You know why I'm mad at you," Morgan says to Singer. "Because every time I talk to you, you bring it back to you. I say I'm doing construction. You say I'm doing construction. More important construction! I say my daughter's going to college. You go, my daughter's in college."
Singer seems amused with the exchange, laughing that her daughter already graduated from college. But Morgan says, "Oh my God you are so bad. And I do love you, b*tch, but you only care about you!" Singer rises from the table to apologize and hug Morgan.
Medley is in the background yelling, "Here comes the apologizer." Later Medley makes what could only be referred to as one of the most awkward toasts. She basically calls out Singer's self-centered behavior to the entire room. A Twitter follower tweeted about the uncomfortable toast. Morgan replied, "Yep. It was. And my roast."
Moments later Singer and her friend, Missy Pool leave the party early. The group was also annoyed that Singer brought Pool to de Lesseps' party. Pool was de Lesseps' ex-husband's former flame.