'RHONY': Sonja Morgan's Former Intern Reveals What It Was Really Like To Work for Her
Sonja Morgan's townhouse is always aflutter with various young interns on The Real Housewives of New York City. Interns seem to tend to nearly everything at Morgan's home, but what is it really like to work for Morgan?
Meghan Hubert worked as one of Morgan's interns about six years ago and dished about what it was like to work and live at the townhouse. She snagged the gig after she tweeted at Morgan, which landed her an interview. Hubert recounted that Morgan only wanted to know where she went to college and her horoscope before hiring her.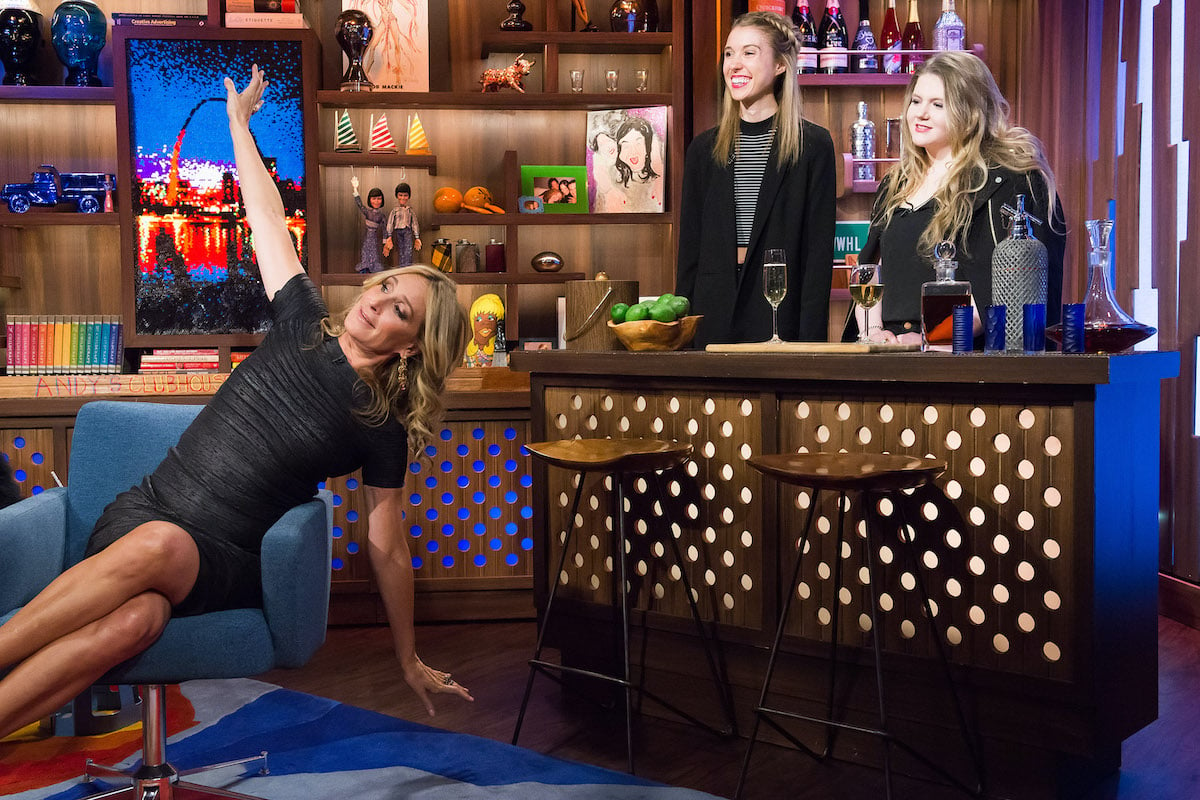 But once Hubert was hired, she hit the ground running — literally. "I thought it was an interview, but it ended up being like day one on the job," she recounts on the Behind the Velvet Rope with David Yontef podcast. "Like I was gardening, I was cleaning. I was setting the table. I was running groceries. And then she was like, can you come back next week and move in?"
She also recalled being given nearly no guidance and essentially had to figure out the job, while on the job. This included assignments like bringing Morgan oatmeal in the morning to taking the dogs to the groomer.
Meghan Hubert made about $200 per week
Hubert recalled being hired shortly after Morgan's infamous intern "Pickles" was let go. "Pickles lived with her," she said. "She has a rotating, like five interns at a time. But the majority of them just work like 10 hours a week, a few hours a week. And then she has one live-in who is basically an assistant."  Hubert shared that Pickles left on negative terms. "She trashed the intern quarters," she said. "She really got messed up and ruined it."
While some fans thought the internship was unpaid, Hubert said she made a little money. "I got $200 a week in petty cash," she recalled. Former intern, Tyler gave her a binder to use as her guide. She also shared that the internship wasn't a true internship. Instead, she was more of a nonstop errand-runner. "So she just had a lot that had to be done," Hubert remembered. "And she just was like, all right, let's go for it. Like you're jumping right in. Like there's, there's no turning back." 
Hubert described Morgan as being insanely meticulous. "So I actually worked very closely with [former intern Tyler] in the beginning," she said. "Just like, as I started understanding the flow of the day and what her priorities were. If the dog poop, wasn't cleaned up outside, I would hear it, you know, like by 8:00 AM." 
Hurbert was also presented with a nondisclosure agreement in the beginning too.
Hubert was on call around the clock
Hubert described her bedroom as being tiny. She couldn't live in the intern quarters after Pickles trashed the area so she was stuck in a small space.
"So like [Morgan] would knock on my door at 11:00 PM on a Sunday and say, 'Hey, like I'm hungry and bored. Do you want to go get dinner?' And I would be like in my bed and I'd be like, okay, so we would yeah, like randomly," Hubert added that Morgan has a big heart and is friendly and warm.
Hubert worked most of the time and only saw friends on occasion. "But if I was gone for more time than she thought I should be gone, I was getting hounded," Hubert said. "So I would say, you know, I was up at 6:00 AM. You're doing all the chores I had to do and would get in bed at 11 and watch something usually on Bravo."
Morgan thought she got a bad edit on the show
Hubert worked for Morgan when the show aired but not when it filmed. She recalled that Morgan thought her storyline was manipulated and she was being portrayed as a drunk. Hubert also thought she'd see Morgan hanging out with the cast. "But there was maybe one instance where Dorinda [Medley] came over and we would text Ramona [Singer] sometimes," she said. Instead, Hubert observed Morgan's friends as being her team, doctors, and interns in her social circle.
Morgan often used Hubert as a sounding board. Morgan became furious when Heather Thomson went on Watch What Happens Live with Andy Cohen. Hubert remembered Morgan screaming at Thomson on the phone for whatever she shared on the show about to Harry Dubin.
She also had Morgan's phone when Ramona Singer revealed that she and husband Mario were divorcing. "And we found out from Ramona about the divorce," Hubert said. "Which was interesting because like, that's nice to see that they really are close friends. That Ramona broke the news to Sonja, like personally. Because I think it was coming out soon. So that was interesting. And I remember Sonja told me to write a reply and I had to sign it, Meghan or miss M like, which was so funny that even needs to be established." 
"We also had a problem with Luann [de Lesseps]," she continued. "I was doing a lot of dirty work because she wasn't happy with Luann this season. And Luanne like reached out to me on Twitter being like, you work for team Sonja, I know it, like, this is all a facade." She added that she ended up getting in a lot of hot water because she was charged with calling people out on Twitter. She'd tweet from her account but Morgan would retweet the message.
Morgan often dined for free
Hubert ended up grabbing dinner with Morgan on a number of occasions. "Here's a fun fact, which makes Sonja very smart," Hubert shared. "She has, if you search in her contacts, she writes comp. She has all the restaurants that will comp her to eat there. So she eats for free, In the same regard, she has a list of designers that give her free clothing. So she's a hustler and she's smart and she knows what she's doing." Morgan always tipped when she dinned at a restaurant for free.
Comps usually came with strings. The restaurants would ask Morgan to film at the establishment and designers were featured on the show.
Hubert remembers drafting a letter telling Morgan she should be utilizing her on a higher level instead of picking up dog poop and dry cleaning. She never sent the letter but became frustrated with the job.
 "I think the arrangement was never clear," she said. "I just jumped into it and my responsibilities were never clear until I got there. So I'm not like someone who's just going to quit and leave someone out to dry. So I was in it for the long haul. I stuck it out until I got a job to leave where I felt comfortable."
"But yeah, I felt taken advantage of, because I wasn't expecting to work seven days a week. I wasn't expecting to be an around the clock assistant essentially and running a household and taking care of dogs and her daughter all at once," she said recalling she worked about 80 hours a week. Hubert said Morgan asked her to "lotion" her entire naked body during a photoshoot in the bathtub.