'RHONY' Star Dorinda Medley Has a Surprising Connection to Brad Pitt
Real Housewives of New York star Dorinda Medley has never been afraid to share her opinion. After being on RHONY for the past six seasons, Medley has yet to shy away from the drama — or a marvelous party. During New York Fashion Week last month, Medley dished on a variety of topics, including her surprising connection to Brad Pitt and what she thinks of other top celebs in Hollywood.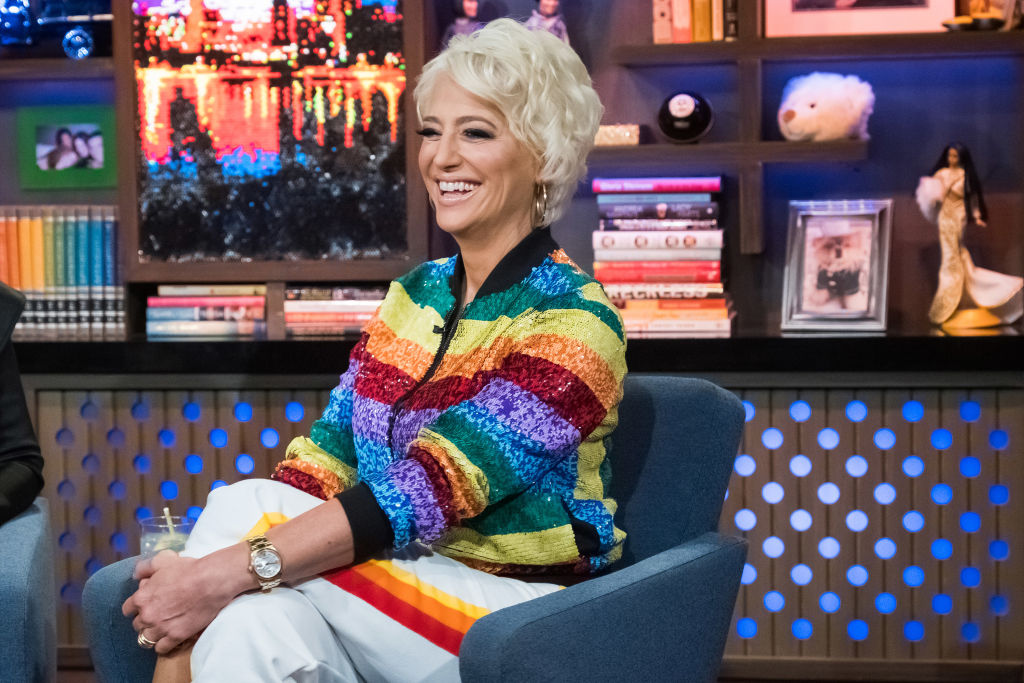 Dorinda Medley dishes on the royal family
Medley hosted an event for New York Fashion Week that featured several of her RHONY co-stars, including Carole Radziwill, Margaret Josephs, and D'Andra Simmons. Following the bash, Medley was asked about her thoughts on the royal family's drama.
At the beginning of the year, Prince Harry and Meghan Markle announced that they are officially stepping away from the royal spotlight, a move that was quickly dubbed Megxit. The decision drew a lot of backlash from royal watchers around the world and the family is still picking up the pieces.
Although Dorinda Medley admitted that the situation is complicated, she believes the Duke and Duchess of Sussex should have waited a little longer before making such a big decision.
"That's a touchy one. I love London and I love Queen Elizabeth. If it were me, I would have at least waited a little bit. I wouldn't want to do anything to cause any disruptions. Listen, they have their reasons," she shared.
Medley added that she does not know all the ins and outs of the story and hopes the couple is doing much better now.
What is the 'RHONY' star's biggest obsession?
Medley went on to discuss a wide range of topics during her chat with Interview Magazine. From her love of shapewear to her friendship with Lady Gaga's mother, she held back very little. But one of the more interesting parts of the interview came when the RHONY star opened up about some of her obsessions.
As RHONY fans are well aware, Dorinda Medley is a massive fan of anything paranormal, and some of her favorite shows are Paranormal Witness and Ghost Hunters.
With that in mind, it should come as no surprise that Medley is very open to things that live outside of the realm of science — and she believes that more people should pay attention to it.
"I believe the world is a much bigger place than we know, so I am open to all of it because I think it is very relevant. When we don't believe that there's something bigger going on, I think that it's a big mistake. You don't need to take it on 100 percent, but you should listen to it," she explained.
The reality star noted that she even gets excited whenever she opens a fortune cookie. While most people take little stock in the tiny fortunes, Medley believes they can be life-changing.
Dorinda Medley reveals her connection to Brad Pitt
Medley, of course, also dished on her surprising connection to Pitt, but not before gushing about how well he has aged over the years.
The RHONY star revealed that she also loved Pitt's speech at the Oscars and confessed that he appears to be a "tangible" person. Pitt won the award for Best Supporting Actor for his part in Once Upon a Time in Hollywood, starring opposite Leonardo DiCaprio.
It's easy to agree with Dorinda Medley's opinion about Pitt, who never seems to disappoint his fans. But she also shared an interesting story about how their paths crossed many years ago, back when Pitt and Angelina Jolie were still a thing.
"I actually had Brad Pitt and Angelina Jolie in my townhouse for dinner one night with Norah Jones," Medley stated. "A long time ago, when Richard Medley was alive. He's very down to earth. He is very un-Hollywood. He's just got this swagger about him that's very sexy. I was very jealous when he ran off with Angelina Jolie. I was like, 'Why not me?'"
Medley was referring to her husband, who tragically passed away from an illness in the fall of 2011. Pitt and Jolie were together for well over a decade before calling it quits in 2016.
What's ahead for Dorinda Medley on 'RHONY'?
While it was great to hear Medley's kind thoughts about Pitt, she did not shy away from the drama in the upcoming season of RHONY.  Bravo just released a teaser trailer for season 12 that features Medley getting into a heated confrontation with newcomer Leach McSweeney.
"Sit your a** down, I never said that," Medley yells at the newbie.
The trailer also featured a scene in which Medley told Ramona Singer that she is "a coward," which is pretty surprising given their history together. Here's to hoping the two figure things out before the reunion.
It is unclear why Medley and McSweeney are at odds with each other but it is clear they do not get along. Apart from the trailer, Medley shared a cast photo on social media that replaced McSweeney's face with a frightened emoji.
Fans can watch Dorinda Medley drum up the drama when the new season of the Real Housewives of New York kicks off on April 2 on Bravo.