'RHONY' Star Dorinda Medley: 'You Have To Be a Housewife In Good Times and Bad Times'
Dorinda Medley is stirring up a lot of drama in season 12 of the Real Housewives of New York. Dorinda has experienced some major meltdowns this season, including a feud with Tinsley Mortimer and a fight with her good friend, Ramona Singer. With things looking dicey for Dorinda, the RHONY star recently opened up about the drama and revealed that "you have to be a Housewife in good times and bad times."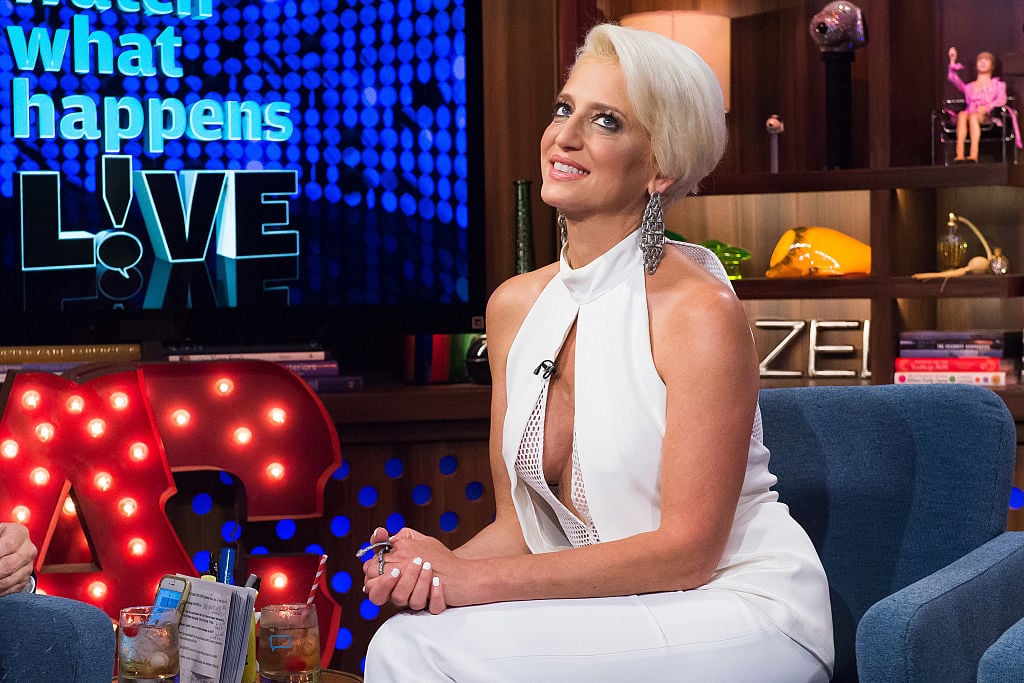 Inside Dorinda Medley's explosive drama on the 'RHONY'
Dorinda has already been through a lot of drama in season 12 of RHONY. Not only was she forced to deal with some major flooding at her Blue Stone Manor, but she also got into a major feud with Tinsley.
During the cast trip to the apple orchard, Dorinda refused to stop bullying Tinsley into submission. The two got into a massive shouting match during the outing that gave Tinsley a sore throat the next morning.
In an interview with Us Magazine, Dorinda opened up about her woes this season and admitted that her tagline should have read, "I'm not only reconstructing my house, I'm reconstructing myself."
She went on to say that she has discovered a newfound freedom in her life and doesn't really care what people think of her behavior. "I'm doing it. If you don't like it it's too bad," she stated. "And also, two, it's made me a lot more intolerant to any bulls–t."
While it sounds like Dorinda is determined to forge a new path, her actions have officially driven a wedge between her and Ramona.
Ramona Singer and Dorinda butt heads
In the latest episode of RHONY, Dorinda's friendship with Ramona reached a breaking point. The longtime friends got into a huge fight after Ramona told Dorinda that she was attacking others just so she could avoid looking in the mirror.
Dorinda was very open about how she is struggling with her split from John Mahdessian and admitted that the upcoming anniversary of her husband, Richard Medley's, death has only made her more sensitive.
"It's making me an angry person towards people," Dorinda confided.
Later in the episode, Dorinda barged into one of Ramona's parties and screamed at her for gossiping about her issues with other RHONY cast members. Dorinda then accused Ramona of liking the drama before calling her a "coward."
After Ramona fired back about how she is "so sorry" that Dorinda is unhappy, the RHONY star blasted Ramona for her inability to find a suitable man. "'I'm sorry that there's been so many men in your life that have come and gone and you can't land a boulder," Dorinda stated.
At that point, Ramona had enough of Dorinda's outburst and told her to leave the party. When Dorinda reached the door, she yelled back that she loves being "kicked out of a good house."
Dorinda Medley opens up about her 'RHONY' drama
Filming for season 12 of RHONY took place several months back, and Dorinda recently admitted that it has been difficult watching the drama unfold. The reality star revealed that seeing herself mourn her late husband was particularly rough and that there are things fans will never know from watching the show.
"Yes. Absolutely it was a tough episode to watch," she shared. "But I think the thing is — that there's a lot of things going on and obviously we can't break the fourth wall."
Dorinda added that there are plenty of things that made her "on edge and uptight" this season. She did not name anything in particular, but her feud with Ramona and her breakup with John certainly played a part in her behavior.
Although things are getting rough for Dorinda in season 12, she noted that she is the one who chose to be on the show. Even when things get bad, she never thinks about quitting and understands that the viewers want to experience the journey as well.
"I'm in this process. I decided to be a housewife, and you have to be a housewife [in] good times [and] bad times, that's part of the process," she explained.
Catch Dorinda Medley in new episodes of the Real Housewives of New York Thursday nights on Bravo.