'RHONY': Tinsley Mortimer Appears in Her Final Episode as Dorinda Medley Mocks Her Engagement
Tinsley Mortimer from The Real Housewives of New York City took fans by surprise when she suddenly packed up her hotel room and moved to Chicago. While most of the cast wished her well, Dorinda Medley couldn't help but mock the reason she left mid-season.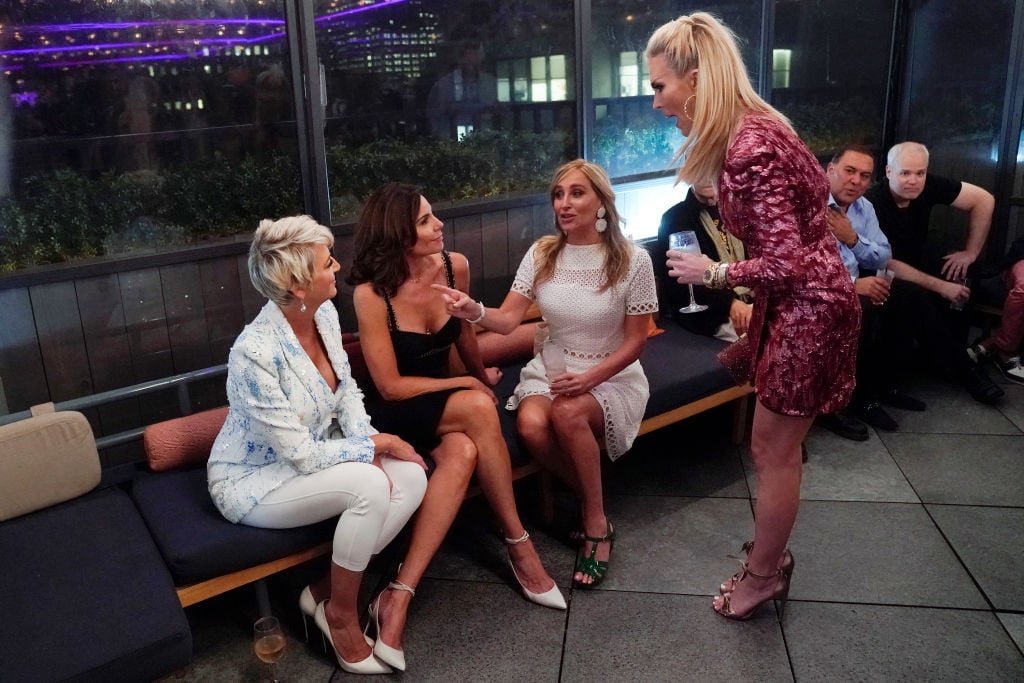 Mortimer teased she could be seeing ex-boyfriend, Scott Kluth during the previous episode. Medley pulled her aside to share that a friend sent her a clandestine looking image of Mortimer and Kluth dining in Chicago. Medley then gave Mortimer and ultimatum: tell the group or she'd tell them.
Although Mortimer finally shared she saw Kluth, she seemingly didn't want to jinx the union. However, by the next episode, she was suddenly engaged to Kluth and revealed the news during dinner with the cast. Sadly, the only cast member who seemed interested was Leah McSweeney. However, Ramona Singer, Sonja Morgan, and Luann de Lesseps came around later and celebrated.
Medley calls Mortimer a 'liar'
Viewers know Mortimer moves to Chicago and receives a fairy tale proposal. However, Medley is still needling the younger cast member, even calling her a liar. Medley was tweeting during the episode and calling out the storyline throughout the hour.
"Wait last week 'I'm not seeing Scott' confused @TinsleyMortimer so did you just lie the whole season? #[email protected] aren't you?" Medley tweeted early in the episode. When a fan remarked that Mortimer will never "own up" to the "lies" about Kluth, Medley agreed with the tweet. "Correct, thank you," she replied.
Medley was relentless throughout the episode, even when fans called her out for being too invested. "You're one step away from boiling Tinsley's bunny," one person hilariously tweeted. But Medley stayed on script. "Liar liar," she wrote and tagged Mortimer. She continued to hammer away that Kluth was noticeably missing this season and that the cast joins the show to be completely transparent and honest … as long as they aren't "frauds."
But Mortimer was ready to ride off into the sunset
Mortimer shared on Watch What Happens Live with Andy Cohen that Medley blocked her on social media. So she likely didn't see any of Medley's tagged posts.
But she perhaps doesn't care either. Hours before the episode, she shared her swansong Instagram post. "Thank you from the bottom of my heart to all my fans and friends who supported me and are happy for my fairy tale ending. Without #RHONY, I would never have met my prince charming, Scott. Being a Housewife 🍎 was such a fun experience, and I thank @bravoandy and all the wonderful people at Shed Media and @bravotv," she shared on Instagram along with a photo roll. "Swipe ➡️for a trip down memory lane. I love you all so much!!! 💖"
Fans and cast members shared congratulatory messages including a message from Morgan where she took some credit for the love match.
"And without me you wouldn't have met," Morgan responded. "So happy for you girl. 💞 You got the fairytale. Moved to NYC to live with a true girlfriend who was there for you with open arms 🙋‍♀️I got you on #rhony and my co star Introduced you to Scott the man 💓💓💓 May all your dreams come true. I'm always here 😘." McSweeney responded, "WTF" to Morgan too. Mortimer met Kluth through former cast member Carole Radziwill.