'RHONY': Tinsley Mortimer Says Her Friendship With Carole Radziwill Was Not Fabricated by Bravo
Tinsley Mortimer from The Real Housewives of New York City says she had a real friendship with Carole Radziwill even though she never received congratulations about her engagement to Scott Kluth.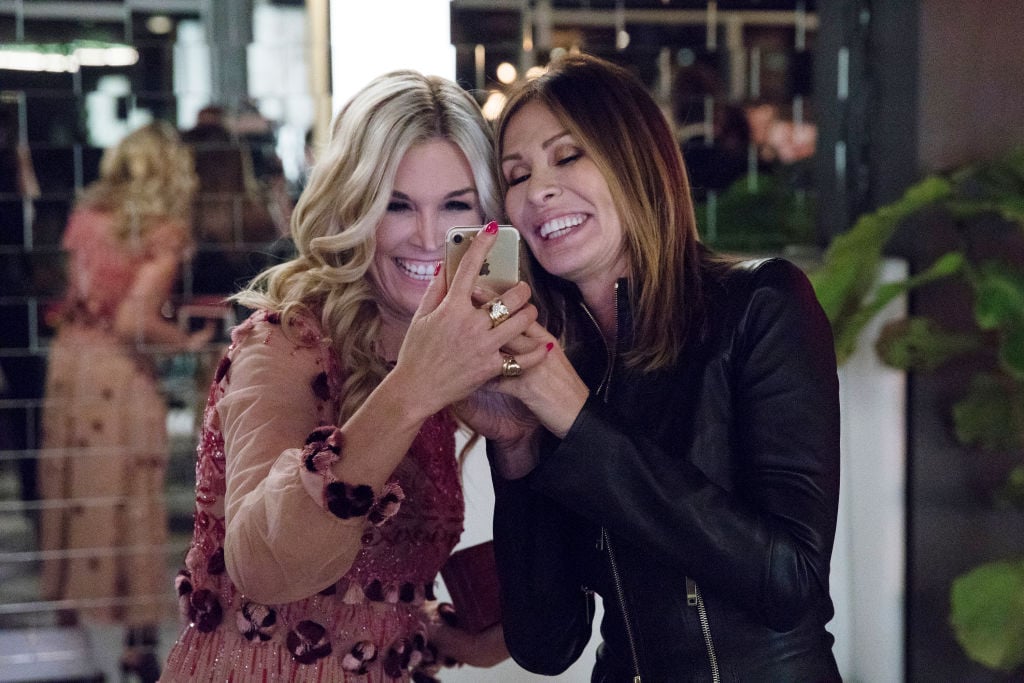 Radziwill introduced Mortimer to Kluth. Mortimer first met Kluth during a double date with Radziwill and then-boyfriend Adam Kenworthy, where Mortimer and Kluth shared a lengthy kiss. Mortimer and Radziwill seemingly grew closer. Their storyline was painted as though they became close friends while on the show.
But Radziwill pushed back on the notion that she and Mortimer were anything more than casual friends. She bluntly said they weren't close during her last reunion, which stung Mortimer. But she also doubled down on her assertion in a recent tweet sharing that Bravo fabricated their "ride or die" friendship. Mortimer addressed Radziwill's tweet, insisting that they were good friends.
Mortimer says the friendship was real
Radziwill recently responded to a fan's tweet about season 10. Radziwill's storyline revolved around the dissolution of her friendship with Bethenny Frankel, which was partly blamed on Radziwill's new haircut and a budding friendship with Mortimer.
"The Haircut! Who knew the haircut would send Bethenny into a tailspin ending with sticking her head in a freezer in Cartagena," Radziwill replied. "She was so mean to everyone else, figured she could handle a new look. Of course there was also the Bravo invented ride or die friendship w/Tinsley."
Mortimer pushed back against Radziwill's claim. "I mean it's total bullsh*t," she said shaking her head during an appearance on Watch What Happens Live with Andy Cohen. Adding, "We went on trips together not on camera! I thought she was my friend. I don't think Bravo created anything."
Maybe 'ride or die' is stretching it but they were still friends
Mortimer says while they were close friends, the "ride or die" reference was a little extreme. "OK, maybe she didn't like me that much, I don't know. But I liked her. I thought we were friends and so I don't think they created a 'ride or die' friendship."
Adding, "And also I don't think anyone would consider us 'ride or die.' We were just friends. I thought."
Host Andy Cohen then asked if Mortimer heard from Radziwill when she got engaged, considering it was Radziwill who set them up. "No, I didn't hear from her," she admits. Cohen seems stunned. "I heard from some friends that live in her building and things. But no I didn't hear from her."
Meanwhile, Sonja Morgan takes credit for Mortimer and Kluth's connection
While viewers recall that Kluth was Radziwill's friend, Sonja Morgan took a little credit for the romance. Mortimer shared a swansong post on Instagram about her fairytale ending as she departed the series. "Without #RHONY, I would never have met my prince charming, Scott. Being a Housewife 🍎 was such a fun experience, and I thank @bravoandy and all the wonderful people at Shed Media and @bravotv," she wrote along with photos.
Morgan replied, taking credit for the match. "And without me you wouldn't have met. So happy for you girl. 💞 You got the fairytale. Moved to NYC to live with a true girlfriend who was there for you with open arms 🙋‍♀️I got you on #rhony and my co star Introduced you to Scott the man 💓💓💓 May all your dreams come true. I'm always here 😘."
While Morgan did not introduce the couple, she opened her home to Mortimer when Mortimer returned to New York City. Morgan felt as though she took Mortimer under her wing and provided her with a segway back into society.