'RHONY': Why Is Sonja Morgan Taking Credit for Tinsley Mortimer's Engagement?
Tinsley Mortimer's swansong Instagram post prompted Sonja Morgan from The Real Housewives of New York City to take a little credit for her fairytale ending.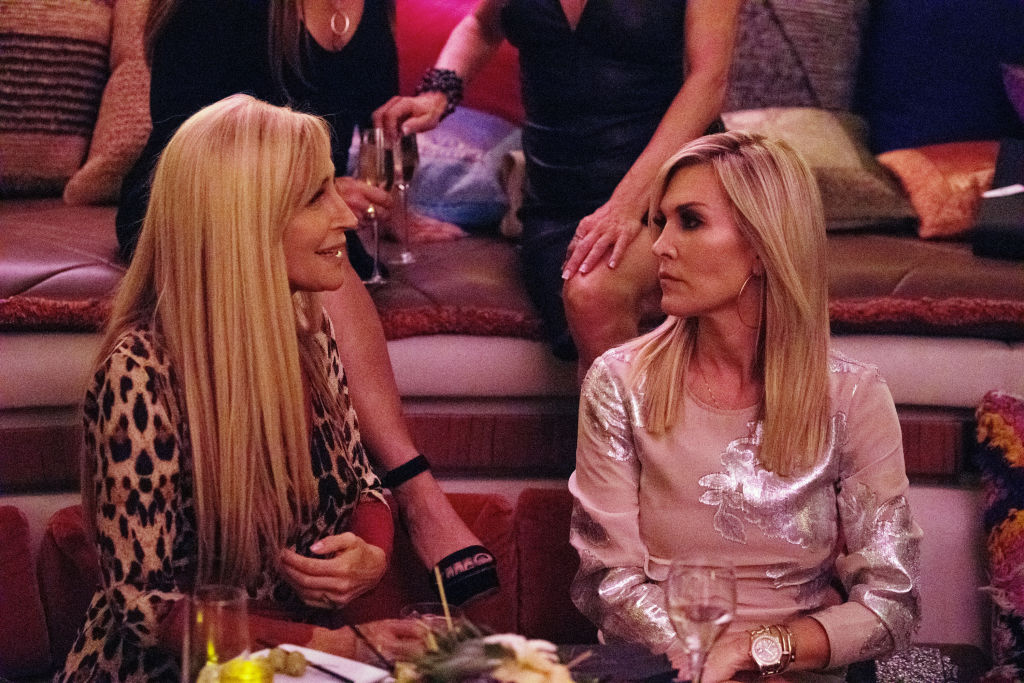 Mortimer's mid-season exit shocked fans as she shared a farewell post hours before her last episode. Viewers knew she got engaged to Scott Kluth in November and stopped filming. But her storyline didn't include that she was dating Kluth until the last few minutes of the previous episode. She teased she might be seeing him again. Then suddenly she was engaged and moving to Chicago.
Kluth and Mortimer had an on-again/off-again relationship after Carole Radziwill introduced the couple. Kluth was Radziwill's friend and she was the one who made the match. However, when Mortimer thanked Bravo and the series for creating the opportunity for her to meet Kluth, Morgan chimed in on her post that she could take the credit for the match too. Why is she staking claim to the love connection?
Viewers are confused about why Morgan was taking any credit
Fans and cast member Leah McSweeney rolled their eyes at Morgan's response to Mortimer's post. "And without me you wouldn't have met," Morgan responded to Mortimer's post thanking RHONY for the love match.
"So happy for you girl. 💞 You got the fairytale," Morgan continued. "Moved to NYC to live with a true girlfriend who was there for you with open arms 🙋‍♀️I got you on #rhony and my co star Introduced you to Scott the man 💓💓💓 May all your dreams come true. I'm always here 😘."
RELATED: 'RHONY': Sonja Morgan Says She Won't Miss Filming with Tinsley Mortimer
McSweeney responded with "WTF" and fans reminded Morgan she did not make the introduction. "We all watched Carole introduce Tinsley to Scott," one person reminded Morgan. Plus a flood of fans responded to Morgan that the engagement was not about her. "Carole is the one that introduced Tinsley & Scott, not you.. Plus you treated her like sh*t when she stayed with you….," another person commented.
Morgan takes a lot of credit for providing a path for Mortimer to re-enter society
RHONY viewers met Mortimer when she moved into Morgan's infamous townhouse. Mortimer returned to New York City after going underground following her arrest in Palm Beach. She was arrested for trespassing at ex-boyfriend Alexander "Nico" Fanjul's home. Charges were later dropped.
While Morgan opened her home to Mortimer, she had some strict ground rules that weren't made apparent to Mortimer until she broke them. Viewers saw how Morgan became agitated when Mortimer asked one of Morgan's assistants for help. "She doesn't want him to ever be distracted by what I might ask him or say to him," Mortimer told Bravo's The Daily Dish in 2017. Mortimer was also forbidden from using the elevator in the home or feeding Morgan's dogs.
RELATED: 'RHONY': Tinsley Mortimer Appears in Her Final Episode as Dorinda Medley Mocks Her Engagement
Also, "Another thing is I am not allowed to have any guest over without, of course, telling her," she shared. "The main one is I'm also not allowed to have any men over, guys. So I can't invite a guy over and I can't have him, of course, stay in her daughter's room where I live."
Mortimer eventually moved into a hotel apartment but hosted a party for Morgan to thank her for her hospitality. However, at the time, Morgan didn't think Mortimer had been appreciative enough, so it took a few months for the cast members to rebuild their friendship.