'RHOP' Alum Monique Samuels on Infamous Reunion Binder – 'I Did It the Night Before the Reunion'
Monique Samuels says it took her little time to create her infamous binder she revealed at the 'RHOP' reunion. Samuels says she made it 24 hours ahead of taping.
If there's one reunion moment any Housewives fans will remember is Monique Samuels' binder shade during the Season 5 RHOP reunion. Samuels came ready for war and shut Gizelle Bryant down after years of her undergoing hazing and shadiness behind the scenes she says Bryant orchestrated. Despite the well-organized moment, Samuels reveals the binder was made within 24 hours of the reunion taping.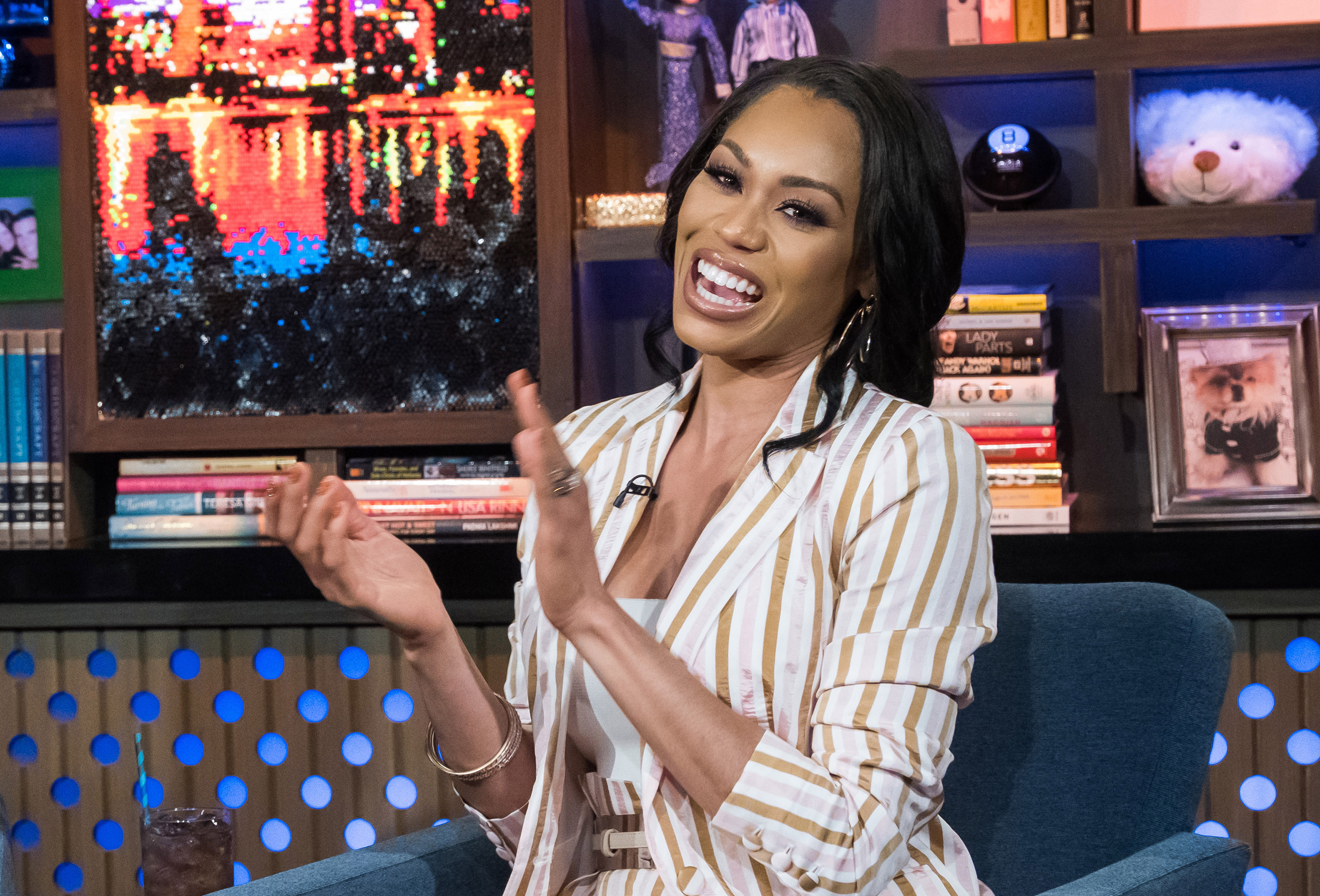 Monique Samuels reveals she prepared her binder the night before the reunion
Samuels shocked her co-stars and the world by putting her former castmates on blast with evidence in a multilayered binder. The binder was color-coded with alleged damaging receipts for each of her nemesis. 
During a recent interview with Jason Lee of Hollywood Unlocked, Samuels says the binder was a last-minute thing.
"Literally, I did the binder the night before I left for the reunion," she admits. "But, I had been talking about it like, 'You know what, I think I'm going to put a binder together.'"
But Samuels says the binder moment is true to her real life character of keeping things in order.
"To me, it's nothing out of the ordinary – If you go into my office, I literally have binders for everything," she laughs. "So, it's just my way of staying organized. I love a binder, I'm old school, I like having a hard copy of everything so I just ordered this cute little binder off Amazon, got it like in two days, and the night before the reunion I printed out text message conversations and all kinds of emails and had it all organized and just showed up."
Furthermore, Samuels says she was stunned by the response the binder moment generated from fans of the show. 
Andy Cohen was shocked by Monique Samuels' binder
She says Andy Cohen gave her the first sign that the binder was something unprecedented.
"It wasn't a big deal to me…I in my mind was just like, 'I'm going to make sure that everything that I say, I have something to back it,'' she says. "I didn't think it was going to be that big of a deal. When Andy walked in my room, he came to see T'Challa and I said 'Oh Andy, I brought a binder' and he said 'What?! You brought a binder?' I was like, 'Yeah, I have receipts for everything that I'm going to talk about today. I have receipts to back up everything.'"
Samuels' co-stars had no idea what they were in for. "And he [Cohen] was like, 'Oh wow' and he kind of made it a big deal when I came out."
Cohen actually has his own copy of Samuels' binder.
The 'RHOP' alum has a new YouTube show inspired by her binder
People were so impressed with Samuels' binder that they yearned for more. She also notes that there was much more in the binder that was not shown during the three-part reunion.
As a treat to fans, Samuels started her own YouTube series Binder Time Stories. The mom of three created the series with a promise to drop more "tea" from her binder. In each episode, Samuels sits around a bonfire and shares a riddle for the audience to "crack the code" and figure out which cast member the story is about.
She called the three-part series a "summation" of her time on the show, saying she wanted to get everything "off my chest."