'RHOP' Alum Monique Samuels on Whether or Not Robyn Dixon Is Broke – 'I'm Assuming Yes'
Housewives are no stranger to financial trouble and RHOP star Robyn Dixon has put hers on full display. Despite being married to a basketball player, Dixon lost her fortune from bad money management and investments. Her former co-star Monique Samuels on the other hand is a wife of a retired NFL player and appears to be thriving financially.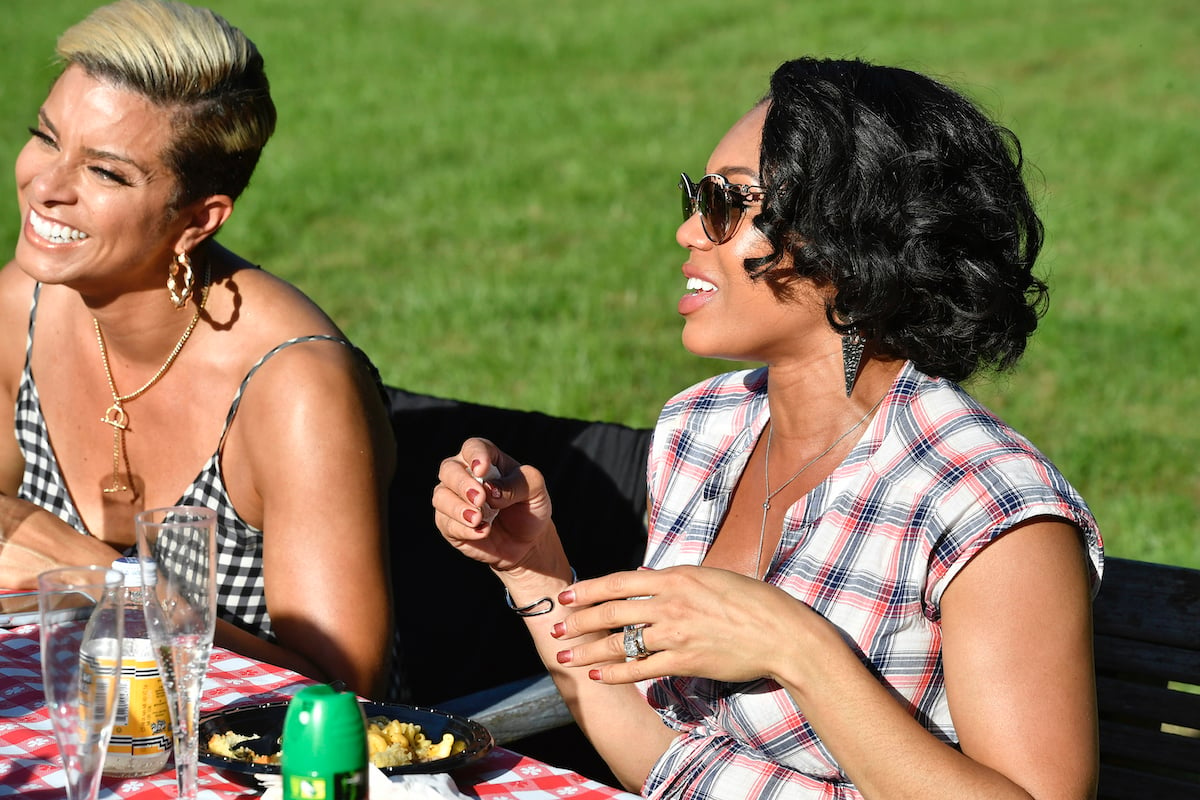 With such different outcomes financially, many have compared the Dixons and the Samuels. In a recent interview, Samuels addresses Dixon's current financial state and hints that there's still a struggle.
Monique Samuels on Robyn Dixon's finances
Samuels and Dixon's relationship was rocky during Samuels' time on RHOP. They didn't spend much one on one time together and Samuels accused Dixon of having no storyline outside of her unconventional relationship and her close friendship with Gizelle Bryant. The former RHOP star also claims Bryant was Dixon's puppet master.
In Season 4, Dixon began showing her life more outside of Bryant and her ex-husband. She started flipping houses and also started a baseball cap line. Her goal is to get her family in a better place financially and rebound from the disastrous financial mistakes she admits to making in the past.
RELATED: 'RHOP': Report Alleges Producers Don't Believe Juan and Robyn Dixon's Love Story and are Demanding She Show More
When asked by Jason Lee of Hollywood Unlocked if Dixon is still broke, Samuels could only make an assumption.
"I have no idea," she said. "I have no idea about her finances but I know she has some tax issues so I'm assuming yes."
Lee kept prodding, reflecting on Dixon's financial situation during the first few seasons while continuing living with her ex-husband Juan to save money. He says that by now, in season 6, Dixon's money should be in a more stable place. Samuels agrees.
"Season 6, they should have a little coin," she says. "They should definitely have a little coin, so we'll see."
Robyn Dixon has been open about her struggles in the financial department
At the height of Juan Dixon's NBA playing career, Robyn says she trusted their close friend Earl Badu to invest their money. Instead of doing so, Badu allegedly stole hundreds of thousands of dollars from the Dixons. They never got their money back as Badu jumped to his death in a suicide.
Robyn filed for bankruptcy amid their financial crisis, claiming that she was $217,000 in debt and earning only $2,000 monthly. Per Radar Online, her debts included $1489,813 to a mortgage company, $28,372 in car payments, $16,577 to American Express, $10,871 to Discover, and about $3,000 to Bloomingdale's.
RELATED: 'RHOP' Stars Robyn Dixon and Juan Dixon Have Reconciled but Why Did They Break up the First Time?
The bankruptcy was dismissed in 2014. She had to complete credit counseling and pay back over $16,000 to the IRS in back taxes. The couple also lost their Maryland mansion and divorced in the process.
Robyn revealed during Season 4 of the show that she owed the IRS $90,000 in back taxes but is currently paying it off. Juan let her know outright that the IRS bill was "on her" and expressed his disappointment in Robyn for making the mistake. She says she takes full responsibility for getting behind again.
She and Juan are now building their dream home. Juan is also coaching basketball at the college level. The couple are also re-engaged and prepping their wedding.