'RHOP': Ashley Darby and Gizelle Bryant Claimed the Bassett's Interaction at Season 6 Dinner Made Them 'Uncomfortable'
'Real Housewives of Potomac' stars Ashley Darby and Gizelle Bryant claimed the Bassett's argument during season 6 dinner made them 'uncomfortable.'
In season 6 of The Real Housewives of Potomac, Candiace Dillard and Chris Bassett got into an argument at dinner during a couple's trip with the rest of the players. Co-stars Ashley Darby and Gizelle Bryant later admitted the interaction made them "uncomfortable."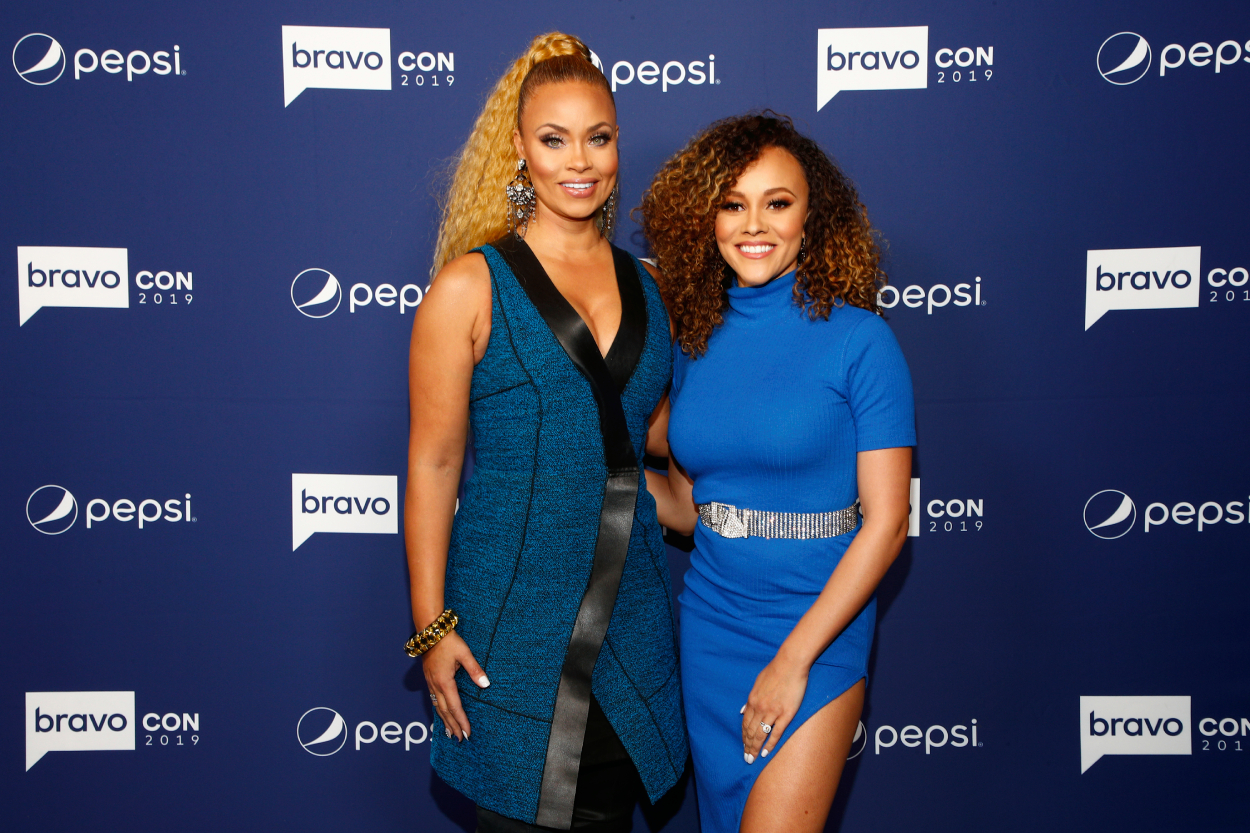 Candiace Dillard and Chris Bassett got into an argument at a dinner during 'RHOP' Season 6
Toward the end of The Real Housewives of Potomac Season 6, Wendy Osefo invited the ladies and their significant others to a house in the Chesapeake Bay.
The trip kicked off with Mia Thornton's husband, Gordon, getting drunk and flirting with some of the women. Then, Dillard continued to make remarks about Thornton's mother following a disagreement, leading to a food fight with lettuce between the two in the kitchen.
At a dinner, Dillard's husband, Chris Bassett, told Ashley Darby he wanted to get to a place where he and her significant other, Michael Darby, could remain civil even if their wives weren't getting along.
The conversation took a turn when Darby brought up Dillard's comments in a tweet where she referred to the Australian native as an overseer. When Dillard clarified that he "drives his slaves," Bassett repeatedly asked his wife to stop talking before yelling "stop." He eventually walked away when she made it known she didn't want to leave.
Ashley Darby and Gizelle Bryant claimed the interaction made them uncomfortable
Following the episode, the cast appeared on the after-show to discuss the memorable trip. When speaking about the dinner, Darby admitted it made her "uncomfortable" when Bassett stood up and raised his voice at his wife.
She felt he treated her like a child at that moment and noted she didn't like watching the interaction. Gizelle Bryant also commented about the situation, revealing how Bassett attempted to move Dillard out of her seat was "a little too much" and also made her uneasy.
She explained she didn't want the couple to get to a point where they're interacting that way in public, noting she hoped they come to a common understanding.
Robyn Dixon agreed, including that she felt the married pair took the situation to an "unnecessary" level and believes too much alcohol played a part as well. On the other hand, Karen Huger admitted she could understand why Dillard's mouth could lead to Bassett losing his temper.
Dillard and Darby said they called a truce off-screen during the trip
During the same after-show, rivals Dillard and Darby revealed they had an "unaired kumbaya moment" while on the trip. According to the "Drive Back" singer, she and her husband, including Darby and Huger, happened to be awake while everyone went to sleep and hung out together.
Dillard believes a mixture of drunkness, tiredness, and exhaustion led her and her nemesis to call a truce for a few hours. She admitted they had a good time together, referring to it as "actually pleasant."
Throughout Dillard's time on the show, the ladies have never seen eye to eye. However, it came to a head last season when Darby seemingly sided with former cast member Monique Samuels by writing a statement detailing a season 4 incident where Dillard threw a butter knife in her direction.
The singer admitted she still isn't over it during part two of the season 6 reunion. The Real Housewives of Potomac airs Sundays on Bravo.