'RHOP': Ashley Darby on Taking Monique Samuels' Side in Fight: 'Candiace Dillard Doesn't Know When To Stop'
'RHOP' star Ashley Darby opened up about why she took Monique Samuels' side over Candiace Dillard in their explosive fight.
During the fifth season of The Real Housewives of Potomac, former friends Monique Samuels and Candiace Dillard came to blows. Even though Ashley Darby's bathroom break caused her to miss the fight, she seemingly immediately took Samuels' side after returning. The mother-of-one explained why in a recent interview.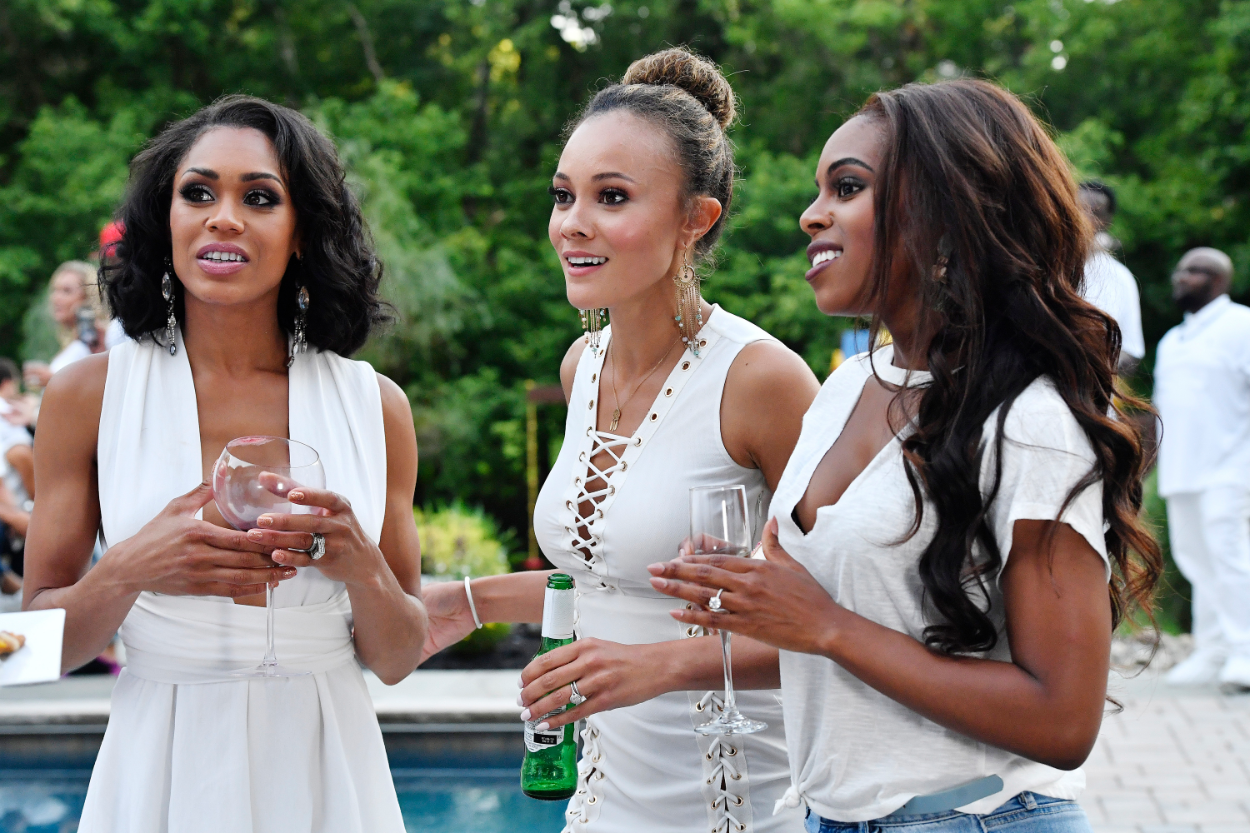 Monique Samuels and Candiace Dillard fell out during 'RHOP' Season 4
When former Miss United States Candiace Dillard joined The Real Housewives of Potomac cast in season 3, she quickly became good friends with Not For Lazy Moms owner, Monique Samuels.
However, they fell out during the following season because Samuels befriended Ashley Darby, a Housewife who Dillard had issues with at the time. While Dillard perceived the budding friendship as a personal attack, Samuels claimed they began hanging out more because they both experienced the pain of having a miscarriage.
Toward the end of season 4, Samuels showed Darby text messages between her and Dillard, an action the former Miss United States didn't appreciate. Even so, the ladies both claimed they wanted to repair their friendship at the reunion and hung out afterward.
However, their relationship went south again when Dillard invited OG Housewife Charrisse Jackson Jordan to her anniversary party.
Samuels and Dillard got into a physical altercation during 'RHOP' Season 5
According to Samuels, her ex-friend and the former RHOP star spread rumors that she had an affair with her trainer, resulting in her pregnancy. Samuels claims that Karen Huger called her and warned her about the meeting and insisted Dillard knew about it.
Therefore, it upset Samuels that Dillard would invite Jordan, especially since the former Miss USA didn't give her a heads up. A few weeks later, the ladies hung out at Samuels' lake house, where they got into an argument over a misunderstanding.
When they saw each other for the next time at the winery, the former friends started arguing again, but it turned physical when Samuels grabbed the former Miss USA by her hair.
Darby went to the bathroom and missed the fight but seemingly took Samuels' side and believed Dillard likely "egged" the mother-of-three on. In an interview with the Daily Mail, the new mother explained why she quickly sided with Samuels over Dillard, despite not seeing the fight.
Ashley Darby on why she took Samuels' side
The OG Housewife explained Samuels invariably had her back even though they didn't always see eye to eye. Therefore, Darby wants to "reciprocate" the loyalty Samuels showed her.
She then pointed out how Dillard was wrong, describing her as "a woman who just doesn't necessarily know when to stop." Additionally, Darby mentioned Dillard's "persistent" social media tactics and claimed the newlywed "doesn't really have the instincts of when enough is enough," which "can be overwhelming for anybody."
The mother-of-one also brought up Dillard ruthlessly tweeting "horrible things" about her as she gave birth to her son as proof that the former Miss United States "has no decency."
Due to Dillard's past behavior and Samuels' history of loyalty to her, Darby has chosen to side with the latter in the emotionally-charged fight. The Real Housewives of Potomac airs Sundays at 9 p.m. EST on Bravo.
Follow Tamara Grant on Twitter.