'RHOP': Ashley Darby Shocks Fans Revealing She Sniffs Her Husband's Underwear
Ashley Darby from 'RHOP' has a unique way of knowing if her husband is cheating on her. The Bravo star made the revelation on the latest episode of the reality series.
Ashley Darby from The Real Housewives of Potomac has been an open book on the show about her marital problems. The expectant mother has stood by her husband through some difficult moments in the past. Michael Darby was accused of sexually assaulting a cameraman from the Bravo reality series. New allegations of an extramarital affair have been raised and Darby revealed a peculiar method she uses to make sure her man is not cheating on her.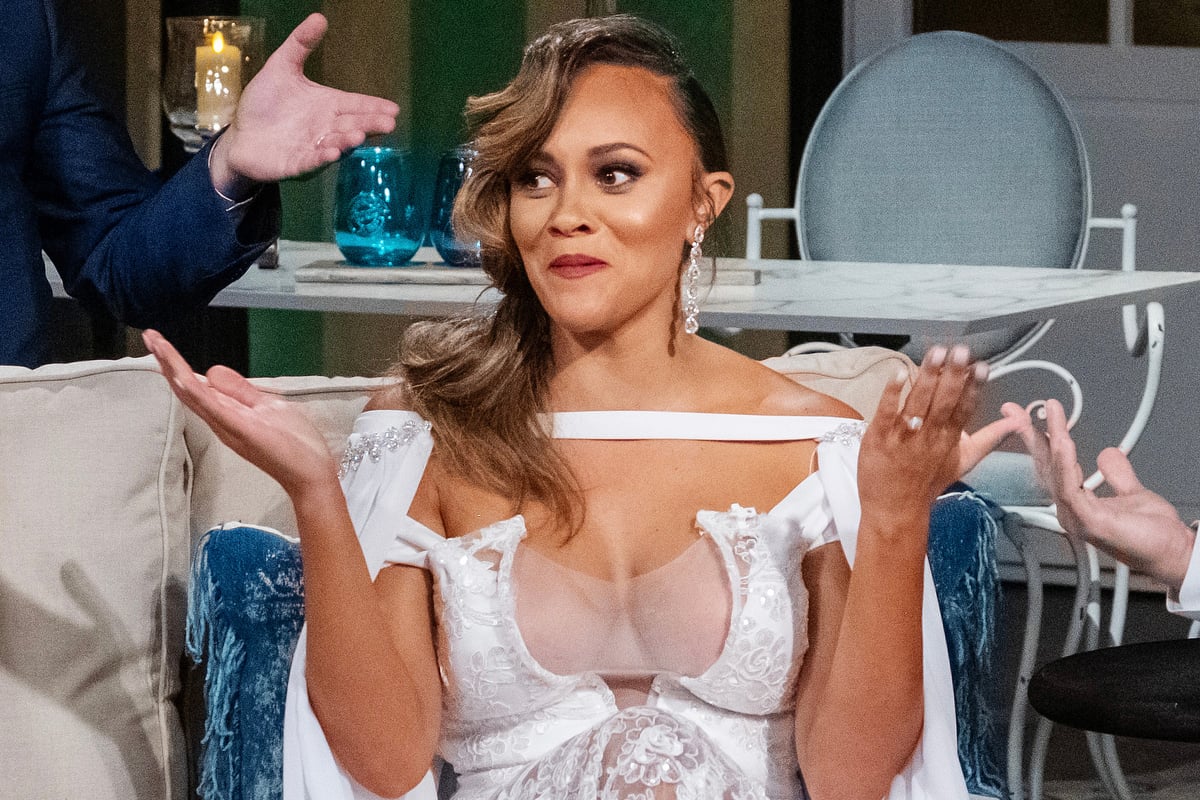 How does Ashley Darby know her husband is not cheating?
On the latest episode of RHOP Season 5, Candiace Dillard received a text message from a close friend. The message revealed that Darby's husband was seen at a strip club saying that he had a boyfriend and a wife. Dillard, with the help of Gizelle Bryant, pull Darby to the side to show her the texts.
Darby surprisingly took the news in a calm manner. Given her past with Dillard, she didn't just brush off the information she gave her. The latter assured Darby that it was a credible source that gave her the information.
"As far as I know, everything is well so that's why… I'm shocked," Darby said.
Dillard then asked Darby if she asked her husband "indirect questions" that would help her catch him in a lie. Darby assured the ladies that she knows her husband is not cheating because she has sniffed his underwear.
"I don't just ask questions Candiace, I read e-mails, text messages, I sniff underwear, everything," Darby said to a shocked facial expression from Dillard and Bryant.
Fans react to Ashley Darby's revelation
As the episode aired, fans were reacting on Twitter about Darby's revelation. Many of the viewers agreed that Darby resorting to smelling her husband's undergarments was not at all healthy. An overwhelming amount of fans believe that Darby needs to get out of the marriage.
"If you have to smell your husband's underwear… it's time to make an exit sis," a fan tweeted.
"You know it might be time to leave someone if you get to the point where you are sniffing some damn underwear due to concerns about cheating," a viewer added.
"If I'm 29 years younger than my husband and I have to smell his underwear, we have issues at home," a Twitter user mentioned.
"Ashley needs help," another fan said. "I'm not gonna ever sniff no geriatric man's underwear."
How did Ashley Darby start sniffing underwear?
Darby was a guest on Watch What Happens Live on Sunday, September 13 where Andy Cohen wasted no time answering the pressing questions. The late-night host asked Darby if she had sniffed her husband's underwear throughout their relationship.
"That paramounted when I was pregnant, I was super sensitive," she said on the Bravo show. "I was really jealous [and] I had this really keen sense of smell where I could smell absolutely anything from a mile away."
Being that Darby is pregnant again, her "keen sense of smell" could return. However, the RHOP star assured Cohen that her husband has been more supportive than ever.
"I'd be lying if I said that I didn't have a little but of something in the back of my mind," she answered. "Michael has been just the most supportive husband over these last few months. He's really gone out of his way to show me that he's remorseful and that he wants to rebuild our marriage and our trust."
New episodes of The Real Housewives of Potomac air on Sunday nights at 9 p.m. ET on Bravo.