'RHOP': Ashley Darby and Newcomer Wendy Osefo Butt Heads in Season 5
In the 'Real Housewives of Potomac' Season 5 trailer, Ashley Darby and newcomer Wendy Osefo got into a couple of heated exchanges.
All the housewives from last season returned for Real Housewives of Potomac Season 5 with the addition of the newest housewife, Dr. Wendy Osefo. Introduced to the show through current full-time cast member, Candiace Dillard, the mother-of-three is already stirring up drama, specifically with youngest housewife, Ashley Darby.
In the trailer for the awaited upcoming season, the assistant professor gets into a couple of heated exchanges with the entrepreneur, once at a dinner and again presumably at Karen Huger's house.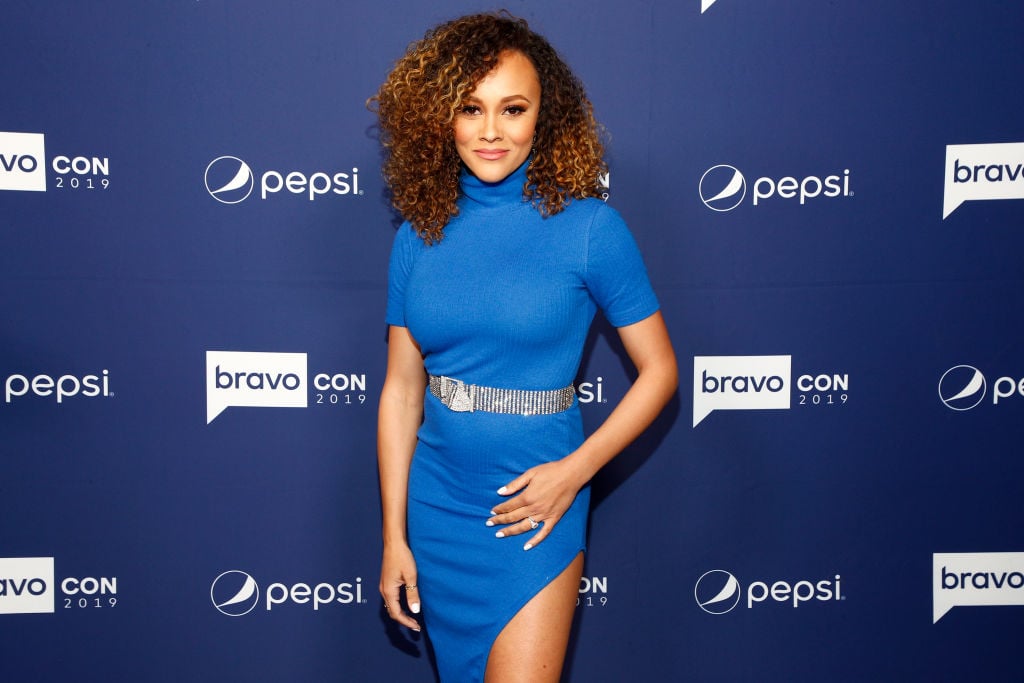 Ashley Darby on 'Real Housewives of Potomac'
In January 2016, entrepreneur Ashley Darby joined Real Housewives of Potomac as an original cast member alongside Karen Huger, Gizelle Bryant, Robyn Dixon, and Charrisse Jackson Jordan.
Her storyline revolved around her marriage to successful businessman Michael Darby and their age difference as well as the restaurant they opened together.
She initially bumped heads with Karen and Gizelle before new arrival Candiace Dillard became her nemesis. From the first season, she expressed her desire to have her first child with husband Michael, and finally became pregnant toward the end of the fourth season.
Since filming wrapped, Ashley gave birth to their son, Dean Michael, on July 7, 2019. 
Wendy Osefo before 'Real Housewives of Potomac'
Political commentator and assistant professor at Johns Hopkins School of Education, Dr. Wendy Osefo, has joined Real Housewives of Potomac as a full-time housewife.
Married with three children, she describes herself as a "pescatarian who often falls off the wagon every few months." Born in Nigeria, the 35-year-old has a Ph.D. from Rutgers University and has provided political commentary for several media outlets, including CNN, ABC, Fox News, BBC, The Steve Harvey Show, and more.
Ashley Darby and Wendy Osefo butt heads in 'RHOP' Season 5 trailer
Candiace, who introduced Wendy to the show, described her friend as "black girl magic personified." She continued and explained the professor "can read a book" and "she can read you down."
At a dinner, Ashley dismissed the newcomer, saying, "bye Wendy," and the political commentator shot back, "It's Dr. Wendy, address me correctly!"
They got into another verbal argument where Ashley yelled at Wendy to "mind your business" and the newest housewife argued back. Karen then stopped the bickering by asking the ladies not to raise their voices in her house.
It's unclear why the two ladies don't see eye to eye, but the strained relationship between Ashley and Candiace might have something to do with it.
Also, in the trailer, Ashley confronted her husband about cheating rumors where he allegedly hung out with several strippers. Michael admitted he and another person "ended up going back to a hotel" although the clip didn't reveal exactly what he did.
Even though Wendy didn't appear in the trailer as much as the other returning housewives, the show will presumably focus on her work-life balance. Additionally, she threw a sip-and-see for their daughter, which Candiace attended and could make its way into the show.
Real Housewives of Potomac Season 5 premieres Sunday, May 3, 2020, at 8 p.m. EST on Bravo.