'RHOP': Candiace Dillard Defends Using Autotune On New Song After Shading Ashley Darby For Using it Previously
The love for music is something that several cast members of The Real Housewives of Potomac share in common. Monique Samuels pursued a rap career prior to joining the show – and both Ashley Darby and Candiace Dillard have released music. But Dillard has said her vocal ability supersedes Darby's. She previously criticized Darby's use of autotune. A fan recently called Dillard out for using autotune as well but Dillard says there's a huge difference.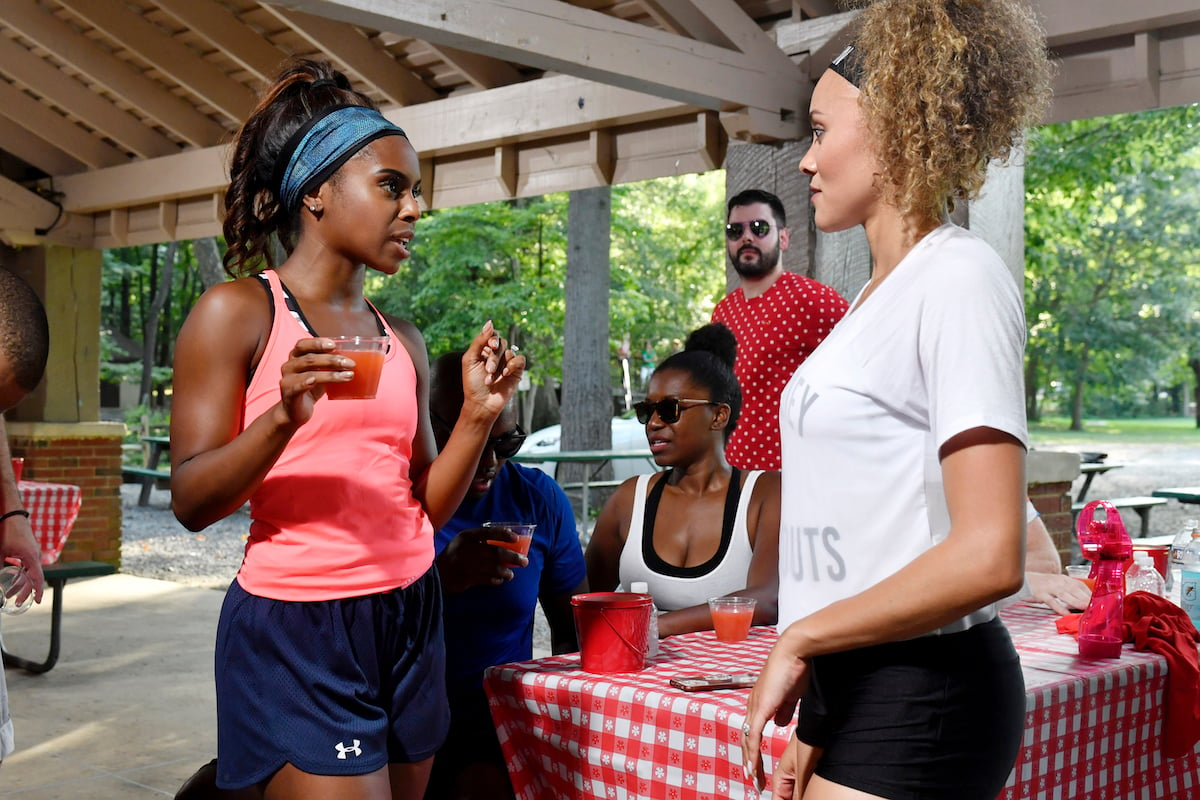 Candiace Dillard previously shaded Ashley Darby over her use of autotune
Darby released her first single and music video 'Coffee & Love' in 2018. She dedicated the song to her husband Michael and performed it for him live on the show with her co-stars present.
Dillard has also released music, a ballad 'I See You' and a D.C. Go-Go Remix to the song. During the Season 5 reunion, Andy Cohen asked about the similarities or differences in the two women's music
"How does it compare to 'Coffee and Love,' would you say?" he asked Dillard, referencing her newly-released remix and Darby's single released two years prior.
"It does not compare," Dillard said. "This was an actual song, with no autotune. I did not need that help."
Darby was clearly offended, noting that regardless of her use of autotune on the song, she proved she could sing live. "I performed my song a number of occasions, live without any glitches or problems," Darby said. 
"But the vocals, my dear? They're trash," Dillard shot back at her co-star. "Next question."
Dillard also performed both the ballad and the remix on the show. She performed the ballad at her wedding in season 4, and the remix during the season 5 finale. 
Darby wouldn't back down, chastising Dillard for her online behavior and notorious sharp tongue toward her castmates. "This 'trash' thing, have you looked in a mirror?" Darby asked Dillard. "Calling everybody trash. It's getting really old, just so you know."
"Oh, how your husband referred to my husband as trash?" Dillard responded.
Why Candiace Dillard is defending using autotune on her new track
Dillard recently released her third single 'Dive Back.' the song is inspired by her relationship with her husband Chris and details an argument that she runs from but eventually drives back home to mend things. 'Drive Back' is Dillard's first song she released that uses autotune. An accompanying music video for the song was released exclusively on BET Her.
During Dillard's recent appearance on Watch What Happens Live with Andy Cohen fan referenced Dillard shading Darby's use of autotune in her single. "Were any apologies made to Ashley after the reunion about her using autotune, because at certain points in the song ['Drive Back'] autotune is very clearly used? It's still a bop, though," the fan noted.
Cohen agreed, asking Dillard if she would offer an apology, telling Dillard, "you did shade her autotune."
But Dillard says she has nothing to apologize for, telling Cohen and the viewer "I don't. I'll tell you why. So autotune is, people don't know, it's an industry standard. Everybody uses it from, like, the best singers to the ones that need a little prayer," Candiace said. "Some just need it more than others."
Cohen wouldn't back up, reminding Dillard "you both used it." Once again, Dillard stood firm and had another explanation. 
"People use it in a creative way," she said. "Like T-Pain. Have you ever heard T-Pain sing?" she asked Cohen. "T-Pain is an amazing vocalist, but he used it in a creative way to get onto the stage. She [Darby] used it on the entire song."
RHOP airs every Sunday on Bravo at 8 pm EST.