'RHOP': Candiace Dillard on Gizelle Bryant's Comments About Chris Bassett Riding Her Coattails
The Real Housewives of Potomac star Candiace Dillard revealed her husband, Chris Bassett, also began stepping in as her manager, a situation Gizelle Bryant admitted raised "yellow flags" for her. Dillard blasted Bryant in response to the comments.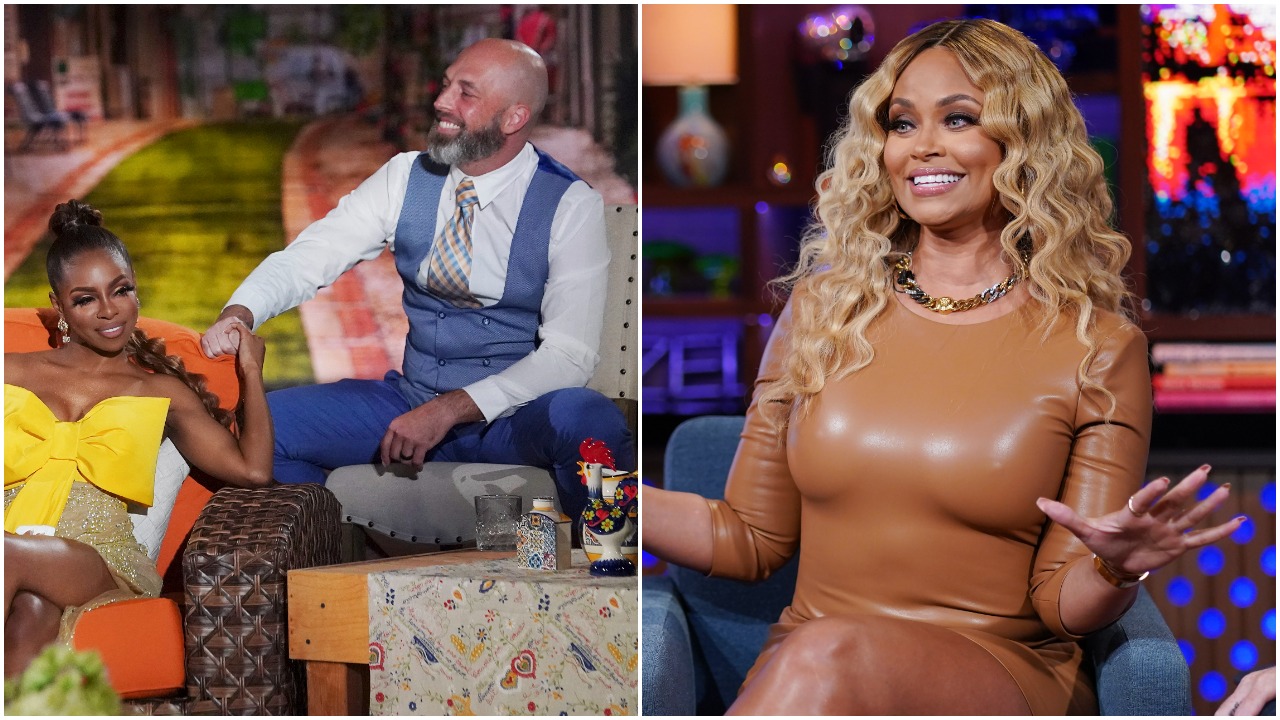 Gizelle Bryant voiced concerns about Candiace Dillard's husband managing her during 'RHOP' season 6
Candiace Dillard opened up about her husband, Chris Bassett, now managing her music career at a dinner during the Williamsburg, Virginia cast trip.
OG Gizelle Bryant and friend of the show, Askale Davis, wondered if their dynamic worked for them and Dillard explained he has the utmost belief in her.
RELATED: 'RHOP': Gizelle Bryant Says She and Newbie Mia Thornton Had a 'Rocky' Start Due to Another Housewife
However, she admitted they had arguments and that her mother didn't like the situation as she thinks Bassett might try to live off her daughter. Additionally, Dillard implied she doesn't have a contract with her husband as his manager. Regardless, she claimed she trusted her husband and wouldn't have married him if she felt he would've used her.
Bryant told Dillard she didn't want her to "resent" Bassett because she's focused on building a career while he isn't. She also admitted she's concerned he's riding her "coattails." While Dillard acknowledged the concern, she insisted she "knows" her marriage.
Bryant claimed the situation raised 'yellow flags' for Dillard blasted her in response
During the Aftershow, Bryant explained she's aware of Dillard's desire to act and sing and believes the RHOP star has an "out of the world" personality to pull it off. Therefore, she wants her to be successful.
However, the OG Housewife noted Bassett not pursuing cooking anymore, even though he's a chef, and is now choosing to manage Dillard, raising "yellow flags" for her.
She also admitted the situation caused her "spidey senses" to go up. Dillard responded to Bryant, claiming she didn't believe the Bravo star could "recognize a supportive husband." She continued, noting her husband "would do anything" to make her happy and support her career while she doesn't think Bryant's ex would do the same.
Additionally, Dillard said she considered her co-star's response a "product of her environment," claiming she's reacting out of personal experience.
The most recent episode involved her mother, Dorothy, asking questions about their situation
The Sept. 19 episode featured the ladies, except for Ashley Darby, appearing as extras in Dillard's music video. While they waited around for cars to show up, newbie Mia Thornton asked Dillard's mom, Dorothy, if Bassett planned on attending the video shoot.
She answered that she didn't know and admitted she disagreed with their "husbandger" arrangement. Thornton agreed, explaining she and her husband previously tried it, and it didn't work.
RELATED: 'RHOP' Season 6 Trailer Teases Fight Between Candiace Dillard and New Housewife Mia Thornton
The newest housewife then asked if she paid Bassett as her manager, and Dillard's mom admitted that the payroll situation served as an "issue" as she didn't think so. The conversation made Davis and Wendy Osefo uncomfortable, and they walked over to Karen Huger and Robyn Dixon, where they relayed the discussion.
Dorothy later began gossiping to Huger about the restaurant closing and her desire for Bassett to move up. Dillard has yet to respond to her mother's comments, although she noted she's aware of how she feels. The Real Housewives of Potomac airs on Sundays at 8/7 Central on Bravo.