'RHOP': Candiace Dillard on Where She Stands With Karen Huger – 'I Trust Her as Far as I Can Throw Her'
The friendship between The Real Housewives of Potomac stars Candiace Dillard and Karen Huger remains estranged. The two have yet to fully reconcile since their fallout in Season 5 over Dillard being upset with Huger refusing to pick sides in the fight between her and Monique Samuels. Dillard makes it clear that she does not trust Huger.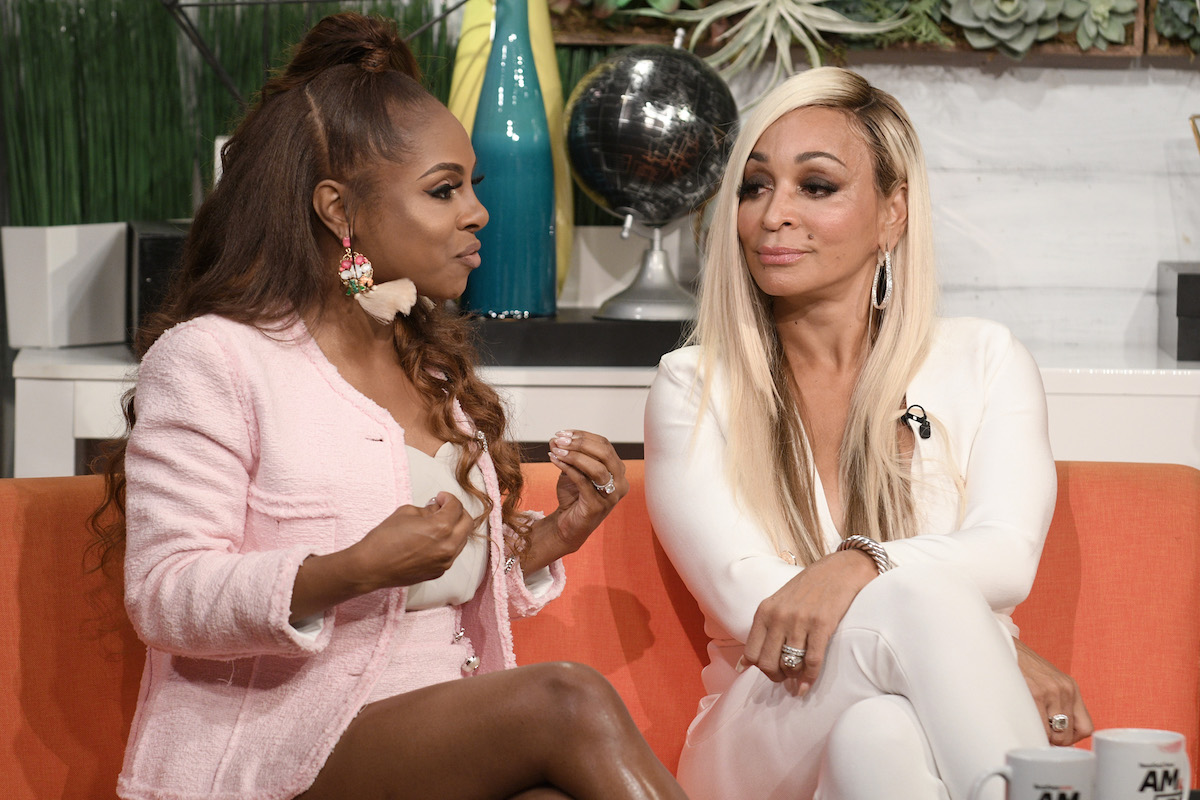 Candiace Dillard says her friendship with Karen Huger remains surface level
Dillard and Huger haven't been the same since the fallout from Dillard's physical altercation with her former co-star Monique Samuels. Being friends with both women, Huger chose to remain neutral, to the disdain of Dillard. The two came to a head during the Season 5 reunion when Dillard revealed Huger called Bravo human resources on her after she sent Huger a text telling her to "burn in hell."
This season, both women were looking to move past their issues. But when Dillard didn't get the apology or acknowledgment from Huger that she was looking for, she chose to remain distant. 
In a recent interview with Entertainment Tonight alongside Gizelle Bryant and Robyn Dixon, all women agreed that they have a lack of trust in Huger.
RELATED: 'RHOP' Star Candiace Dillard Bassett Says Karen Huger Is 'No One's Friend,' Also Slams Ashley Darby
"You saw in the super tease, I said, 'I don't trust you,' Dillard reminds her co-stars. "Do I trust her now? I trust her as far as I can throw her. Beyond that, you know, it just, it is what it is. And she understands that. But will it ever be the same? No, it won't. And that's just the way the cookie has crumbled."
Still, she finds it sad that the two aren't as close as they once were.
"People are not always capable of what I need them to be for me as friends and that's OK," Dillard adds. "And I have had to learn to accept that and I have. So Karen and I are, we get good, we get good toward the end, but it's not the same, which is sad but, you know, oh well. I'm my own best friend. Me and Jesus."
Karen Huger is hopeful for a better outcome
Huger visited Dillard's new Maryland home during episode 3 in hopes of coming to a resolution. Over afternoon tea, Dillard told Huger that she felt unsupported in the aftermath of the Season 5 drama.
But Huger stood firm in her decision, noting that she also felt slighted wh "I can't change the past," Huger told Dillard, with Dillard responding if Huger still wouldn't change her opinion.
"Not at that time and I know that's hard for you to hear," Huger said to a tearful Dillard. "So, I don't know what that looks like down the line."
RELATED: 'RHOP': Karen Huger Clarifies Why She Refused To Pick a Side in Physical Altercation: 'It Was a Consensual Fight'
When Dillard let her know that she doesn't trust her and their relationship will not be what it was prior, Huger understood.
Huger remains hopeful that the two can rebuild their relationship, telling ET in her own interview: "I know we have people rooting for us. [We had] very difficult conversations that needed to be had, and that was the point where growth starts."
RHOP airs every Sunday on Bravo at 8 pm EST.