'RHOP': Candiace Dillard Admits She's Still 'Not OK' After Physical Altercation
Former friends Candiace Dillard and Monique Samuels got into a physical altercation while filming The Real Housewives of Potomac Season 5 at a winery. Even though the situation happened a year ago, it recently aired for the first time. Dillard admitted she's still "not OK" after the emotional fight.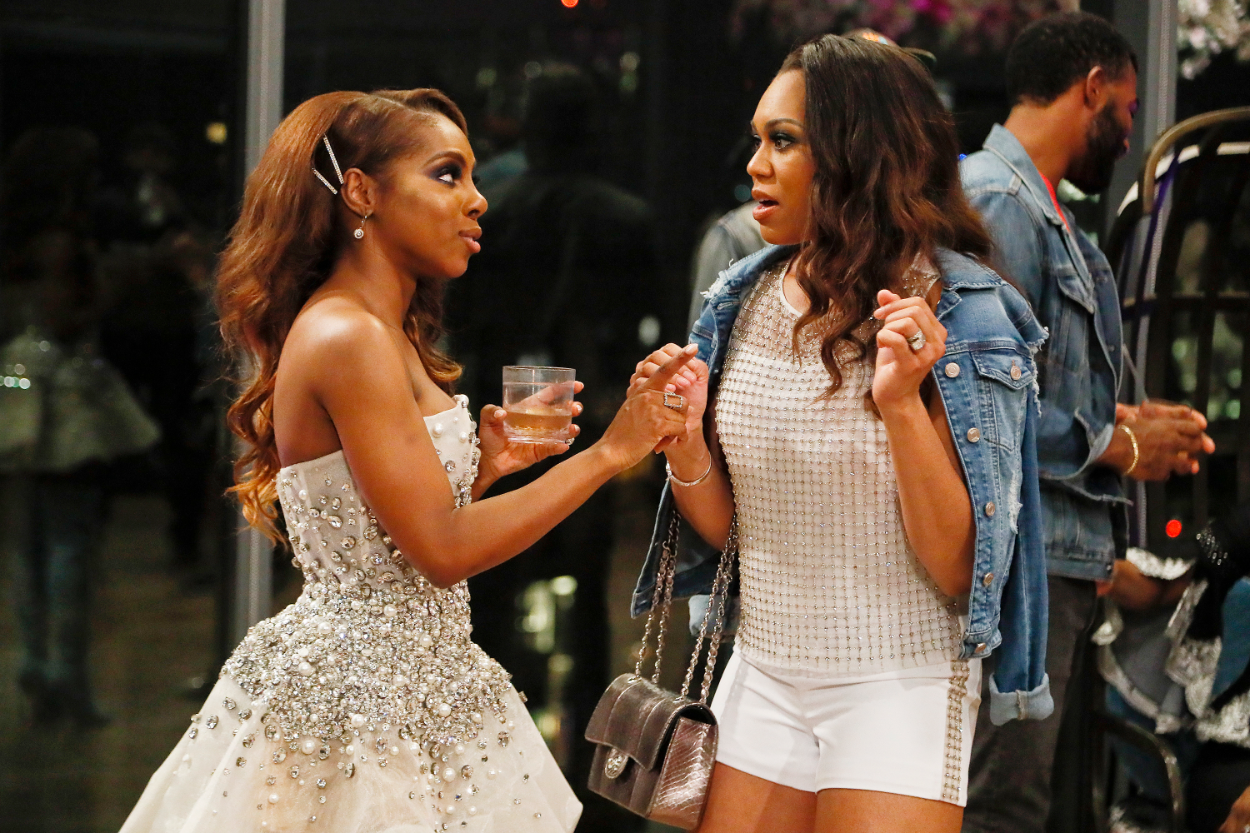 Candiace Dillard and Monique Samuels fell out during last season of 'RHOP'
When former Miss United States Candiace Dillard joined the cast in season 3, she and Not For Lazy Moms owner Monique Samuels immediately hit it off. The ladies, and their husbands, became great friends, and they hung out often.
However, Samuels disagreed with the way Dillard spoke about Ashley Darby, a housewife who struggled with getting pregnant at the time. After Darby experienced a miscarriage, Samuels, who went through a similar ordeal, comforted the housewife and shared her current pregnancy journey with her.
Dillard didn't understand why her friend would hang out with someone she didn't like and got annoyed with Samuels. The ladies ended up getting into an argument but admitted they missed their friendship at the season 4 reunion.
Even though they reunited for lunch afterward, their relationship quickly deteriorated again.
Dillard and Samuels got into physical altercation during season 5 of 'RHOP'
According to Samuels, her issues with Dillard stemmed from the former Miss United States' sudden friendship with OG, Charrisse Jackson Jordan. The podcast host believes an ex-friend and Jordan conspired to create a rumor that she slept with her trainer, resulting in the pregnancy of her youngest child, in an attempt to get back on the show.
In an Instagram Live detailing the situation, Samuels explained that Dillard allegedly knew about the meeting Jordan had with a few other housewives to get their stories straight but didn't warn her about it. Instead, Karen Huger informed Samuels.
Therefore, the podcast host became annoyed when Dillard invited Jordan to her anniversary party, as seen on the show. Her frustration with the former Miss United States continued to build up until they ended up getting into a physical altercation, sparked by Dillard accusing Samuels of pretending to sleep and "mom-shaming."
After the former Miss United States began pointing her finger in the podcaster's face, Samuels responded by flipping Dillard's hair before yanking her to the table. As a result, the newlywed began swinging her wine glass, which ended up cutting Samuels' lip.
Dillard admits she's still 'not OK' following physical altercation
After the emotional fight, Dillard pressed charges on her former friend, who quickly filed counterclaims. However, the court dropped both of the cases. When news first spread of the fight until it aired on Bravo, Dillard maintained her position that Samuels acted as the aggressor and attacked her
While some fans agree with her, others claim Dillard "asked" for it by taunting Samuels and telling her to "drag" her last year. Shortly before the episode that included the fight aired, a fan asked the former Miss United States what they can expect to see.
She quote tweeted it and responded, "You'll see everything. They really left little, if anything out." The newlywed called the event "traumatic" and admitted she hasn't still gotten over the situation, which happened a year ago.
Dillard closed the tweet by remarking on the way Samuels has handled the situation, noting, "The level of instability a person has to have to behave the way she did and then double down on it is incomprehensible."
After the fight aired, the podcaster took to her Instagram account to take responsibility for the altercation and claimed she received counseling. However, she noted she has not apologized to Dillard. The Real Housewives of Potomac airs Sundays at 9/8c on Bravo.
Follow Tamara Grant on Twitter.