'RHOP': Candiace Dillard Unfollowed Gizelle Bryant on Instagram Amid Season 7 Filming
'The Real Housewives of Potomac' star Candiace Dillard has unfollowed original cast member Gizelle Bryant on Instagram, reportedly amid season 7 filming.
While Candiace Dillard and Gizelle Bryant have had their share of arguments with other cast members, the two haven't really butt heads in the few years they have filmed The Real Housewives of Potomac. However, that has seemingly changed as Dillard unfollowed Bryant on Instagram, reportedly as they're filming season 7.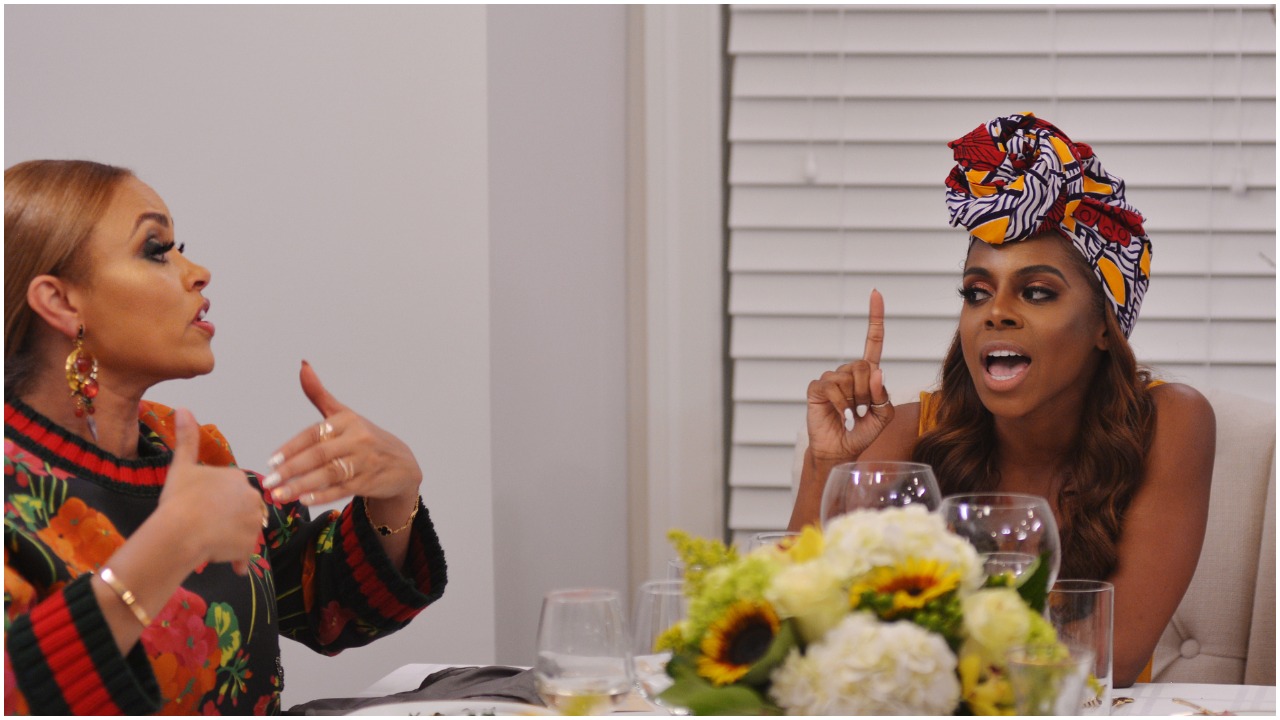 Candiace Dillard unfollowed Gizelle Bryant during 'RHOP' Season 7 filming
Filming for season 7 of The Real Housewives of Potomac has reportedly started. Candiace Dillard unfollowed OG Housewife Gizelle Bryant on Instagram in April 2022, a month or so after shooting for the new season apparently began.
While she hasn't divulged the reason for removing her co-star from her following list, Everything Housewives claims to have the scoop.
According to the blog, Bryant apparently told Dillard that her husband, Chris Bassett, did or said something "inappropriate" to her during the season 6 reunion. However, it seems as though others don't believe Bryant, as Everything Housewives described her reported allegations as an attempted "takedown" of Bassett.
Adding fuel to the fire, he posted a cryptic tweet around the same time. He wrote, "when your context/comprehension skills register at remedial level; I'm sorry, nothing I can do for you. But I promise this is NOT the road you want to go down."
Dillard was previously rumored not to return for another season of 'RHOP'
Shortly before season 7 began filming, popular spoiler account Bravo and Cocktails claimed a "problematic east coast Housewife" might not return for an upcoming season.
It reported that producers no longer view her as representative of the franchise and felt "pressure" from fans who have called for her firing.
Many viewers believed the Bravo star to be Dillard, but she denied the rumors on social media. However, the "Drive Back" singer shared a tweet a couple of weeks later, possibly implying the reports were accurate.
She talked about doors opening when one closed in the post, leading some to believe she wouldn't come back for another season. Dillard is reportedly filming season 7 currently as a full-time cast member.
Bryant once claimed Chris Bassett and Dillard's interactions in season 6 made her 'uncomfortable'
During season 6, the group traveled with their partners to a house in the Chesapeake Bay for a mini-vacation. In one episode, Chris Bassett yelled at his wife at a dinner when she doubled down on a tweet she posted calling Michael Darby a "slave driver."
The cast discussed the heated interaction after the episode in an after-show, and Ashley Darby admitted Bassett raising his voice at Dillard made her "uncomfortable."
She elaborated, noting she felt he treated her like a child at that moment. Bryant also commented on the situation, pointing out it also made her "uneasy" when Bassett attempted to move Dillard out of her seat and away from the dinner table.
Bryant claimed she hoped the pair would communicate differently so they wouldn't continue to have those interactions. On the other hand, original cast member Karen Huger noted she understood why Dillard's comments would cause him to lose his temper. The Real Housewives of Potomac airs on Bravo.