'RHOP': Chris Samuels Responds to Rumors Questioning His Son's Paternity: 'Y'all Are Dirty People'
'RHOP' star Monique Samuels and her husband Chris addressed the rumors co-stars created surrounding the paternity of their youngest child.
In Real Housewives of Potomac Season 5 Episode 2, viewers finally learned of the salacious rumors that friend of the show Charrisse Jackson Jordan allegedly planned on spreading about Monique Samuels. Shortly after the episode aired, Candiace Dillard went live on Instagram to reveal more context behind the rumors. Samuels also took to Instagram Live to detail the "plot" a few of her co-stars participated in to ruin her family. Her husband, Chris, also joined her, and he candidly addressed the women.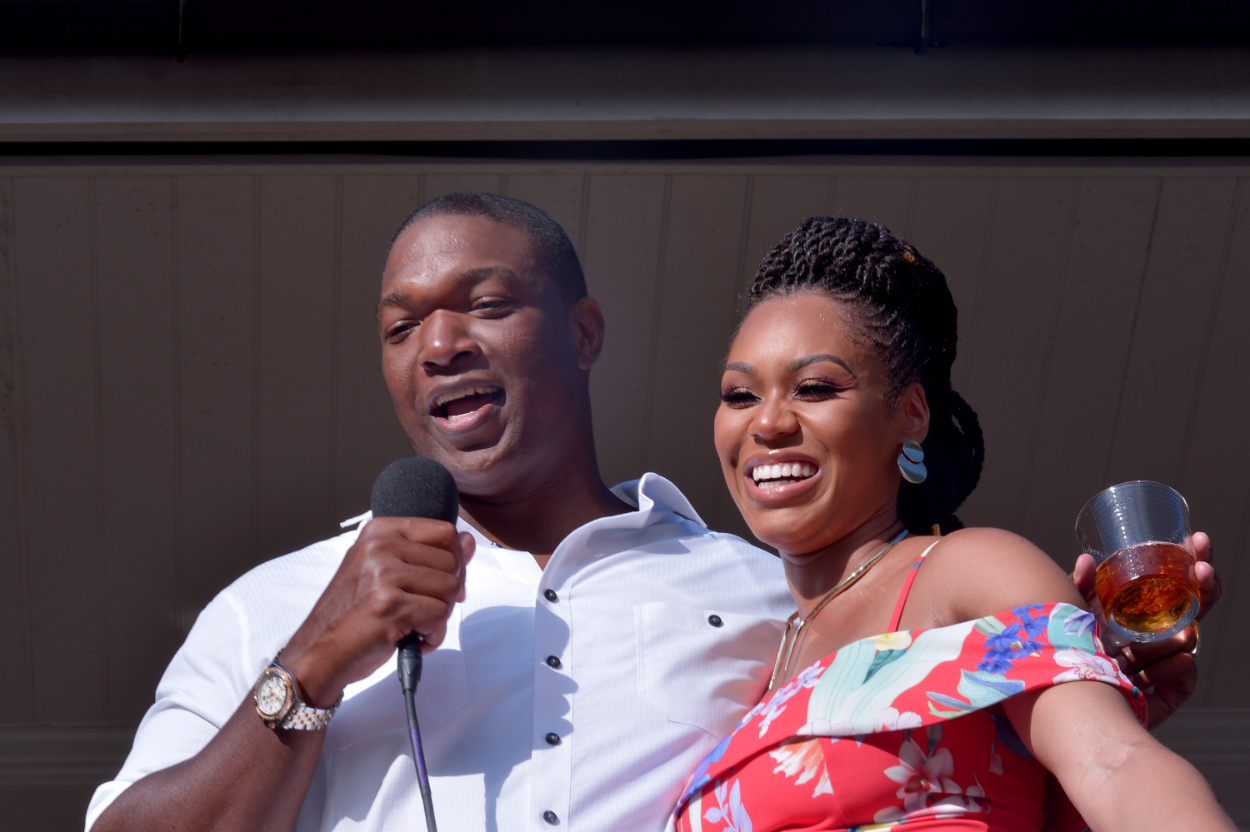 Monique Samuels says 'RHOP' co-stars plotted to create rumors about her
After Episode 2 aired, Candiace Dillard broadcasted live on Instagram, where she went off on ex-friend Monique Samuels and called her a bad mother.
The newlywed also revealed that co-stars Gizelle Bryant and Robyn Dixon, as well as friend of the show Charrisse Jackson Jordan, plotted to ruin Samuels.
Apparently, the women planned on spreading rumors that the mother-of-three's youngest son, Chase, did not belong to her husband, Chris. A couple of hours later, the parrot owner went live on Instagram.
She claims Dillard also attended the meeting but didn't go along with it because she didn't think anyone would believe the rumor. According to Samuels, a former friend of hers plotted to spread lies that the Not For Lazy Moms owner did not have a miscarriage and instead terminated the pregnancy.
Additionally, Samuels claims former original housewife Jordan told several people that Chase belonged to her trainer during the fourth season. However, the mother-of-three claims production refused to go along with any of the rumors.
Apparently, Karen Huger found out about the meeting sometime after it happened and warned Samuels who declined to bring it up on camera. However, Bryant spoke about it during season 5, bringing the rumor and Jordan to the show.
Chris Samuels responds to the paternity rumors
During the Instagram Live, Chris sat next to his wife and responded to the "foul" stories about his family. He stated he usually stays out of the "women drama" but doesn't appreciate grown people "plotting" to damage his family and children.
The former football player pointed out that he knows "a lot of ugly mess" the other housewives are in but hasn't said anything because he respects their families.
He also called the co-stars who plotted against them "dirty tricks" and "dirty people." The decade-long football star also noted that the women are "lucky" he's a man because he would "stomp the s**t" out of them for starting the rumors.
Chris Samuels responds to Gizelle Bryant's 'big boy' comment
When Bryant talked about the infidelity rumors in her confessional, she referred to the Hall of Fame player as "big boy." He addressed the remark in the Instagram Live, calling it "belittling."
Samuels also noted the EveryHue Beauty owner calls everyone else by their name, except for Ray Huger, who she rudely refers to as Uncle Ben. He asked her not to "attack him" to get under his wife's skin and keep their drama between them.
Additionally, the football star pointed out that black men have an adverse history with being called "boy." Therefore, he finds the comment "disrespectful." Samuels ended his responses by telling Bryant to leave him alone because he doesn't comment on her situation.
Real Housewives of Potomac airs Sundays at 9 p.m. EST on Bravo.