'RHOP': Former Cast Member Katie Rost Calls Monique Samuels and Candiace Dillard's Fight 'Ghetto'
The Real Housewives of Potomac is the one housewives franchise that hasn't had many cast changes. Katie Rost appeared on the show as a full-time cast member for one season before being demoted to a friend of the show. Her brief time on the show caused conversation due to conversations regarding race.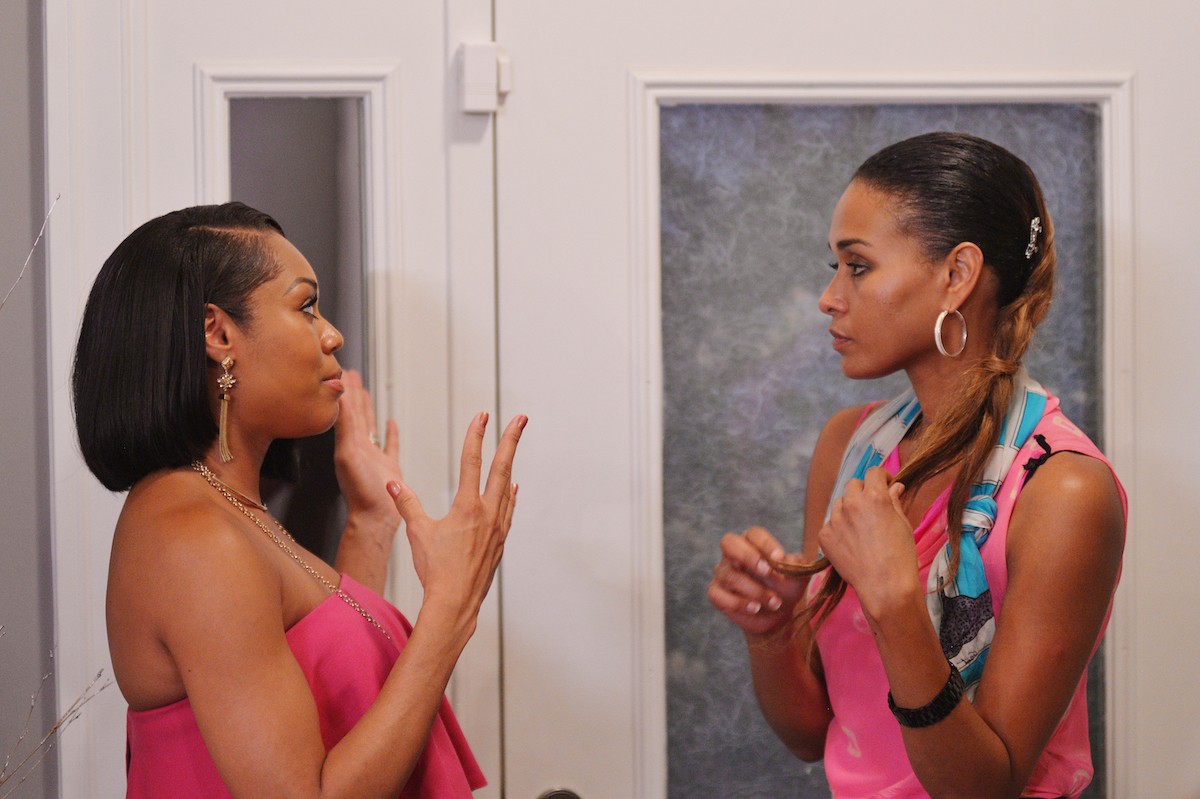 Rost has found herself in hot water after calling the fight between Candiace Dillard and Monique Samuels "ghetto." Despite the word being viewed as derogatory by some, Rost isn't backing down.
Katie Rost's time on 'RHOP' involved some controversial statements on race and class
Rost was raised by a Jewish father and an African American mother. She embraces her biracial background and prefers to be addressed as biracial. Rost famously argued with Gizelle Bryant and Robyn Dixon over her decision to be labeled as biracial during season 1.
When confronted by Dixon on the need to give Rost a black history lesson, Rost did not back down. The confrontation arose when Rost called out Dixon on describing her behavior as "something white people does." Rost was dancing and opening flirtatious with her then-fiancee at a party.
"Oh, so I'm the expert on White people?" Rost asked. Bryant took offense to Rost referring to her and Dixon as biracial as the two women preferred to be identified as Black women.
Related: 'RHOP' Alum Katie Rost Drops Bombshell — She Had A Sexual Relationship With Cast Member
"It's offensive to me that you think that I'm not a Black woman," Rost told Bryant. "I'm not just African American, I'm also Caucasian.  I'm biracial. What the hell is wrong with that?" 
Still, Rost is open about her attraction to white men, particularly of the Jewish faith. She proudly declared during her time in season 1, "I love the Jewish boys." She held a Jewish name ceremony for her three children on the show.
Katie Rost calls Monique Samuels' fight with Candiace Dillard 'ghetto'
Rost has not been on the show in any capacity since season 4. She appeared as a friend to the show throughout the season but was allegedly forbidden from attending the reunion. Rost claims producers phased her out because she began exposing certain behind-the-scenes orchestrated drama.
Rost took to social media recently to discuss the show. Though she alleges she has never watched an episode of the series, she admits that she was mortified by the highly-publicized fight between Samuels and Dillard in season 5. Madame Noire reports on the social media interaction. 
Related: 'Real Housewives of Potomac': Katie Rost Blasts Ashley Darby In A Scathing Instagram Post
"This is so sad," Rost notes at the beginning of the clip. While speaking to her mother, Rost continues her rant, "I never watched this until today. Mom, I never watched this until today, right? Like three years later. And I'm now watching it. Guess what? This is not Potomac baby. This is not Potomac…This is like — what is this?" she continued. "What is this? This is ghetto as sh*t and it's so not awesome…This is so ghetto, this is not Potomac."
Rost grew up in mostly affluent neighborhoods and is considered a "gala girl" who hosts various charity events in Potomac.
When a follower of Rost's pointed out that labeling someone as "ghetto" could be offensive, Rost doubled down on her remarks.
"When I was in elementary school the dictionary said ghetto was 1a. The Jewish part of town – definitions evolve," Rost responded.