'RHOP' Gizelle Bryant Accused of Faking Reconciliation With Jamal Bryant for a 'New Storyline'
In 2016, Gizelle Bryant joined the Real Housewives of Potomac cast for the first season alongside Ashley Darby, Karen Huger, and close friend, Robyn Dixon.
The Green-Eyed Bandit was a single mother of three girls before she began dating former basketball player Sherman Douglas around the third season. However, the two broke up and reconciled several times before officially calling it quits in May 2019.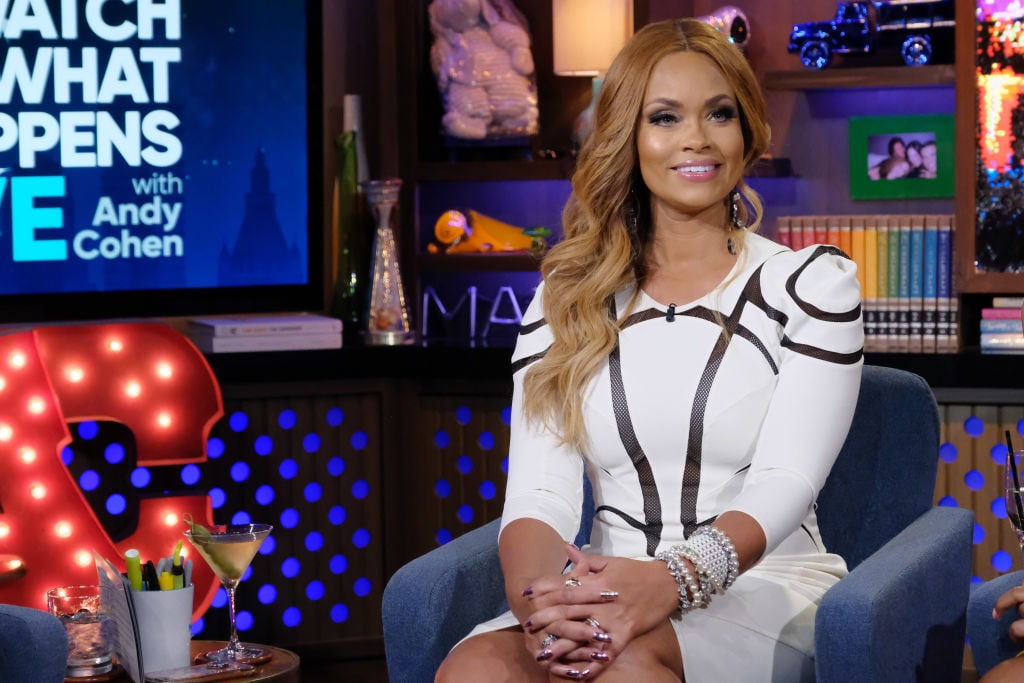 A few months later, the housewife revealed she and her ex-husband, megachurch pastor Jamal Bryant, are working on their relationship. In January 2020, a source supposedly close to Gizelle accused the couple of faking their reconciliation for an RHOP storyline.
'RHOP' Gizelle Bryant and Sherman Douglas broke up
At the beginning of Real Housewives of Potomac Season 3, Gizelle Bryant seemed happy and in love with an ex-professional basketball player, Sherman Douglas.
However, he stood her up for an important dinner at Robyn and Juan Dixon's house towards the end of the season. Even though this hurt her, she decided to give him another chance because he kept pursuing her.
The two then reconciled and began dating again in the following season. Again, he failed to turn up for another big event, Candiace Dillard's wedding.
As a last result, the couple attended counseling, but it didn't work, and they permanently split in May 2019. 
'RHOP' Gizelle Bryant reconciled with ex-husband, Jamal Bryant
In 2002, Bryant married Pastor Jamal Bryant, and she served as First Lady in his church. They also welcomed three children into the world, Grace, and twin sisters, Angel and Adore.
After six years of marriage, the Bryants mutually filed for divorce once Gizelle found out her husband fathered multiple children outside of their relationship.
Over the years, Gizelle and the pastor have maintained a close friendship as they co-parent their children. According to the Potomac housewife, that connection is what led to their reconciliation almost ten years later.
During the first part of the Real Housewives of Potomac Season 4 reunion, Gizelle admitted she and Jamal were romantically seeing each other again. The housewife also said she forgave the pastor for his past infidelity and is excited to welcome him back into her life.
Since revealing their relationship, Gizelle has supported Jamal at his Atlanta church, and they recently opened an Arizona restaurant with their daughters.
The couple also spent Christmas together and attended the Mayors Masked Ball. 
'RHOP' Gizelle Bryant accused of faking reconciliation
According to Media Takeout News, a source accused Gizelle and her ex-husband of faking their reconciliation because she "desperately needed a storyline after her ex-boyfriend dumped her for good."
The person claimed the Potomac housewife pulled the stunt for money and didn't "have any other options than her ex, Jamal." Another insider verified the information and alleged Gizelle is paying the pastor $100,000 to go along with the story.
The source explained, "Gizelle makes $500,000 a season. So, she can afford breaking Jamal off with $100,000." The Bryants have not yet responded to the allegations.
Fans can watch their reconciliation in Real Housewives of Potomac Season 5 airing in Spring 2020.